Former Border Patrol Chief Rodney Scott says "over 400,000 documented 'gotaways'" have illegally entered the United States this year. He also stated that Biden was paying $5 million a day "to not build the border wall."
Attorney General Ken [email protected] joined in "This is no longer negligent. It's intentional. Human and drug traffickers are entering the U.S. because of Biden's disastrous, open-door border policies. It's unacceptable! The Biden Admin. is endangering all Americans."
"We're not doing catch & release, we're doing catch & jail" – Lt. Olivarez said in September is on the ground fighting the Crisis. … Texas Department of Public Safety. He is joined by the Texas National Guard.
"What's been happening actually this past week is we see a group of individuals that are coming across — they're smuggling people — but what they're doing is they come across the river into the U.S. and smuggle people, they go back into Mexico, and they get their weapons," Texas Department of Public Safety spokesman Lt. Christopher Olivarez said during an interview 6 Oct.
The latest update on Operation Lone Star was 30 Sept.
"It was critical that Texas law enforcement secure the area around the port of entry because our federal partners were being overwhelmed," said DPS Director Steven McCraw. "DPS, TMD and our partner agencies prevented chaos from spilling over into our communities. We will continue to enforce the objectives of Operation Lone Star at the direction of Governor Greg Abbott."
DPS Regional Director Victor Escalon and TMD Lt. Col. Rodney Kelley addressed the efforts to disburse the more than 17,500 migrants, mostly Haitians, who crossed the Rio Grande into Texas. The large numbers of migrants began appearing at the International Bridge in Del Rio on Sept. 15 with about 7,000 that day. That number nearly doubled in two days to about 13,500 migrants by Sept. 17.
Governor Greg Abbott took immediate decisive action and ordered DPS and TMD to mobilize additional resources. This included having about 1,000 DPS personnel in the area and 650 DPS vehicles used to form a barrier. Troopers patrolled on the ground, special agents walked among the camp to prevent crime, DPS aviation ensured the area was secure and the DPS Tactical Marine Unit patrolled the water. DPS' Intelligence and Counterterrorism Division provided daily reports.
This surge included approximately 400 additional soldiers and 40 Humvees, to assist in deterring criminal activity, flanking the area and keeping the region secure.
"As part of OLS, TMD continues to be an effective force in safeguarding Texas as demonstrated in Del Rio last week," said Maj. Gen. Tracy Norris, the Adjutant General of Texas. "In addition to this, we continue to construct temporary fencing and barriers to interdict illegal activities in Texas communities and properties. The Texas Guard will always be ready to support our state when needed."
TMD has thus far constructed approximately three miles of fencing in the Del Rio Sector that includes 10-foot-high posts covered in fabric and barbed wire. TMD anticipates being able to increase the pace of construction over the next four weeks as its number of engineering teams increases in the area, building up to a half-mile of fencing a day.
Since OLS began through Sept. 23, there have been a total of 6,15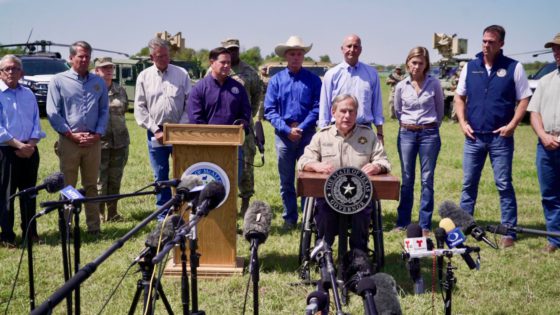 "The Biden Administration's open border policies have led to complete chaos at the southern border, and pose a threat to the safety of Texans and all Americans," said Governor Abbott. "Texas has stepped up to keep our communities safe and mitigate this crisis ourselves, and our efforts have been made stronger by the support and assistance of governors from across the nation. I thank the state governors who are here with me today for their support and for visiting the border to see firsthand the ramifications of President Biden's disastrous policies. Together, we are sending a strong message to the Biden Administration that we will not tolerate their refusal to secure the border — and we will continue to do whatever it takes to keep our communities safe." 
"We're not going to sit around while Biden refuses to act," said Governor Ducey. "We've tried to meet with the president and be part of the solution, but he refuses. No, worse — he ignores us, just like he's ignoring the border and the well-being of the American people. If the president won't meet with us, then we'll share our policy ideas today. Hopefully he will hear our solutions and begin to act."
"When we see this type of mass influx of migrants to our state, the cartels profit by exploiting the situation," said DPS Director Steve McCraw. "Unless we act, there is no stopping them from reaching communities across the country with their drugs and violence. Governor Abbott has made it very clear, Texas is going to lean forward and take a stand. We are grateful for his leadership and the continued support of our partners, both here in our state and across the country, in making sure we secure our southern border."
In June 2021, the State of Texas and the State of Arizona invoked the Emergency Management Assistance Compact. Under this interstate compact, Governor Abbott and Governor Ducey asked other states to send law enforcement officials and equipment to help mitigate the ongoing border crisis.