By Greg Walker (ret), USA Special Forces
"Now you become part of the Nimiipuu people and we welcome you" — Spiritual leader Horace Axtell
SPALDING, IDAHO — Under the shade of cottonwood and locust trees rustling in a stiff breeze, the men of Company A, an airborne Army Special Forces unit fresh from Iraq, formed a circle with veterans from the Nez Perce Tribe.
Wilfred Scott, vice chairman of the Nez Perce Tribal Executive Committee, an elder and veteran himself, in August 2002 welcomed the 20 young men to Nez Perce Country and described the coming pipe ceremony.
"I do not recall us doing one like this for any group or any unit," said Scott. "Many of us get pretty emotional doing these ceremonies."
At that the tribal flag song was played, and the Special Forces troops stood straight and rigid as the stars and stripes, tribal flags, an Army flag, and the company banner were brought in.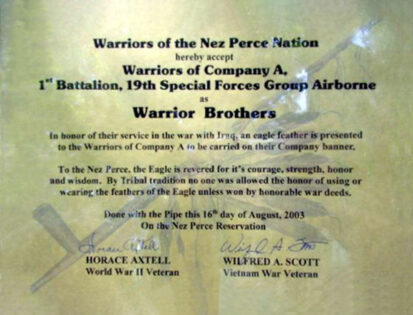 The Nez Perce veterans befriended the unit and honored it with a pipe ceremony prior to the war. They also sent black scarves embroidered with the word Nimiipuu (Nez Perce for "The People") and the Alpha Company insignia to the men, who wore them in Iraq.
The troops were also welcomed to the ceremony by Anthony Johnson, chairman of the tribe and a veteran of the Gulf War. He spoke of his return from war 10 years ago, and how welcome the sight of trees and green grass was after months in the desert.
"We want to say welcome home and job well done," said Johnson. "We are very glad that in a traditional way we didn't have to do an empty-saddle ceremony in honor of a fallen comrade."
Company commander Maj. Gregory Allen, dressed in desert fatigues, accepted the welcome and thanked the veterans for their prayers and blessing.
"This is very overwhelming to me," he said. "I'm not a very emotional person."
Allen introduced each of his men and described what their job was during the war.
"It is pretty incredible all these guys are back alive and no one was injured," he said. "We can thank God for that and we can thank all of our training."
Spiritual leader Horace Axtell then blessed the ceremony, and he and others prepared pipes that circled the group of about 40 men three times. Each man and a few women raised the pipe to the sky and then to their lips to draw in the smoke.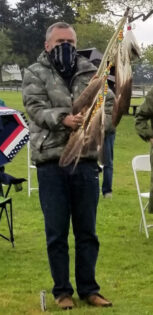 "Now you become part of the Nimiipuu people and we welcome you," Axtell said.
Following the smoking, gifts were exchanged before an eagle feather was passed around the circle. Each person who held the feather stood and told of their service and some of their experiences.
I was a SFC, and had formed a friendship through e-mails with Scott. I told the group that the tradition of Special Forces was born from the courage and tactics of Indian warriors in the 1700s.
"Your scarves and your prayers with them went over with us and brought us back safe today."
Company A, 1/19th Special Forces Group (ABN) is the only U.S. Army unit to be formally recognized, and adopted as Warrior Brothers, by the Nez Perce. To this day an eagle feather flies from the company guidon at our headquarters in Buckley, Washington.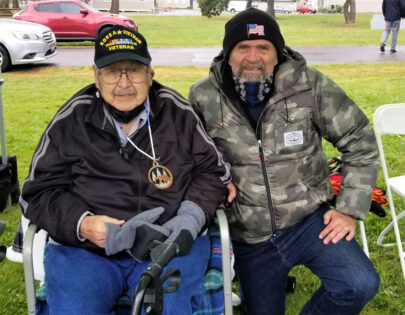 How I became 'Black Scarf'
Names have special meaning in Native American tradition.
Legal names are given, but Native American names are earned," according to one writer.
"Native Americans inspire us to think about our names as allegory — with multiple dimensions," another wrote.
"On April 24, 2021, I was both blessed and honored to sit with Nez Perce Elder Wilfred Scott as we attended the Chief Red Heart ceremony at Vancouver Barracks, Washington State. Scott, one of the founding members of the Nez Perce Tribal Executive Committee in 1974, was lauded by Arthur Broncheau, the senior liaison for the executive committee, for his "willing heart for everything that he does" involving tribal activities, local powwows and travels to historical Nez Perce sites in Montana and Idaho. He is a U.S. Navy veteran and has worked extensively with tribal veterans.
Scotty and I had not seen each other since April 2003, when members of our Special Forces company attended the Nez Perce traditional warrior homecoming ceremony in Idaho. We enjoyed a warm reunion, and my wife and I were honored to be asked to sit beside Scotty as he presided over the event.
During the ceremony Scotty formally gave me my Nez Perce name, "yehet'ayn cimuuxcimux", or "Black Scarf."
Several days later my wife Carol and I visited with Scotty and several of his friends and relatives at the Nez Perce reservation in north-central Idaho. We presented him with a Pendleton blanket, returning the honor he bestowed upon me when in 2003 he gifted me his Spirit blanket during our welcome home and adoption ceremony.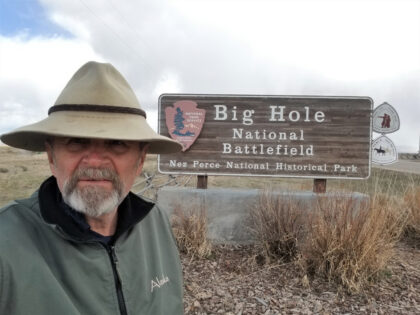 We then visited the Big Hole Battleground and paid our respects to those Nez Perce who fell in battle during their attempt to escape the U.S. Army troops pursuing them as they made their way toward Canada.
An author and Special Forces historian, Greg Walker served with the 10th, 7th, and 19th Special Forces Groups (ABN). He retired in 2005. He is a Life member of the Special Operations and Special Forces Associations. This story first appeared in Sentinel, "the newsletter of the quiet professional."