THE BATTLE
Aug. 28, 2013 | Forward Operating Base Ghazni
1ST SPECIAL FORCES GROUP (AIRBORNE)
Then-Staff Sgt. Earl D. Plumlee distinguished himself by acts of gallantry and intrepidity above and beyond the call of duty while engaging with the enemy in support of Operation Enduring Freedom in Ghazni Province, Afghanistan, on Aug. 28, 2013. ​
Plumlee served as a weapons sergeant assigned to Charlie Company, 4th Battalion, 1st Special Forces Group (Airborne), at Forward Operating Base Ghazni, when the complex was attacked. Plumlee instantly responded to a massive explosion that caused a 60-foot breach in the base's perimeter wall. Ten insurgents wearing Afghan National Army uniforms and suicide vests poured through the breach.
"The strongest emotion I had from that day was the last time we were pushing down and had really gotten organized we were moving as a really aggressive, synced up stack, moving right into the chaos," Plumlee said. "It was probably the proudest moment of my career, just to be with those guys, at that time, on that day was just awesome."
Plumlee and five other special operations Soldiers, intent on defending the base, mounted two vehicles and raced toward the detonation site. Plumlee's driver purposefully maneuvered the vehicle into enemy fire to shield three dismounted teammates, two of whom were injured, placing the vehicle under effective enemy fire from the front and right side.
Using his body to shield the driver from enemy fire, Plumlee exited the vehicle while simultaneously drawing his pistol and engaging an insurgent 15 meters to the vehicle's right. Without cover and with complete disregard for his safety, he advanced toward the enemy force, engaging multiple insurgents with only his pistol. Upon reaching cover, he killed two insurgents.
Plumlee left cover and continued to advance alone. Moving forward, he engaged several combatants at close range. Under intense enemy fire, Plumlee temporarily withdrew to cover, where he joined another Soldier.
Plumlee, ignoring his injuries, quickly regained his bearings and reengaged the enemy. Intense enemy fire once again forced the two Soldiers to temporarily withdraw. Undeterred and resolute, Plumlee joined a small group of American and coalition soldiers moving from cover to counterattack the infiltrators. As the coalition forces advanced, Plumlee engaged an insurgent to his front-left.
Plumlee then ran to a wounded Soldier, carried him to safety, and rendered first aid. Afterwards, he organized three coalition members in a defensive stance as he methodically cleared the area, remained in a security posture and continued to scan for any remaining threats.
Throughout the entire engagement, Plumlee repeatedly placed himself in extreme danger to protect his team and the base, and to defeat the enemy. Plumlee' s extraordinary heroism and selflessness beyond the call of duty were in keeping with the highest traditions of military service and reflect great credit upon himself, his unit and the United States Army.
MASTER SERGEANT EARL D. PLUMLEE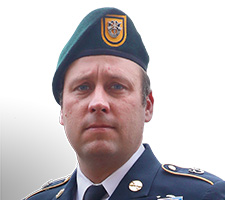 HOMETOWN
Clinton, Oklahoma
ENLISTED
1998
MILITARY OCCUPATION (MOS)
Operations (Team) Sergeant 18Z
UNIT
1st Special Forces Group (Airborne)
DEPLOYMENTS
Operation Iraqi Freedom (2005 and 2008), Operation Enduring Freedom (2013)
Master Sgt. Earl Plumlee was born in Clinton, Oklahoma. He grew up working on his family's cattle ranch and oil field instrument company. He began his military career by joining the Oklahoma National Guard, serving in the 45th Field Artillery Brigade as a rocket artilleryman (13M) during his junior year of high school. After graduating high school in 2000, Plumlee joined the United States Marine Corps. He attended boot camp at Marine Corps Recruit Depot, San Diego, California and Marine Corps School of Infantry. Plumlee was then assigned to Alpha Company, 1st Battalion, 3rd Marine Regiment, located in Kaneohe, Hawaii, where he served his first enlistment in a weapons platoon.
Plumlee deployed to Okinawa, Japan, after the 9/11 attacks occurred. He was sent to Bahrain and served on a Marine Security Element to the 5th Fleet. In 2003, he was deployed to Zamboanga, Philippines, to the Joint Special Operations Task Force-Philippines on Camp Navarro. After returning from this deployment, Plumlee attended the 4th Force Reconnaissance, Recon Indoctrination Program, and was selected to attend the Marine's Amphibious Reconnaissance Course and became a Basic Reconnaissance Marine. Afterwards, Plumlee attended and graduated from Navy SERE School, Basic Airborne School, the Marine Corps High Risk Personnel Course, and Marine Combat Dive School. Upon returning to the 4th Force Recon, he volunteered for a deployment to Iraq with the 2nd Force Reconnaissance Company.
Plumlee was deployed to Iraq's Al Anbar region, operating from the Al Asad Airfield from August 2005 to February 2006. Upon returning from this deployment, he attended Military Free Fall School. From there, he was promoted to Recon team leader. In 2007, he married his wife, Terrie. Following his wedding, Plumlee volunteered to deploy to Iraq again in 2008. During this deployment, he was selected and recognized as the Marine Corps Recon Team Leader of the Year. After returning from Iraq, Plumlee decided to make a change in his career trajectory and joined the U.S. Army under the 18X program in January 2009. Upon successful completion of the Special Forces Assessment and Selection, he was chosen to attend the Special Forces Qualification Course, where he had the unique opportunity to attend SERE School for a second time.
In 2009, successfully graduated SFQC as a Special Forces weapons sergeant (18B) and was assigned to 4th Battalion, 1st Special Forces Group (Airborne). There, he served in various rotations through the Indo-Pacific area of responsibility. Plumlee deployed to Afghanistan in April 2013, where his unit was tasked with conducting stability operations. Later in this deployment, he was located at Forward Operating Base Ghazni, which was subject to a complex attack on Aug. 28, 2013.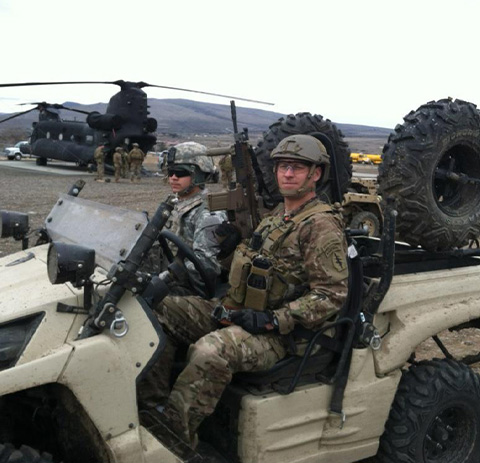 After returning from Afghanistan, Plumlee completed nine months of physical rehabilitation, while continuing to serve in the 4th Battalion, 1st SFG (A).
In 2015, Plumlee was stationed in Okinawa, Japan, with the 1st Battalion, 1st SFG (A), where he served in the INDOPACOM-Crisis Response Force. There he served on foreign details for President Obama and President Trump. In 2018, he was selected for promotion to master sergeant and ended his time in Okinawa. He and his family returned to Joint Base Lewis-McChord, Washington, where he served in the 1st SFG (A) headquarters. In August 2020, he was selected to become a team sergeant at 3rd Battalion 1st SFG (A), where he continues to serve.
His awards and decorations include the Silver Star, the Bronze Star Medal with "V" device, the Purple Heart, the Meritorious Service Medal, the Army Achievement Medal, two Navy Achievement Medals, the Combat Action Ribbon, four Army Good Conduct Medals, two Marine Corps Good Conduct Medals, the National Defense Service Medal, the Armed Forces Expeditionary Medal, the Afghanistan Campaign Medal with Campaign Star, the Iraq Campaign Medal with Campaign Star, the Iraq Campaign Medal with Arrowhead Device, the Global War on Terrorism Expeditionary Medal, the Global War on Terrorism Service Medal, the Marine Corps Expeditionary Medal, the Armed Forces Reserve Medal with "M" Device, three Noncommissioned Officer Professional Development Ribbons, the Army Service Ribbon, the Overseas Service Ribbon, four Sea Service Deployment Ribbons, the NATO Medal, two Navy Unit Commendations, the Marine Unit Commendation, the Special Forces Tab, the Combat Infantryman Badge, the Military Free-Fall Parachute Badge and the Indonesian Parachutist Badge.
Green Berets assigned to Charlie Company, 4th Battalion, 1st Special Forces Group (Airborne) pose for a photo, 2013, Afghanistan. (Photos Courtesy of Master Sgt. Earl Plumlee)