Editor's note: Retired Green Beret Greg Walker has joined the Soldier of Fortune team as Contributing Editor for Veterans Issues. Today is the second installment of Greg's column, VetCare 2023.
VetCare 2023 by Greg Walker, U.S. Army Special Forces (ret)
I worked at the Portland VA hospital with the Operation Iraqi and Enduring Freedom Patient Transition Program while attending school. This program was new, and came into being as a direct result of the wars in Iraq and Afghanistan.
The program is a transition, or bridge program for those most seriously injured and wounded veterans returning to Oregon and Washington. Most often those coming to the OIF/OEF program are transferring from military hospitals where their injuries are addressed initially. The program relied on a full time staff of three licensed social workers / clinicians and two work-study patient advocates, of which I was one.
In our position of patient advocates, we complimented the work of the clinicians doing basic administrative tasks. In my case it was accepted by our staff that I was a natural mentor. By the nature of my military background and service, to include combat experience in Iraq, and my age (55 at the time) with the accumulation of life and additional educational and career experiences, those primarily younger wounded warriors and I formed a swift and unique bond when we were introduced.
READ MORE from Greg Walker's VetCare 2023
Natural mentors lack an academic definition, but are very much understood in the military community, particularly in the Combat Arms fields (Infantry, Armor, Artillery, Special Operations). In those fields, both a rank structure and emphasis on leadership training create mentors, especially when the senior ranks are reached, and the emphasis becomes the cultivation and care of younger soldiers.
Combat, as a shared experience, creates deep bonds of loyalty and trust, as well. Soldiers do not fight for a cause or a country as much as they fight for each other – to ensure the other's survival – out of the fiercest love of one's comrade in arms against an enemy most often dehumanized to some degree to enable acts of great devotion, sacrifice, and courage to occur "in the face of the enemy." All of this serves to form a natural mentoring role and process in the program I have been involved with, a process that also creates what might be called a natural mentee.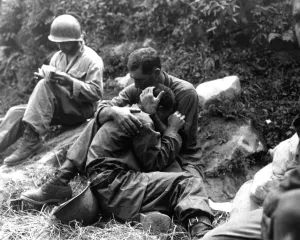 A grief-stricken American infantryman whose buddy has been killed is comforted by another soldier
In my experience as a mentor with the OIF/OEF program, and then as a trained and certified Recovery Care Coordinator, the mentoring and care advocacy role was brand new. As a volunteer and then compensated mentor I did not meet the professional criteria to provide counseling services to the disabled, but I did, again as a mentor and advocate, interact with professional counselors by providing information, insights, and observations about a shared client/mentee that the counselor can transpose into an appropriate treatment.
This overlap served to provide the greatest possible insight in a timely manner so that, as with counseling, the wounded warrior was served as to his or her carefully identified needs and desires.
Where all three are equal, the focus is on appropriate treatment of the veteran, and the veteran learns he has a say in his treatment. He understands he is an equal partner. In this instance, the mentor also serves in a reinforcing role, one of trusted confidant and empowerment.
If the treatment team begins to encroach on each other's roles or begins to undermine the work of one member of the team, it is the client/mentee who will be seriously under-served. To stop this situation from developing, the treatment team should meet frequently to share information as well as to seek thoughtful guidance and direction for future interactions.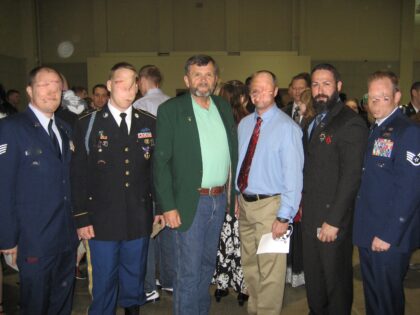 Greg Walker, in green, with some of his mentees, to include Victor Sassoon (in the dark suit).
Mentoring, only emerging in the 20th Century, is seen as a volunteer or layman's service. Mentors choose partnership over patriarchy when interacting with their mentees. Patriarchy implies leadership and there is a place for such a role in the service of others. Counselors and advocates / clinicians do not, as a rule, partner with their clients and patients as much as they assume a leadership role in their treatment. A mentor, on the other hand and in specific where my role has been developing, sees its best results when a partnership is formed between mentee and mentor.
Mentoring is the act of empowering the mentee whether he or she is disabled, gifted, at risk, or otherwise possessing of special talents or needs. To accomplish such individual acts of empowerment the mentor must be of service, meaning he / she must serve rather than lead.
I have found this to be true in specific cases where those I am privileged to mentor, for whatever time they are with me while attending medical appointments or services, where the mentee instinctively knows in which direction he or she wants and needs to go; has a fair grasp of the challenges facing their recovery and rehabilitation; has a sometimes deep pool of fears and secrets they want to bring to the surface but are unsure of how to do so, or what the reaction will be of those working with them; and are looking for a peacetime comrade-in-arms whom they instinctively can and will trust once the necessary bona fides have been exchanged in a relaxed and respectful manner.
Those with particularly traumatic amputations and brain injuries, concurrent with additional challenges such as PTSD, are proving to be receptive to a mentor relationship especially when they learn the (natural) mentors – have themselves incurred wounding or injury under similar circumstances as their own.
Mentoring military patients often becomes a "Force Multiplier" process as mentees can and do, upon reaching a specific level of individual recovery and rehabilitation, become mentors themselves.
The mentor can be an integrated factor in the overall treatment equation of a program such as the ones I was privileged and indeed blessed to become involved with. Formal academic training, greater research efforts, and an emphasis on stewardship over leadership will create mentors whose influence and impact will be formally recognized by their peers and highly valued by the mentee population, possibly the greatest potential pool of future mentors on the horizon.
Author profile
Greg Walker is an honorably retired "Green Beret" whose awards and decorations include two awards of the Combat Infantryman Badge (El Salvador and Operation Iraqi Freedom). Upon his own recovery and rehabilitation Mr. Walker continued to serve as a Warrior Care case manager and advocate with the SOCOM Care Coalition and later in the private sector until his full retirement in 2018.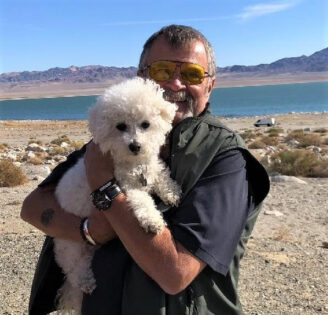 Greg and his trusty service pup, Tommy