by Susan Katz Keating
The first thing I want to say about my Agilite K19 plate carrier is this: It fits. Both 5'3 female me, and a 6'0 buffed up male test subject.
I was skeptical that Agilite says their carrier is "one size fits all." For me, that usually translates to, "might as well be wearing a barrel suspended from straps." I'm not a warrior, but I am a journalist, and have gone to a fair number of places where I want the benefits and protections that a plate carrier offers. Fit is not only a key issue, but tough to find when you're short and female. Prior to my last riot, one of my primary concerns was whether I should wade in (as a reporter!), and how far, while wearing a bulky or awkward carrier. It got so bad that I considered whether I could reconfigure some road gear into a tactical backpack.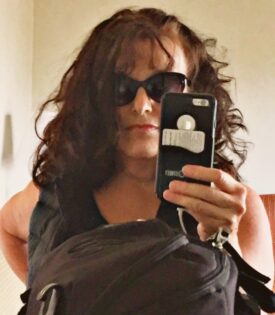 No more.
The K19 is that carrier. And it also works for my 6'0 contractor pal, "Skip," who tested it out on a recent shoot-n-scoot range day.
Skip's overall take on the K19 in action: thumbs up.
This piece of gear comes with a worthy pedigree. It was designed, tested, and battle-proven in Israel and behind enemy lines with some of the IDF's most elite units, Agilite says. As a result, the design team incorporated a number of elements that were recommended following combat.
"The K19 has numerous subtle but revolutionary features that no other plate carrier has," Agilite says.
What exactly are they?
We'll start again with fit.
Getting the perfect fit is a challenge – and can depend on what you carry and what you're wearing underneath, or even on how much food is working its way through your digestive system.
"We know that the ability to adjust it yourself, on the fly, is critical in order to avoid unnecessary fatigue and compromised combat awareness," Agilite says.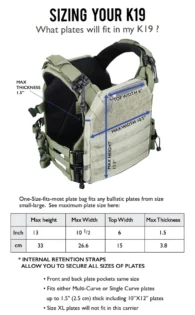 The K19 has a one-size-fits-all cummerbund and multi-size plate bag. The cummerband is fast-adjustable, and has a built-in stretch element that allows the vest to be worn snugly enough that it doesn't bounce, and also has a slight stretch for when you change position.
The feature came in handy when Skip was at the range.
"This was great when we did a run-drop-shoot maneuver, and kept me comfortable enough that I could focus on the mission and not on adjusting my gear," Skip said.
The latest K19 has various attachment points that can accommodate velcro placards or regular molle pouches. For me, that includes attaching my velcro-backed all-caps MEDIA name tape on the front. Skip attaches a small patch showing his blood type.
The K19 has a zippered storage compartment on the front section. It sits up high, so you won't have to fumble through cargo pants pockets or anywhere else for items you must use fast. I use it to hold my cell phone, plus a notepad and pen. Skip used it to stash a couple nut butter packets.
In the rear, the cummerbund has a number of attachment points for the mil-spec G hooks.
One feature came in handy for both me and Skip, for different reasons.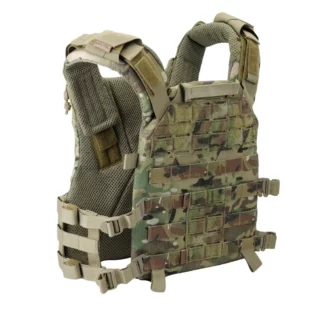 Unlike other carriers, the K19 shoulder area quick-release buckles are set way back, farther than you normally find.
This meant I didn't have to worry about long hair getting snagged in the buckles (yes, this has happened when my pony tail holders have snapped).
For Skip, it meant that his rifle stock didn't butt up against something that wasn't his shoulder.
"On the go, that has an impact on aim," Skip said.
Overall the K19 has enough fusion-foam padding to coddle either a journalist or a warfighter, both of whom can get worn down with weight.
"Comfort is not a luxury, it's a necessity to stay alert and not distracted in hostile environments where complacency can cost you your life," the company says.
One thing I noticed was that my K19 felt evenly balanced across my shoulders. I felt that I had good weight distribution – and, it turns out, I did. The K19 features shoulder straps that converge into a proprietary V shape, to center mass in back. This, according to Agilite, spreads the weight "over maximum surface area, and relieves pressure points."
And what about the main purpose for a plate carrier – the plates themselves?
The K19 plate bags feature a triple layer of low profile fusion foam that are designed to maintain comfort while wearing different types of plates.
"Steel or ceramic plates often have hard corners and edges that can dig in to your torso when using regular plate carriers, but the K19 has inherent padding to prevent this from happening," Agilite says.
Skip tried wearing the K19 with the ceramic plates he uses when working in the field. He tested for comfort by doing some Tai Chi choreography, and a couple sideways dive rolls. The K19 held up.
"The plates didn't bite," Skip said. "It was all good."
So is the K19. The carrier has done service on the front lines with Israeli Special Forces, and is fast earning a top notch reputation here in the States.
Only one question remains: What happens if Skip wants to borrow my K19 for a contracting gig when I'm heading into a riot? Actually, there's no question. The sophisticated black version is mine. Skip can get his own, either in Multicam, Ranger Green, Wolf Grey, Black, Multicam Black, or Coyote Brown.
The K19 Plate Carrier 3.0 is listed at $279.00, and is available from Agilite.