by Susan Katz Keating
The cocaine packet that was found this month inside the White House was handled by someone in the Biden family orbit – but not the First Son, sources told me.
"It wasn't Hunter," according to a security contact with direct knowledge of the investigation.
READ MORE: Fingerprints were found on cocaine bag at the White House
As I reported last week in Soldier of Fortune, officials know who handled a packet of cocaine that was abandoned inside the Executive Mansion. The finding has been confirmed through fingerprint evidence, according to sources with direct knowledge of the investigation. 
"We know who handled it," one security contact said. 
It's fair to say that the White House also knows who handled it. The communications office, however, did not respond to my request for comment. Neither did the president.
The White House offers a number for people to contact President Joe Biden directly. So I texted a message to him at his Delaware phone line.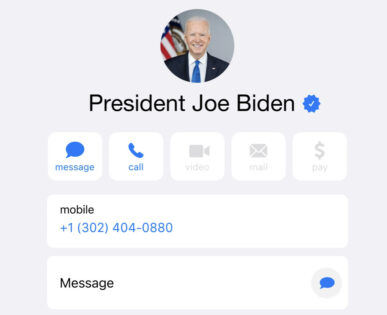 Here's what I wrote.
Hello Mr. President, Susan Katz Keating here, the publisher of Soldier of Fortune magazine. I am working on a story about the packet of cocaine that was found at the White House on July 2. My sources tell me the cocaine did not belong to your son Hunter. Can you confirm this? Do you know who the packet belonged to? Many thanks, ~Susan
The text was kicked back to me as not delivered. 

Two sources, meanwhile, gave me the name of the person who they said handled the coke. 
For the time being, Soldier of Fortune is withholding the name pending official confirmation. But here's whose names were not given to me.
Not Joe Biden.
Not Jill Biden.
Not Hunter Biden.
Not Kamala Harris.
READ MORE about the cocaine probe: Questions for the FBI
The media scrum since I wrote my initial story has been intense. The response from security contacts has been, too.
"They won't like that you know who brought in the coke," one said. "Watch your six."
It wasn't a threat, but a warning.
But I'm not the one who should worry. The White House isn't going to bump me off or get me fired. My sources, though, should be concerned for their livelihoods. For their sake, I hope more people come forward.
Anyone with additional direct knowledge of events can report them to the House Oversight Committee by using this whistleblower portal.
Susan Katz Keating is owner and publisher of Soldier of Fortune magazine.