Ed Freeman was close to retirement when war broke out in Vietnam. He was an experienced pilot by then and assigned to the 229th Assault Helicopter Battalion, which was sent to deliver troops to what became known as the Battle of Ia Drang, the first major battle between the United States and North Vietnamese troops.
Read More in Soldier of Fortune about heroism under fire.
Freeman was the flight leader and second-in-command of a 16-helicopter lift unit on Nov. 14, 1965, when he and his men were tasked with dropping infantrymen from the 1st Battalion, 7th Cavalry Regiment, into a remote landing zone beside the Ia Drang River along the Cambodian border.
Everything seemed to be running routinely until the fifth drop, when a heavily armed enemy force opened fire. The attack was so intense that once Freeman's crew got back to the staging area, all helicopter operations into the landing zone were shut down.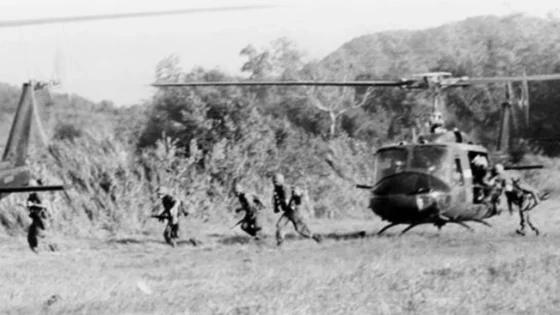 But the men on the ground were struggling to maintain their defenses. They were taking on heavy casualties and running low on ammunition and supplies.
Back at the staging area, the commanding officer, Army Maj. Bruce Crandall, called for a volunteer to fly back in with him to help. Freeman was the only one who raised his hand. For him, it wasn't an option.
"I put 'em in there," Freeman explained in a Library of Congress interview.
So, for hours on end, Freeman and Crandall flew unarmed helicopters — many of which had to be switched out due to damages — into the hot zone to deliver critically needed ammunition, water and medical supplies for the soldiers.
Their mission became that of evacuators, too, when medical helicopters were ordered not to fly in. Fourteen times, Freeman and Crandall flew to a small emergency landing zone within 200 meters of the enemy to evacuate dozens of seriously wounded soldiers.
No one knew until the mission was over that Freeman was hit four times in the legs and left arm.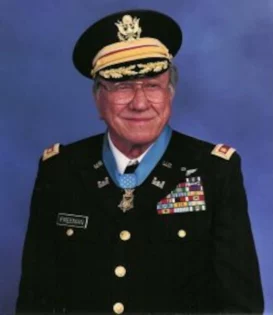 Ed Freeman with the Medal of Honor
Freeman was initially awarded the Distinguished Flying Cross, but after decades of work by men with whom he served, including Crandall, it was eventually upgraded. He received the Medal of Honor on July 16, 2001, from President George W. Bush.
Bush summarized Freeman's actions, saying, "The man at the controls flew through the gunfire not once, not 10 times, but at least 21 times. That single helicopter brought the water, ammunition and supplies that saved many lives on the ground. And the same pilot flew more than 70 wounded soldiers to safety."
"I put in 14-and-a-half hours that day, in and out of that LZ, doing that. And at 10:30 [p.m.], I made the last landing with some guy holding a flashlight and hauling those people out," Freeman remembered.
The Battle of Ia Drang inspired the critically acclaimed book "We Were Soldiers Once … And Young," which was turned into a movie, "We Were Soldiers," in 2002.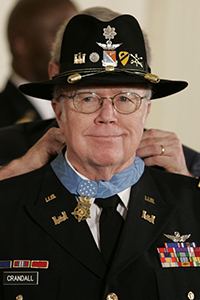 Bruce Crandall
Crandall, who flew the gallant mission with Freeman, was at the White House ceremony when Freeman was given the Medal of Honor. Crandall went on to receive his own Medal of Honor in 2007.
Reported by Katie Lange, who writes stories of heroism for the Department of Defense.