by General (Ret) Scott Miller
No matter what happened out there, everybody was going home. In the midst of a dangerous and at times dire fight, that provided a calming level of peace.
Over the years I have not written much about the Battle of the Black Sea, nor the men of Task Force Ranger. However, as we approach the 30th year since this fight, I feel compelled to put a few more words down about these days than I have in the past.
First off, a nod and a big thanks to the entire Task Force for your role that day wherever you served, but I need to give special acknowledgement and thanks to the Non-Commissioned Officers and our magnificent Aviators who really were at the forefront of the fight.
Scott Miller
Although we are three decades removed, I suspect that many like myself have found the days of 3-4 Oct 1993 to be some of the most consequential of their lives. Certainly there have been other fights, and important milestones in life that have eclipsed those two days, such as birth of our children, weddings, loss of friends and family over the years, yet for me, like others, these two days were certainly at the foundation of my military life and even a big part of my personal life over the years.
Task Force Ranger was one of the more unique Task Forces to date, as it comprised quite a few parts of our Special Operations Community, and as the fight evolved on 3-4 October would grow to include our partners from the 2-14, 10th Mountain, doctors/nurses, multiple aviation units, inter-agency partners, and even participation from multinational elements to include a Tank Company from Pakistan and a Company of Malaysian Armored Personnel Carriers.
A side note here, the contributions of these international forces were actually not usual, meaning the respective commanders of these units committed forces, which almost certainly was risky for them to do without approval from home, to a pretty desperate fight in order to help save Americans. And they bled in that fight as well.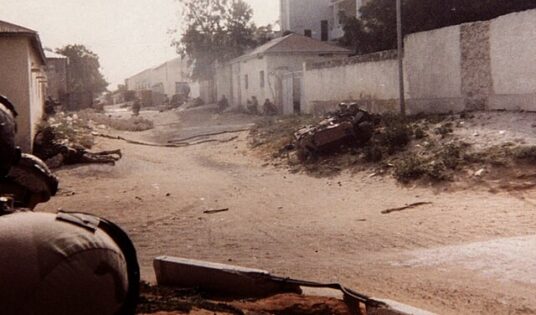 Mogadishu, 1993 (DoD photo)
There were many lessons – from the Tactical to the Strategic—that were learned or relearned that day, and those are usually covered in gatherings around the Army at various times throughout the year, but today I want to expound on the idea of Trust or maybe even more appropriately "Extreme Trust."
"Extreme Trust" is a term I use when talking about the actions of the men I observed that day—-it implies someone willing to risk all, to save another life. It is not an exaggeration to say it happened over and over on 3-4 October 1993.
As an example, a small helicopter that lands in the middle of a busy intersection, being attacked by fighters at close quarters—-in an effort to try to rescue the wounded at a crash site.
Men rushing into a beaten zone (a place where bullets and RPG impacts were dense) to retrieve someone who had been wounded, and pulling them to safety. Oftentimes becoming casualties themselves, but staying in the fight.
A Para Rescueman, already wounded, moving back and forth across a dusty street that was being swept by automatic weapons fire in order to treat other hard wounded men. Ultimately he would be awarded the Air Force Cross—-and it was well deserved and I personally thought it could have been another Congressional Medal of Honor.
A helicopter coming in low and hovering in the middle of the night to get as close as possible to our position, in order to drop much needed supplies, in the process being hit hard by fire and still holding the point until they had dropped everything we needed and then limping back to the airfield with their windshields shattered, and wounded on board.
Two snipers who would be inserted into an unknown situation in an effort to save a downed helo crew, an action that would cost them their lives. They would be posthumously awarded the Medal of Honor
Men who would not abandon a crash site until all of our people were recovered—despite the dangers.
So again while we were simultaneously learning some tough lessons in the midst of a fight—-the idea of extreme trust and the absolute confidence that no matter what happened out there took hold—everybody was going home. In the midst of a dangerous and at times dire fight, that provided a calming level of peace.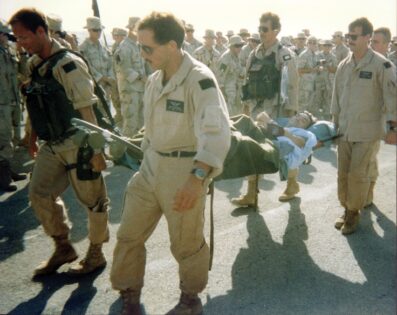 Bringing home wounded pilot Michael Durant.
This is not to say that we didn't have disagreements amongst the different TF members, because we were from different organizations with different cultures, but the "culture of trust" was the most prevailing on the day.
While at a Memorial Service on 6 Oct, MG Bill Garrison, better understanding the magnitude of the fight than most of us, read the prescient words from the Saint Crispin's day speech. To paraphrase a few key lines.. "We Few, we Happy Few, we Band of brothers, for he who sheds his blood with me, shall be my brother"…."He that shall live this day, and see old age, will strip his sleeve and show his scars and say these Wounds I had on Crispin's Day."
Gatherings have and will take place this year. We'll share a toast, say our thanks, and always/always honor the Fallen and their Families who gave so much. Again a profound thanks to all members of Task Force Ranger, with a sincere thanks to all who have volunteered since and carry the legacy forward.
General Austin "Scott" Miller is the Executive Chairman for Prairie Fire Nevada. An Airborne-Ranger, Infantry officer, he commanded the TF Ranger assault force in Mogadishu during "Blackhawk Down." He also was the head of Joint Special Operations Command, and served as the final commander of NATO's Resolute Support Mission and United States Forces Afghanistan. He was one of the early Americans on the ground to commence the hunt for Usama Bin Laden and other high-value targets. His awards include two awards of the coveted Combat Infantryman Badge, two Purple Hearts, the Silver Star, and an unprecedented 20 Overseas Service Bars, denoting in excess of 10 full years in combat zones.