by Susan Katz Keating
A well-placed source with key information on current security events says that a U.S. government surveillance vehicle staked out his locale in Maryland on July 27. The source photographed the vehicle, which was the second time that he has logged in his locale a government scout vehicle that carried an apparent "QUAD" surveillance device.
The contact, who goes by the name "Kentucky," has been the source of information that proved correct for at least eight security stories this writer has published over the course of several years in Soldier of Fortune and other media outlets.  
The source says he has done nothing to merit surveillance, but is concerned that government officials want to know who he has talked to and what he knows. The source feels intimidated, and believes that sunlight on the issue offers protection.
The most recent incident involving a surveillance van took place Thursday morning in Frederick, Maryland.
"Kentucky" on July 27 attended a morning showing of Oppenheimer in IMAX at the Regal Westview theater at 5243 Buckeystown Pike in Frederick, Maryland. When "Kentucky" briefly exited the theater, he spotted the white Ford Expedition with a surveillance device parked near his own car, and close to the building.
"I came out. I saw the guy," Kentucky said. He quickly wrote down the U.S. government license plate number.
"They were within 50 feet of the theater," Kentucky said. "He was in front of the dumpsters."
Because of his familiarity with technology, Kentucky recognized a white cellular surveillance device that was mounted on top of the vehicle.
The back windows on the Expedition were opaque, but the front row windows were clear. One man was sitting in the driver's seat. His hands were not visible.
"I see him, hop in the car, and move behind the dumpsters," Kentucky said. " I snapped a picture of him."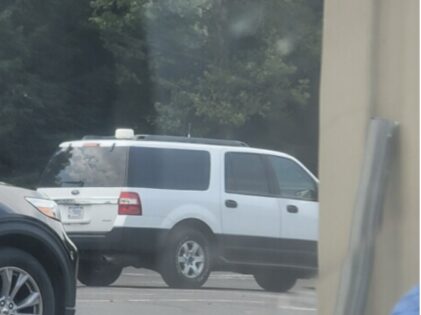 The Expedition quickly pulled away, and vanished from sight.
Kentucky immediately drove two miles to another location, and called Soldier of Fortune. He sent a photograph, which SoF sent out for analysis.
The Expedition most likely is a data intercept or surveillance vehicle, according to former Army communications officer and intelligence analyst John Wagner.
"No external cameras are noted, nor any other antenna other than what appears to be a QUAD type antenna for combining cellular data streams," Wagner said. "If this were some type of Stingray system, it would have a different antenna makeup.
"If this is a QUAD, it certainly has a lot of data throughout."
Initially designed to be used overseas in the War on Terror, the Stingray and similar devices now are used on the homefront by a number of federal, state, and local law enforcement agencies.
The devices "add, extend, and strengthen transmission capacity over bonded cellular networks," according to one QUAD manufacturer. The systems are sold off the shelf.
They act like cell phone towers, Kentucky said.
"Your phone connects to it," he said. "The user can see the IMEI number and all that stuff. And that's how you know what cell phone you're tracking, and it will tell you how far you are away from it."
The devices are used in conjunction with other systems, Kentucky said.
"It will triangulate a location based on other government resources, and you can tell if a person's moving or not," he said.
The users can view the applications that are being used on the target's screen, he said.
"You can't act as a virtual user and open the applications, but you can see what's running on there," Kentucky said. "For instance, if I'm scrolling through Tik Tok, they can see what videos I'm watching."
In the previous incident, a QUAD- mounted black SUV drove several circles around Kentucky's small residential block. Kentucky took photographs and video, and shared them with Soldier of Fortune.
This publication is not reproducing those images because they clearly show where Kentucky lives.
In that incident, the van likely was trying to pinpoint a user's WiFi location, according to one U.S. military intelligence officer. The officer is on active duty, and cannot be named.
"The ground-based circling is key," the officer said. "You can fly a plane or a drone overhead to gather up information, but it's a lot to sift through. You're going to get many tens of thousands of signals. Whereas in a ground vehicle just circling an area, you can pick up anything that's right there."
The circling is meant to gather WiFi data only, the officer said.
"They can pick him out within three feet."
In Thursday's incident, the white Expedition fits the configuration of being on a mission and not being on a quick and incidental trip, the intelligence officer said.
Government vehicles are used within strict parameters, according to regulations published by the Department of Homeland Security.
Motor pool drivers must "wait 15 minutes at a specified location for return service, unless the requestor has specified a reasonable timeline for pickup (i.e. within a time frame of up to one hour)," according to DHS's Motor Pool Management Directive Number 0520.1, issued on April 14, 2003. "If requestors experience a delay in excess of 15 minutes, they must communicate their intentions with the driver and/or motor pool supervisor or make separate arrangements for return service."
The white Expedition remained stationary for longer than 15 minutes, Kentucky said.
The Department of Homeland Security did not respond to an emailed request from Soldier of Fortune asking for detailed information about the white Expedition.
The two incidents have raised questions for Kentucky, and have left him with a sense of uncertainty.
"I am not a threat to the government," he said. "I have spent so much time and effort helping the government accomplish its goals. I don't understand why they'd be interested in me."
He notes that he may not have been the direct target of the incidents outside the theater and at his home.
"If they were sucking data off of everyone's phone, they could have picked up mine," he said.
But he also could have been a target.
"It was ironic," he said. "In the movie that I was at, the FBI was tailing Oppenheimer. They thought he was a communist.
"Why are they doing this? They're not supposed to be using these vehicles against US citizens."
Soldier of Fortune has sent the white Expedition's license plate number to another contact to be run through open source data bases.
The DHS oversees a number of component agencies. These include U.S. Customs and Border Protection; the Cybersecurity and Infrastructure Security Agency; U.S. Immigration and Customs Enforcement; the Office of Homeland Security Situational Awareness; the Transportation Security Agency; and the U.S. Secret Service.
Soldier of Fortune recently has reported on a number of security stories, including those involving cocaine that was found inside the Biden White House.
Susan Katz Keating is the owner and publisher of Soldier of Fortune.