by Hollie McKay
Editor's note: Journalist Hollie McKay and photographer Jake Simkin were inside Afghanistan in August 2021. They documented the fast-moving events of the day, and were caught inside the country when the Taliban came to power. This is an excerpt from their forthcoming book, Afghanistan: The End of the US Footprint and the Rise of the Taliban Rule.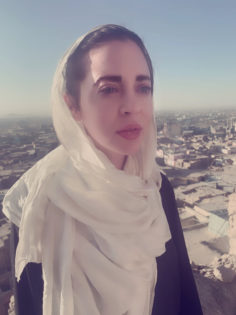 Jake and I meander slowly through the oddly empty Mazar. The city's dynamism is stripped into shuttered stalls, as hundreds line up outside the banks to withdraw whatever cash they can in a last-ditch bid to head somewhere else.

There is no longer a way out for us. We are booked on the earliest commercial flight back to Kabul, but that is not until Monday evening.

Frightened families are stuffing themselves along with bags of belongings into tiny, intricately colored rickshaws and retreating into the city center, their homes on the periphery under threat. Shops are sealed closed, and cars and construction equipment lie abandoned beneath the scorching sun.

Around midday, Jake and I climb into a random cab and drive toward what we presume to be sandbagged frontlines and Afghan and resistance forces putting up the fight of their lives. But there are no fights to be seen nor heard.

"I'm scared," the cab driver unexpectedly croaks out.

Our interpreter, Hami, still on his Nokia flip phone on a call to a friend, turns to us in the backseat.

"The Taliban has just broken through the first of the three frontlines," he blurts out with a bizarre smile, either out of secret pleasure or simply to appease my unease. "We are surrounded."

I assuage my discomfort by working holed up in the hotel room for that long afternoon, stupidly assuring myself that the city will hold until I can fly out in forty-eight hours. Driving is an impossibility; the Taliban have long controlled critical thoroughfares over much of the country.

Jake and I step out into the haunting blackness of deserted streets that evening. We sit nervously at our regular kebab café, inserted down a dozen asymmetrical steps beneath a spice store. For a little while, we pretend it isn't strange that the cords for the television have been yanked from the wall and that no one else is inside.

Before long, the innate anxiety that prickles your skin and shivers your spine becomes too much to tolerate. We forgo chunks of meat and yogurt and hurry across cracked pavements, through the emptiness toward our towering hotel blocks away.

As I step into the apparent safety of the hotel, pivoting around to take in the surreal scene, I notice a cluster of men on motorcycles, in traditional shalwar kameez dress with austere hairy faces, storming into the silence.
That is the Taliban.

Celebratory gunfire echoes through the starless night as we watch from the top floor, moving away from the glass walls as a precaution.
"It's falling," I text anxiously to a good friend.

An email alerts me that Monday's flight is canceled.
"It is fallen," I text again.

There was no fight, no all-out endeavor to hold on. And just like that, we say a silent goodbye to the Afghanistan we had grown to know and embrace. From the window of my hotel room, unclear how the Taliban will treat foreigners, journalists, a woman, Jake and I set about plotting how we are going to safely exit.
Hollie McKay is an investigative and international affairs/war journalist with more than 14 years of specialized focus on warfare, terrorism, and crimes against humanity. Her forthcoming book is available for order.