As fighting intensifies between Palestinian terrorist group Hamas and Israel, Iran has been increasingly vocal about the prospect of additional firepower entering the fray to score a victory for what Tehran calls the "axis of resistance" against Israel.
The axis, refined by the Islamic republic over the last four decades, is a loose-knit network of proxies, Tehran-backed militant groups, and allied state actors who play an important role in Iran's strategy to oppose the West, Arab foes, and, primarily, Israel.
Active in the Gaza Strip, Lebanon, Iraq, Syria, and elsewhere, the network allows Iran to create chaos in enemy territory, while allowing it to maintain a position of plausible deniability.
"Axis of resistance" is a new terms that describes an old phenomenon, according to Ali Alfoneh, senior fellow at the Arab Gulf States Institute in Washington. The term applies to "any individual or group willing to fight Iran's wars in return for funding, arms, military training, and intelligence support," Alfoneh told RFE/RL.
READ MORE: When Iran Planned a Terror Attack in Paris
This relative autonomy, which at times has even seen proxies and partners work against Tehran's regional interests, makes it difficult to pin blame directly on Iran.

"If there is any kind of kinetic retaliation, your proxy, your partner absorbs the retaliation, and if your adversary wants to widen the scope, they have a hard time politically connecting the dots to do that," according to Behnam Ben Taleblu, senior fellow at the Washington-based Foundation for Defense of Democracies think tank.
'Successful Proxy Strategy'

The October 7 assault on Israel carried out by the Sunni terrorist group Hamas was a case in point, with Iran lauding the attack that killed more than 1,400 Israelis and triggered retaliatory Israeli strikes on Gaza that have so far killed more than 3,700 people.

But despite Iran's longstanding support of Hamas — which Alfoneh said is historically closer to Sunni Arab states and is for the most part funded by Qatar — Israel and the West have not been able to directly tie the assault to Iran.

"When assessing the connective tissue between Iran and Hamas, we can't forget that the desire for Iran to disguise its own hand plays into the Islamic republic's own successful proxy strategy," Taleblu said. "The fact that some folks are having a hard time finding an immediate go order, or a very clear green light, is the success of the proxy strategy."
The axis of resistance is part of Iran's attempts to export the Twelver Jafari School of Shi'a Islam, which was named as Iran's official religion after 1979, and "it's kind of messianic vision for what the Middle East would look like," Taleblu said.
"This ideology only has resonance when the Middle East is in chaos, and the Islamic republic is an expert in managing chaos," he added.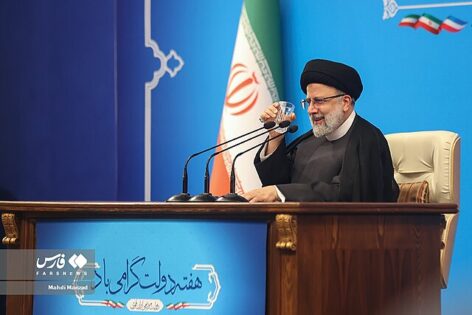 The U.S. assassination in 2020 of Quds Force commander Qasem Soleimani, who was seen as the architect of the axis of resistance, injected an element of chaos within the network – but was not enough to disrupt the Quds Force or break up the axis.
"The Quds Force is a highly institutionalized military organization and the assassination of Major-General Soleimani had no impact on the performance of the organization," Alfoneh said.
The axis has continued its operations through Hamas and the Iran-backed Palestinian Islamic Jihad in Gaza, along with Iranian proxy Lebanese Hizballah, and Iran-backed Shi'ite militias in Iraq known as the Popular Mobilization Force.
In Syria, the IRGC has deployed troops to aid government forces supporting President Bashar al-Assad in the Syrian civil war. In Yemen, Iran has championed the Houthis, who have been battling a military alliance led by Iran's regional rival Saudi Arabia.

At times, some of these groups have flexed their independence from Iran, or claimed a measure of autonomy.

Hamas has insisted that it alone was behind its multipronged assault on Israel, and that Iran and Hizballah had no role. Hizballah in recent days exchanged fire with Israel across the border in the biggest escalation of violence since their 2006 war. Israel has accused Hizballah of carrying out the attacks "under Iranian instruction."
The seeming independence can benefit Iran, according to Alfoneh.

"In general, Iran prefers to preserve a degree of compartmentalization so intelligence leaks from one proxy do not compromise the entire proxy network," he said.
Despite Iran's efforts to avoid blame for what the axis of resistance does, Taleblu said, Tehran should not be allowed to hide behind the shield of plausible deniability.
"It's imperative to constantly hold the patron accountable, and not just the proxy," Taleblu said. "Every time you hold only the proxy accountable, the patron will fight to live another day."
by Michael Scollon, RFE/RL, and Radio Farda.