As the Taliban boast of finding more military bounty left behind by the U.S. in Afghanistan, observers on the ground say that America's abandoned weapons and gear also have boosted the coffers and armories of militants in Pakistan.
"It's a private arms bazaar of military goods," according to "Lucas," a western government analyst who specializes in the region.
READ MORE about when the Taliban took over Afghanistan
"The Taliban are fat and happy with what we left behind," Lucas told Soldier of Fortune. "Now they are acting like used car salesmen handing out deals to their friendly neighborhood hardliners." Those hardline neighbors are militants in Pakistan, "who then sell or use the stuff themselves," Lucas said.
How This Happened
When the United States pulled its forces from Afghanistan in 2021, it left behind around $7 billion worth of military equipment and weapons. When the government in Kabul collapsed, the Taliban seized control of the country – and with it, the abandoned American weapons, armored vehicles, and more.
Taliban publicists have shown their bounty on video, posting in March about a newly discovered trove of American Humvees.
The Taliban have kept most of the gear, but have sent much to neighboring Pakistan, where it is being used by armed groups, according to experts and security officials.
Observers say the influx of U.S. weapons has boosted the military capabilities of the Tehrik-e Taliban Pakistan (TTP) militant group and ethnic Baluch separatist groups that are waging insurgencies against the government in Pakistan, which has witnessed a surge in violence over the past two years.
"These weapons have added to the lethality of such groups," said Asfandyar Mir, a senior analyst at the United States Institute of Peace, adding that a "robust and in many ways growing black market" for U.S. weapons is thriving in Pakistan.
Experts say armed groups have obtained advanced U.S. weapons and equipment like M16 machine guns and M4 assault rifles, night-vision goggles, and military communication gear.
A 'Terrifying' Impact
Abdul Sayed, a Sweden-based researcher who tracks the TTP, said the group's access to sophisticated combat weapons has had a "terrifying" impact, especially on the lesser-equipped police force, in Pakistan.
A police officer in the northwestern province of Khyber Pakhtunkhwa, which has borne the brunt of the TTP attacks, told RFE/RL that they were sitting ducks for militants.
"The fact is that they can see us in the dark while we can't. That gives the terrorists an enormous advantage," said the officer, who spoke on condition of anonymity because he was not authorized to speak to the media.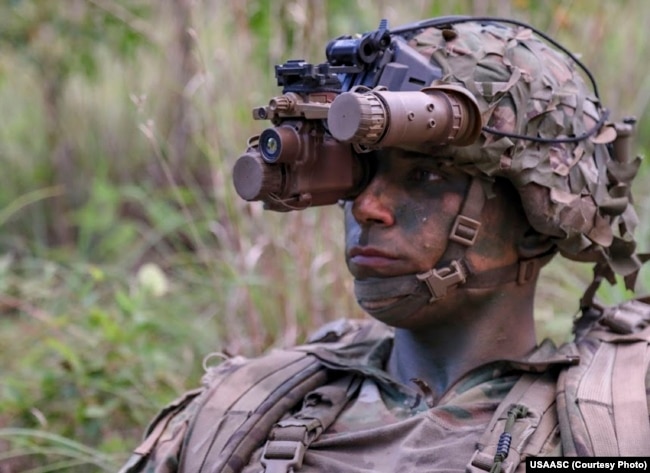 Moazzam Jah Ansari, a former police chief of Khyber Pakhtunkhwa, told journalists in November that militants "picked up sophisticated weapons left behind by the Americans and waged war against [the province's] police."
The TTP's attacks in Pakistan have surged since the Taliban seized power in Afghanistan. The two militant groups are ideological and organizational allies.
According to the Pakistan Institute of Peace Studies (PIPS), a think tank in Islamabad, the number of terrorist attacks in the country increased by 27 percent last year compared to 2021. At least 419 people were killed, while 734 were injured in 262 terrorist attacks last year.
There are few signs that the number of attacks will drop. On January 15, senior police officer Sardar Hussain Khan and two policemen were killed in the northwestern city of Peshawar with a sniper gun, which was fitted with a thermal scope, according to the authorities.

The TTP has released numerous videos of sniper attacks on security check posts along Pakistan's western border with Afghanistan over the last two years.

'No Realistic Way To Retrieve' Weapons

In March last year, the Pentagon reported to Congress that nearly $7.2 billion worth of aircraft, guns, vehicles, ammunition, and specialized equipment like night vision goggles and biometric devices were left behind in Afghanistan.

A Taliban official told Al Jazeera that the group seized more than 300,000 light arms, 26,000 heavy weapons, and around 61,000 military vehicles.
The Pentagon told U.S. government watchdog SIGAR that there is "currently is no realistic way to retrieve the materiel that remains in Afghanistan, given that the United States does not recognize the Taliban as a government."

The Pentagon did not respond to requests for comment.

The Taliban has rejected claims that it has supplied TTP fighters with U.S. weapons and equipment. The group has also downplayed suggestions that it has sold off arms on the black market.

"If some weapons are being smuggled, they are far fewer and not of much concern," Zabihullah Mujahid, a Taliban spokesman, told RFE/RL's Radio Azadi.

Mujahid claimed that some former members of Afghanistan's security forces sold their weapons after the fall of the internationally recognized government in Kabul.

'Extremely Vulnerable'

Pakistani gun owners say the black market has been flooded by U.S. weapons since the Taliban takeover of Afghanistan.

"It's like the 1980s, but, this time, many Western weapons are now available," said Gohar Bacha, a gun owner from Khyber Pakhtunkhwa.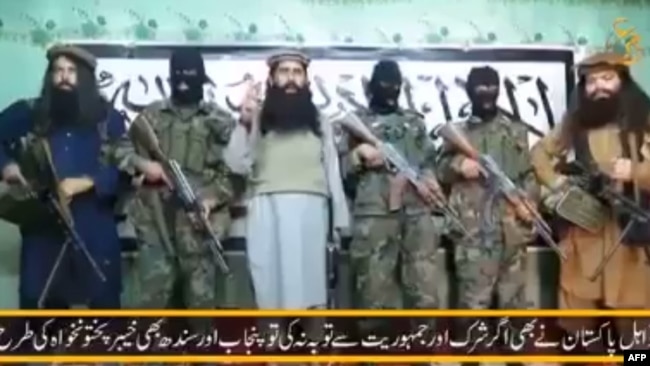 During that time, Western nations sent millions of dollars worth of arms to the Pakistan-based Afghan mujahedin, the U.S.-backed Islamist groups who were fighting Soviet forces that had invaded Afghanistan in 1979. The mujahedin were armed with mostly Chinese and captured Soviet weapons.

Bacha said the new U.S. weapons available on the black market "are of excellent quality and very lethal." He said a U.S.-made M4 assault rifle in good condition can be purchased for around $1,400. U.S. military communication gear such as Harris Engineering Falcon Three Radios, meanwhile, can be bought for around $3,500.

Militants are not the only ones buying Western weapons on the Pakistani black market.

A civilian government bureaucrat in the southwestern province of Baluchistan told RFE/RL that he recently purchased an Austrian-made Glock handgun for $1500.

Pakistan's gun laws allow civilians with a license to own firearms.

"I felt extremely vulnerable, so I wanted to carry a reliable weapon," said the bureaucrat, who spoke on condition of anonymity because he was not authorized to speak to the media, revealing that he had received threatening phone calls from armed groups.

"Security and governance are rapidly declining, so people are forced to fend for themselves," he said.
The overall situation comes as no surprise, Lucas said; but, he noted: "Obviously, this adds more instability to an already precarious region."
Reported by Susan Katz Keating and Abubakar Siddique, with RFE/RL's Radio Azadi.