The city of Phoenix, Arizona, plans to give Ukraine about 600 civilian firearms that have been unclaimed for 30 days or more.
The weapons will be transferred to the National Police of Ukraine, according to an agenda item for the June 28 meeting of the Phoenix City Council. The firearms are worth $200,000, officials noted, and include 9mm, 45mm, 39mm, and 12 gauge guns and shotguns. They will be sent to Ukraine through Gruelle, a Pennsylvania-based logistics company that has sent supplies and humanitarian relief to countries around the globe.
"Gruelle will transfer to the National Police of Ukraine," the city wrote in a June 28 notice. "Only 9mm, 45mm, 39mm and 12 gauge firearms will be sent.
"Firearms are unclaimed when there has been no owner contact after a thirty day notice, in which case the city can dispose of them."
The city listed as unclaimed a number of weapons that would have become available as of March 1, 2023. The unclaimed weapons included a Glock 17 9MM, serial number 51001292706; a 45 Ruger, serial number 51001347886; and various other handguns, rifles, and shotguns.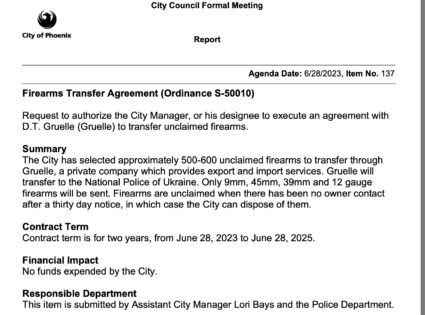 Arizona's Republican state Rep. Quang Nguyen says that the donation violates state law.
Nguyen, the chair of the House Judiciary Committee, wrote a letter along with committee vice chair and fellow Republican Selina Bliss citing a state statute that says unclaimed firearms must be sold to a business authorized to receive and dispose of weapons.
"Arizona does not allow cities to regulate the disposal of unclaimed firearms. That is a state matter and they are doing it on their own," Nguyen said.