Weekend protests outside Moscow's embassies around the world reportedly have been peaceful – until a Russian diplomatic employee in Brazil apparently snapped, bursting from his consulate to chase down and smack a protester.
A YouTube video appears to show an employee of the Russian consulate in Rio de Janeiro on Saturday pursuing and striking a Russian woman who was demonstrating support for Ukraine.
Brazilian police officers are then shown at the scene, one of whom addresses the man, who had quickly retreated inside the consular grounds.
The man reportedly demanded the woman's smartphone and threatened to "get tougher" with her. The Meduza news outlet wrote that the woman filed a police complaint and said she was then threatened by the consulate.
READ MORE about Russia's war on Ukraine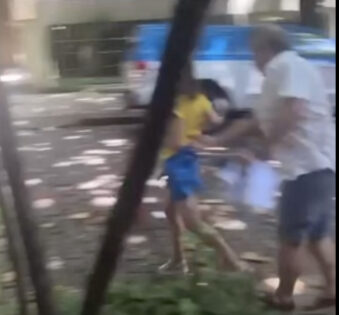 Protests have taken place over the weekend outside Russian embassies in London, Dublin, The Hague, and elsewhere around the world.
Pro-Ukrainian protesters last week confronted people attending an event at the Russian Embassy in Washington, D.C.