by Jose Campos
A fog descends over the mountain I've climbed previously while while trekking Peru. Now, on my fourth expedition to Machu Picchu, the fog imparts a chill. I feel it as a message, a warning I can't shake off. The chill is being felt throughout the country, my companion tells me. The terrorist group Sendero Luminoso ("Shining Path"), once known as one of the world's most violent terrorist groups, is back.
READ MORE from Jose Campos, on conflict in Brazil.
Clashes this year between the Peruvian military and the long dormant Shining Path have killed more than a dozen people, as the once-defunct guerrilla group tries to return to prominence.
The group currently is led by Victor Quispe-Palomino, who has a $5 million bounty on his head from the U.S. Department of State, under its Narcotics Rewards Program. His faction is "notorious for engaging in well-coordinated and extremely violent attacks against against Peruvian National Police and Peruvian military personnel," according to the State Department.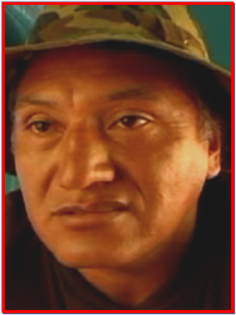 Quispe-Palomino
During a recent operation attempting to capture Quispe-Palomino, alias "Comrade José," six people were killed, including five members of the group and one soldier, according to a March 18 announcement from the Peruvian armed forces.
What is the Shining Path?
The Shining Path, or the Militarized Communist Party of Peru (Militarizado Partido Comunista de Peru – MPCP), was formed in 1970 as a breakaway faction from the Peruvian Communist Party. Led by Abimael Guzman, a university professor who followed the teachings of Mao Zedong, the group started with a small cadre of would-be revolutionaries. Ten years later, the group had grown to more than 500 members who staged staged attacks on police stations and other targets.
The group operated in highly disciplined mobile cells, and maintained tight secrecy. The group was particularly brutal, and used methods such as stoning victims to death, or placing them in boiling water. In September 1992, members of Peru's antiterrorist squad captured Guzman and five of his top commanders. Guzman was put on trial, and was convicted of terrorism, high treason, and the organization of subversive groups.
The Truth and Reconciliation Commission found that the Shining Path killed more than 30,000 people between 1980 and 2000.
The group is considered to be in decline, but in recent years has formed strong and lucrative alliances in the drug trade. Profits from drugs and illegal logging have financed the group's resurgence. Offshoots and factions are reported to have attacked security forces and foreign companies in the remote Apurimac, Ene, and Mantaro River Valley (VRAEM).
A splinter group from the Shining Path reportedly killed 16 people in the VRAEM in May 2021, and left pamphlets warning people not to vote in presidential elections, and particularly not to vote for candidate Keiko Fujimori.
What are its aims, here in 2023?
The same as with similar groups around the world. Power. Throughout the country, their quest to secure it sends a chill that can be felt even at the highest reaches of Machu Picchu.
Jose Campos covers the Spanish speaking world for Soldier of Fortune.