The Chinese spy balloon that was shot down off the coast of South Carolina likely was able to collect and pinpoint American communications on the ground, a U.S. government official said on Thursday. The balloon was part of a fleet that had flown over "more than 40 countries across five continents," a senior State Department official said.
"It had multiple antennas to include an array likely capable of collecting and geolocating communications," the official said. "It was equipped with solar panels large enough to produce the requisite power to operate multiple active intelligence collection sensors."
Much of the Chinese spy balloon that was shot down by the U.S. Air Force remains underwater off the coast of South Carolina, senior FBI officials said.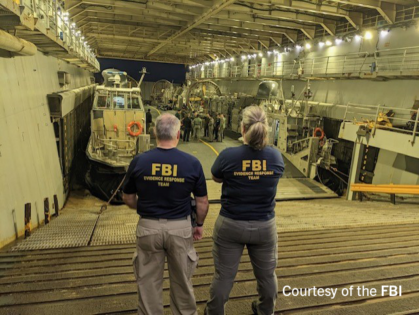 The officials made their remarks on Feb. 9 as the FBI released new photographs of balloon recovery efforts.
Pieces of the balloon will be examined in depth at the FBI Laboratory in Quantico, Virginia; but first must be decontaminated.
READ MORE about Chinese espionage in the United States.
"In simple terms, that is removing the salt water from the evidence itself," said Eric Pokorak, assistant director of the FBI's Laboratory Division. "Rinsing and washing it so that it can be further processed."
Material that has been recovered so far has been limited to surface findings, including the canopy, some wiring, a tiny amount of electronics—but only a small portion of the payload, officials said.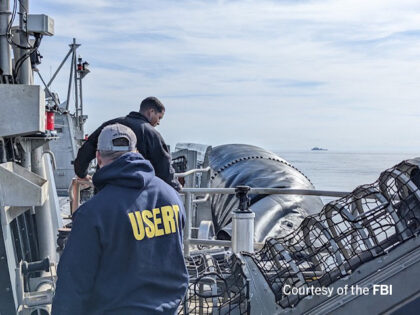 "We have not seen the payload where we expect to see the lion's share of the electronics," said Michael Paul, assistant director of the Operational and Technology Division.
"We were on-scene late Sunday, on February 5, and the first evidence that was received was transported to Quantico and received late Monday, February 6," he explained. Pokorak described the search area as a "large-scale scene" and said weather concerns in the next few days "may impact" evidence collection and the transportation of recovered items
The FBI is coordinating further searches with the U.S. Navy and Coast Guard. Dive teams from the FBI and U.S. Navy are working together.