Robert Hanssen, one of the most damaging spies to betray the United States, was found dead in his prison cell early Monday morning, according to the U.S. Bureau of Prisons.
Hanssen was found unresponsive at the federal correctional complex in Florence, Colo., and was pronounced dead after life-saving measures were attempted, according to a statement from Kristie Breshears of the the Federal Bureau of Prisons (FBOP). 
"Staff requested emergency medical services and life-saving efforts continued. The inmate was subsequently pronounced dead by outside emergency medical personnel," the release reads.
Hanssen was 79 years old, according the the FBOP.
The FBI reports that Hansen became the most damaging spy in Bureau history. The Bureau says the following about him.
Hanssen was arrested on Feb. 18, 2001, and charged with committing espionage on behalf of Russia and the former Soviet Union. Hanssen—using the alias "Ramon Garcia" with his Russian handlers—had provided highly classified national security information to the Russians in exchange for more than $1.4 million in cash, bank funds, and diamonds. 
 
Hanssen's espionage activities began in 1985. Since he held key counterintelligence positions, he had authorized access to classified information. He used encrypted communications, "dead drops," and other clandestine methods to provide information to the KGB and its successor agency, the SVR. The information he delivered compromised numerous human sources, counterintelligence techniques, investigations, dozens of classified U.S. government documents, and technical operations of extraordinary importance and value.
 
Because of his experience and training as a counterintelligence agent, Hanssen went undetected for years, although some of his unusual activities had aroused suspicion from time to time. Still, he was not identified as a spy.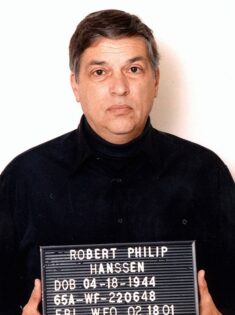 Robert Hanssen mugshot.
 
In the 1990s, after the arrest of Aldrich Ames, the FBI and CIA realized that a mole within the intelligence community was still sharing classified information with the Russians. The agencies initially focused primarily—and incorrectly—on a veteran CIA case officer, who was investigated for nearly two years. 
 
A turning point came in 2000, when the FBI and CIA were able to secure original Russian documentation of an American spy who appeared to be Hanssen. The ensuing investigation confirmed this suspicion. 
 
Hanssen was set to retire, so investigators had to move fast. Their goal was to catch Hanssen "red handed" in espionage. 
 
"What we wanted to do was get enough evidence to convict him, and the ultimate aim was to catch him in the act," said Debra Evans Smith, a former deputy assistant director of the Counterintelligence Division. 
 
Hanssen was serving as a detailee to the Office of Foreign Missions at the Department of State at the time suspicions around him arose. FBI leadership decided Hanssen needed to be removed from his temporary position and brought back to FBI Headquarters. Special Agent Don Sullivan, a squad supervisor at the FBI's Washington Field Office at the time, volunteered to replace Hanssen.
 
Before Hanssen left the position, Sullivan went to learn his new role at the Department of State. He was also tasked with observing and learning as much as he could about Hanssen's information technology setup in his office and with keeping an eye out on who Hanssen was meeting and talking with. 

 
In his office, Hanssen had full access to the FBI's Automated Case Support (ACS) system and the State Department's computer systems. Sullivan noted that Hanssen spent a lot of time trolling ACS for information.  
 
"He had opportunity. He could sit in his office and shut the door. It was not a very demanding job," said Sullivan. 
 
To get Hanssen back to FBI Headquarters where he could be closely monitored, Neil Gallagher, assistant director of the National Security Division at the time, called Hanssen to inform him of a bogus assignment to serve on his staff as a special assistant for a technology project. Gallagher also told Hanssen that then-Director Louis Freeh had approved a two-year extension on his service and a promotion to the Senior Executive Service. 
 
In January 2001, Hanssen moved into a small office in FBI Headquarters secretly outfitted with surveillance cameras and microphones. His assistant, Eric O'Neill, was tasked with keeping investigators apprised of Hanssen's movements.
 
By February 2001, about 300 personnel were working the investigation and monitoring Hanssen. Hanssen was tracked from the time he left his house in Fairfax County, Virginia, to the time he got home at night, and it was confirmed that he was still an active spy. 
 
Investigators learned that Hanssen was set to make a dead drop on February 18, 2001. An FBI arrest team moved into position at Foxstone Park, a location where Hanssen had been spotted before by FBI surveillance. Hanssen parked on a residential street and walked down a wooded path to a footbridge with the classified materials wrapped in a plastic bag. As Hanssen walked back to his car, the arrest team rushed up and took him into custody.
 
Hanssen pled guilty to 15 counts of espionage on July 6, 2001. On May 10, 2002, he was sentenced to life in prison without parole.