by Heath Hansen
Soldier of Fortune correspondent Heath Hansen has written about his missions with Arizona Border Recon (AZBR), a volunteer group that gathers intelligence along the US-Mexico border, and shares the information with federal authorities. Over the years, AZBR has provided intelligence that has led to the apprehension of drugs and illegal immigrants. The group has been so successful that its founder, Tim Foley, was told that the Sinaloa Cartel has put an active bounty on his head. Heath recently caught up with Foley, and talked about his work with AZBR.
Was it difficult getting the organization off the ground? Was it funded entirely out of pocket by you?
The beginning was hard, as I had to learn the terrain and the tactics of what was going on down here. I started out with five others, but they faded away in about six months. Around a year later AZBR was officially started.
I cashed out two pensions early to fund AZBR and have funded 90% of the cost since then – to a tune of about $200K.
READ MORE about Heath Hansen on patrol with Arizona Border Recon
How did you originally find out about the bounty on your head? Who told you it was recently increased?
I received a phone call from a go-between. He told me he was a "Federale," working for the Sinaloa Cartel. He said the Cartels pay them to move their people and drugs across the border.
At first, they offered to give us (AZBR) any gear or weapons we wanted. When I asked, "Why would you give your enemy weapons and gear?" He replied, "Because you wouldn't be our enemy then."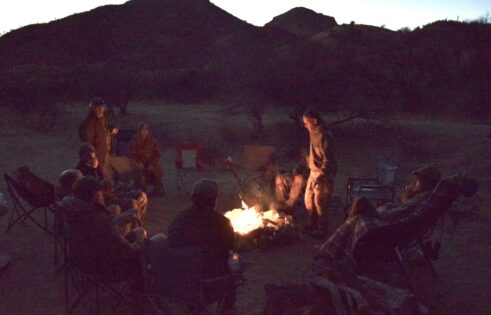 I told him, "Thanks, but we have enough weapons and gear." He called back two weeks later and said his Cartel was offering $15,000 a month to go away. Someone would come to me and give me a bank card with $15,000 on it every month. I asked where they came up with that figure, he said, "That's what we pay our Border Patrol Agents."
When I declined the offer, he said the Cartel thought I might decline, so they were raising the price on my head to $250K – it was $100K before. He said they'd get me in the mountains, and I told him to go for it.
The phone calls were in January of 2022, but I'm still here. They like trying to intimidate, but when you call their bluff, they back off. I get three or four threats a year, everything from "we're going to cut you into little pieces," to, "we know where you live and we're going to burn you alive in your house." So, I sit and wait for something to happen, but nothing ever does.
Being a wanted man by a powerful drug cartel is not something anyone wants hanging over their head. Do you ever regret having started AZBR or deciding to take a stand against what was happening in your own backyard?
I have no regrets, only frustrations.
You went to Washington DC at one point when President Trump was Commander in Chief. Who did you meet with while you were there? What prompted your invitation from the Trump administration?
I was invited to the Pentagon for a trail cam video that was passed up the chain. The video was a Syrian who was on the terror watch list and they caught him in D.C. six weeks after the video was sent to D.C.
Many people consider your organization a "militia." What's your response to that?
We've been called everything in the book – "Militia," "Vigilantes," "Domestic Extremists," and the list goes on. We are a NGO (Non-Governmental Organization). We have no ranking structure, my official title is Field Operations Director.
The only rank in the organization is my dog, Sgt. Rocko, and that's just because it sounds cool. What we've never been called is Neighborhood Watch – but this is my neighborhood, and I'm watching it.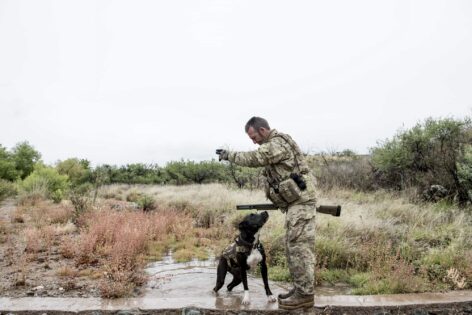 Foley and his dog, Sgt. Rocko
Have you ever come across migrants who were abandoned by their guides and were essentially lost in the wilderness?
Very frequently. I've even had them show up on my doorstep at all times of the day and night.
What does AZBR do in this case?
I tell my guys to treat them the way they'd want to be treated. So, we offer them food, water and medical aid. But, since we don't know who they are, we call Border Patrol and turn them over to them. We let BP check to see if they're bad guys.
So, it goes from an intelligence gathering operation, to a rescue effort?
It's all intelligence gathering. We might be saving them from the heat or cold or saving the women and girls from going into the sex trade. But, the only "rescue" is trying to rescue what's left of this country.
You're old enough to collect social security, but you're still out here patrolling the border. How long will you continue your mission?
Never thought I'd be here this long, but here I am. I told myself there's only two ways I'd leave here. One: Is if I felt it was safe and secure. Two: If I died. From the way things look, it'll be the second one.
You're a veteran of the 82nd Airborne Division. Are you working on any projects right now to give back to the veteran community?
Some of my guys are combat veterans and they've thanked me for giving them a purpose again. So I said if I can help a few, why can't I help more. We started Arizona Veterans Retreat, a non-profit for veterans to get out of the city, away from the organized chaos, and relax.
I'd say it's the hardest thing I've ever done. The amount of obstacles to jump through to help people is insane. None of our board members are paid. Our goal is to help Veteran's lives, not ours. 100% of what we raise goes to building the retreat, not to us.