In early 1991, an article by then-correspondent Susan Katz Keating appeared in Soldier of Fortune, describing how the KGB likely would try to overthrow Soviet leader Mikhail Gorbachev. The article, "How to Stage a Soviet Coup," was published shortly before the KGB targeted Gorbachev in a failed coup attempt. In the article below, RFE/RL correspondent Mike Eckel explores the latest challenge to power in Moscow.
On August 17, 1991, a group of KGB officers, hard-line Communists, and top Soviet government officials calling itself the State Committee on the State of Emergency moved to detain Soviet leader Mikhail Gorbachev. Two days later, an elite military unit was thwarted from seizing key buildings in Moscow by protesters who toppled buses into the streets, and the soldiers withdrew.
The effort to seize power and oust Gorbachev collapsed on August 21. Russian leader Boris Yeltsin was propelled to prominence. Gorbachev's power was fatally weakened. The teetering Soviet Union was pushed off the cliff into collapse four months later.
It was an attempted coup, and it failed.
On June 24, several thousand heavily armed mercenaries loyal to the Wagner Group and its bellicose owner Yevgeny Prigozhin made a thunder run toward Moscow, an effort that President Vladimir Putin outright called "a stab in the back." Prigozhin, a former convict and restaurateur, is also known as "Putin's chef" and was previously seen as loyal to the Russian president.
Prigozhin's mutiny raises a legion of questions. Was it even a coup and, if so, did it fail? Is this the beginning of the end for Putin? And what about the war in Ukraine, a conflict that has resulted in hundreds of thousands of Russians wounded or killed?
The Dust Settles
The 24 hours that shook Putin's presidency — his greatest challenge in 23 years as Russia's preeminent leader — came to an end late on June 24, when the Kremlin announced that Prigozhin had agreed to call off his campaign.
Under the deal that was first announced by Belarusian strongman Alyaksandr Lukashenka, Prigozhin agreed to go to Belarus, Wagner forces would withdraw from the southern city of Rostov-on-Don and pull back from the Moscow region, and Russian authorities agreed to drop the prosecution of Prigozhin. The deal also stated that there would be no prosecutions of Wagner soldiers who joined the effort.
"There was a higher goal: to avoid bloodshed, to avoid internal confrontation, to avoid clashes with unpredictable results," Kremlin spokesman Dmitry Peskov told reporters during a conference call with reporters late on June 24.
As of mid-evening Moscow time on June 25, Putin had made no public statements about the agreement; in fact, the last public statement or appearance Putin made was mid-morning on June 24, when he gave a five-minute televised speech in which he called Prigozhin and his fighters traitors who should be punished: "They will answer for it," he said.
Nor was there any sight of Prigozhin, whose whereabouts were unknown. He was last heard from him in a pair of audio messages released on his Telegram channels on June 24, and then an appearance in Rostov-on-Don late on June 24, where people mobbed his armored SUV and took selfies.
Was It Or Wasn't It A Coup?
Prigozhin had been a thorn in the side of Russian commanders and the Kremlin for months, blasting out slashing and aggressive criticism of how the Defense Ministry has waged war in Ukraine, and the periodic lack of support and supplies his troops have gotten. He has also challenged Putin to put the entire country on a war footing.
But was that cause to try to overthrow him?
It's not fully clear what endgame Prigozhin had in mind when he ordered his men to seize military buildings in Rostov-on-Don and then dispatch a group of a few thousand to travel north toward the Moscow region. There were unconfirmed reports that Prigozhin was spurred into action after a Wagner camp somewhere near the Ukrainian border was attacked, allegedly by Russian missiles or rockets.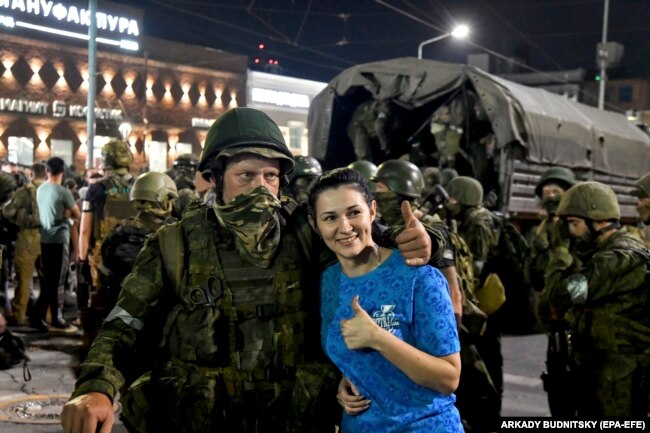 Igor Girkin, a former Russian intelligence officer who fought in the early years of Russian-stoked conflict in eastern Ukraine, called it a coup. "In general, now there was no 'mutiny.' There was a coup d'état. Whether it ended or not, we will soon (maybe even tomorrow) find out," said Girkin in a post to his Telegram channel on June 24.
Prigozhin's actions fit the definition of a mutiny almost perfectly, military experts say. In his televised statement, Putin himself described what was happening as a mutiny, or a rebellion.
In other words, though Prigozhin threw down the biggest gauntlet Putin had faced since catapulting to prominence in 1999, it's not clear Prigozhin wanted to oust the Russian leader. However, he may have been seeking the heads of other top officials: Defense Minister Sergei Shoigu and the country's top military officer, General Valery Gerasimov. The Wagner chief has regularly feuded with them, questioned their competence, and even managed to get his preferred general, Sergei Surovikin, put in charge of the Ukraine war briefly.
The Defense Ministry factions that don't support Prigozhin have tried to clip the mercenary leader's wings in the past, most recently with an order that all volunteer fighters should sign contracts with the ministry. That would essentially cut off Wagner from new recruits.
In other words, according to Tatyana Stanovaya, who runs a political consultancy called R.Politik and is now a senior fellow at the U.S.-based Carnegie Endowment for International Peace, Prigozhin would lose his autonomy by making his troops subordinate to the Defense Ministry.
"When we talk of coups, we imagine armed men rushing into the Kremlin to arrest or kill Putin and installing a new leader," Lawrence Freedman, emeritus professor of war studies at King's College London, wrote in a blog post. "In that sense, it is not a coup and Prigozhin has insisted that he is not mounting one. His aim is solely to remove Shoigu and Gerasimov and replace the 'meat-grinding' strategies they have followed in the war."
Russian military bloggers have circulated rumors that Shoigu or Gerasimov, or possibly both, could end up being cashiered or merely pushed out, with Putin agreeing to a long-standing gripe of Prigozhin. Roughly 24 hours after the announced end to the mutiny, there was still no confirmation that those dismissals were in the offing. And roughly 24 hours later, Shoigu and Gerasimov were nowhere to be seen or heard.
But if it does happen, watch to see who steps in. One possibility is Aleksei Dyumin, a former Putin bodyguard who is now governor of the Tula region. Another is Surovikin, Prigozhin's favored general, who was also the military commander who led the elite unit into Moscow's center in 1991, clashing briefly with protesters before withdrawing.
The End Of The Putin Era?
The parallels to the events of August 1991 only go so far. Gorbachev was weakened. Yeltsin was empowered. And the Soviet Union ceased to exist that December.
There's another historical parallel, one that both Prigozhin and Putin have invoked, separately from one another: 1917, when a demoralized and battered Imperial Russian Army was racked by mutinies and collapsed, while back in Russia a revolution toppled the tsar and paved the way for the Bolshevik Revolution a few months later.
Over his two decades as preeminent leader, Putin has fashioned himself as a bulwark against turmoil, and the antidote to the chaos that gripped Russia in the 1990s, after the Soviet collapse.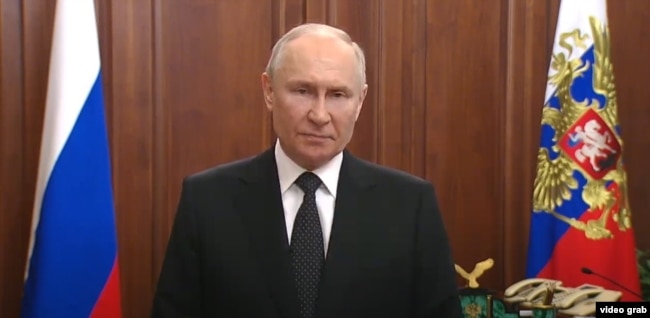 But Putin's invulnerability has been tarnished as the Ukraine war has dragged on. Prigozhin has now directly challenged the Russian president, not just in words but in deeds. The fact that several thousand of Prigozhin's heavily armed men were able to rush nearly into the capital unhindered is also problematic for Putin's administration.
"The Kremlin's dedicated internal security organs failed to respond to an independent military force capturing the headquarters of the [Southern Military District] and advancing on Moscow; and Wagner likely could have reached the outskirts of Moscow if Prigozhin chose to order them to do so," the Institute for the Study of War, a Washington think tank, said on June 24.
Prigozhin's challenge ended with negotiation, not gunfire, and Putin labeled him and Wagner mutineers and traitors. Yet they are all being essentially absolved. And, for now, Wagner remains a potent, well-armed fighting force.
"Putin's weakness has been shown up and his authority diminished," Rodric Braithwaite, who served as British ambassador to Moscow between 1988 and 1992, wrote in a blog post.
"Much of the detail is still murky. The right-wing extremists who used to support Prigozhin are still around. We don't know what the soldiers in the field or the wretched Russian people really think or how they will finally jump. We still have no idea how or when Putin will go, or who will succeed him," he wrote. "But the end of the Putin era is surely heaving into sight."
"It's a betrayal from someone who owes him their career: his war dog turned on him," Alissa de Carbonnel, deputy director of the Europe and Central Asia Program at the International Crisis Group, said in a statement. "By challenging Putin personally, Prigozhin has done the unthinkable and shown a weakness: exploding the illusion that division within the ranks is tolerated and even encouraged by Putin to keep his people on edge."
"There is a consensus opinion in the world that Russia has now moved into a new dimension," Sergei Markov, a former Putin adviser, said in a Telegram post. "Now it is a country where coups are possible. It is believed that the crisis showed a sharp weakening of President Putin. And that Putin at some point was on the verge of removal from power."
"They don't think that, in Russia, by the way," that they've entered a new dimension, he added.
What About The Ukraine War?
Across the border in Ukraine, now in its 17th month of war, there was gloating, perhaps unsurprisingly, as Ukrainian officials hoped that the turmoil would impact the Russian invasion and allow Ukrainian forces to seize the advantage during their ongoing counteroffensive.
"Prigozhin humiliated Putin [and] the state and showed that there is no longer a monopoly on violence," Mykhaylo Podolyak, a top adviser to Ukrainian President Volodymyr Zelenskiy's office, said in a Twitter post.
Still, it's too early to say what the battlefield implications of the mutiny will be.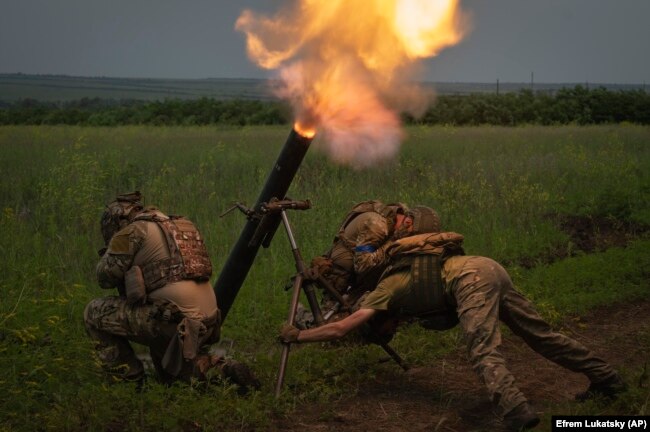 Ukraine's counteroffensive, which Kyiv hopes will turn the tide of battle, is still warming up, about three weeks in. Ukrainian commanders have yet to commit the bulk of their newly equipped, NATO-trained brigades.
Wagner forces, meanwhile, have played a small but critical role in several offensive operations: in the urban warfare to capture the port of Mariupol, the Luhansk region cities of Syevyerodonetsk and Lyychansk, and more recently, Bakhmut, a Donetsk city obliterated during a 10-month grinding effort. Prigozhin has said 20,000 Wagner troops were killed in the fight for Bakhmut.
Experts say Wagner forces may now play a diminished role, as ammunition supplies are curtailed and its fighters are pressured to fall under regular military command. It's an open question whether discipline or morale among frontline Russian forces — already major systemic issues for Russia's military — will be further eroded by the domestic turmoil.
Moreover, in their rush northward, Wagner troops managed to down or damage seven Russian helicopters, as well as an IL-22 airborne command plane, resulting in the deaths of 13 airmen. Yet those fighters, according to the deal first announced by Lukashenka, should be cleared of responsibility, which will likely anger some within Russian command structures.
"Everyone understands that it is also luck that so few people died," Markov wrote. "If there is a second rebellion, many more will die. And if nothing is seriously changed, if the reasons for the rebellion are left behind, then the second rebellion will be necessary."
Mike Eckel is a senior correspondent for RFE/RL reporting on Russia, Ukraine, and around the former Soviet Union, plus cybercrime and espionage. He's reported on the ground on Russia's invasion of Ukraine, the wars in Chechnya and Georgia, and the 2004 Beslan hostage crisis, as well as the annexation of Crimea in 2014. Find him on Twitter, [email protected].