In Saudi Arabia 2013, Rizana Nafeek, a young nanny from Sri Lanka, was beheaded by sword, punishment for allegedly killing a baby in 2007 when she was believed to be just 17.
Saudi Arabia, Iraq, South Sudan, and Yemen bucked a global trend with spikes in executions
Global executions fell by 5%, hitting a 10-year low
Saudi Arabia executed a record number of people in 2019, despite an overall decline in executions worldwide, Amnesty International said in its 2019 global review of the death penalty published today. The Saudi authorities put 184 people to death last year, the highest number Amnesty has ever recorded in a single year in the country.
Meanwhile the number of executions doubled in Iraq, and Iran retained its place as the world's second most prolific executioner after China, where the exact number of people put to death remains a state secret. However these states are bucking a global trend which saw global executions decrease for the fourth consecutive year to at least 657 in 2019 from at least 690 in 2018 — the lowest recorded figure of the past decade.
Note: often trials are swift and without due process
RFE takes a deeper dive into Iran executions and punishments if not death.
Eye For An Eye: Blinding Sentence Puts Spotlight On Iran's Retribution Laws By Golnaz Esfandiari
In a rare ruling, an Iranian man who blinded his neighbor during a fight in 2018 has been sentenced to be blinded based on the Islamic eye-for-an-eye retribution law.

Blinding rulings have rarely been carried out in Iran, where Islamic law was reintroduced following the Islamic Revolution in 1979.

In many cases, victims have halted the punishment and agreed financial compensation, or so-called "blood" money, with the perpetrators.

But a 40-year-old man from Tehran, who was blinded by his neighbor with a knife, has demanded a literal application of the retribution law.

Islamic law adheres to the notion of an "eye for an eye" under the Qisas principle. Victims or their families have the final say in such cases and can stop the punishment.

The implementation of corporal punishments under Islamic law, including lashings, amputations, and blinding, are controversial in Iran where many citizens have criticized them as inhumane and barbaric.

Human rights groups have said the punishments violate international laws and amount to torture and the cruel treatment of convicts.

'I Suffered A Lot'

The blinding ruling issued in Tehran was reported by Iranian media on October 9. It was not clear when the court itself issued its ruling.

It came after the victim, who has not been named, requested a retributive sentence.

The perpetrator, who has also not been identified, said he did not intend to blind his neighbor when he attacked him with a knife.

But the victim has said that he is not ready to show clemency or agree to financial compensation.

"I suffered a lot during these four years, and I have no intention of forgiving [the perpetrator]," the man was quoted as saying by the government daily, Iran.

The retribution law allows victims and their families to demand retaliation for homicide or bodily harm. The punishment in such cases should be proportionate to the crime.

Convicts have 20 days to appeal their verdicts under Iranian law.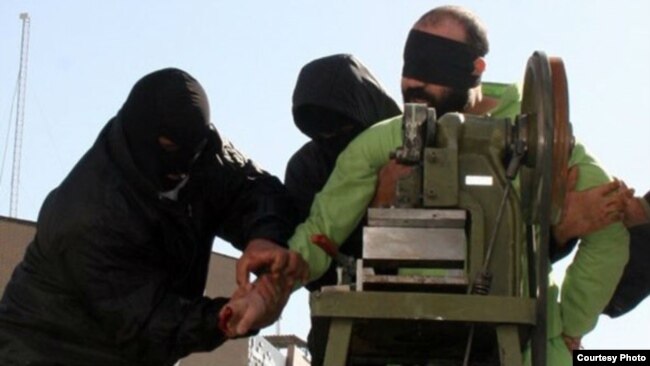 'Utter Brutality'

In the past, victims have agreed to spare their attackers in exchange for compensation. Convicted attackers have also faced jail sentences.

In a 2011 case that garnered widespread media attention, a court ordered acid to be dropped into the eyes of a man who had blinded and badly disfigured a woman in 2014.

The sentence was not carried out after the victim, Ameneh Bahrami — who had originally supported the punishment and had expressed a willingness to do it herself — pardoned her assailant. Instead, she demanded compensation to cover her medical fees.

"The Koran gives you the right to retribution," Bahrami had told RFE/RL's Radio Farda. "But this very Koran also encourages you to pardon, since pardoning is one of the highest moral standards."

Only two blinding sentences are believed to have been carried out in Iran since 1979.

In March 2015, a man convicted of blinding another man in an acid attack was blinded in one eye by medics who gouged out his left eye, according to a report by the daily Hamshahri cited by The Guardian.

The report said the man had been rendered unconscious during the procedure.

Activists have said that obliging doctors to administer such punishments violates medical ethical codes.

In the past, Iranian officials have admitted that it has been difficult to find medical professionals willing to carry out the punishment.

Amnesty International blasted the punishment and said that it exposed "the utter brutality of Iran's justice system and underlines the Iranian authorities' shocking disregard for basic humanity."

"Meting out cruel and inhuman retribution punishments is not justice," the rights group added.

A year later in November 2016, another man who had attacked a 4-year-old girl with lime, a potentially toxic substance, and left her sightless was blinded in both eyes.

Iranian media reports said that the sentence was carried in the presence of a court official and "relevant specialists."