Third Biden COVID-19 Vaccine Mandate Blocked: Federal Judge Grants Nationwide Preliminary Injunction. the mandates according to multiple courts are illegal.
But power hungry local officials are unconcerned about legalities or about the Constitution or medical privacy. .
Over 113 firefighters were laid off without pay for not complying with the vaccine mandate.
Con-compliant firefighters "will be entered into the process for termination of their employment," LA Fire Department spokesman Cheryl Getuiza told the local station.
In addition, more than 400 school employees were laid off without pay because they would not obey the vaccine mandate.
As if California isn't already in the skids and bagging for Federal funds non stop.
The LAFD is busy seeking firefighters: The Los Angeles Fire Department will be begin accepting new applications for entry-level #Firefighter on February 2, 2022. In the meantime, sign up for one of the upcoming virtual hiring seminars.
In accordance with Los Angeles City Ordinance 187134, candidates must be fully vaccinated against COVID-19 or receive an exemption and report their vaccination status prior to appointment by the Los Angeles Police Department/Los Angeles Fire Department.
HELENA – A U.S. District Court Judge issued a nationwide preliminary injunction today against President Biden's vaccine mandate for federal contractors, which was set to take effect next month. Three of the federal government's vaccine mandates are now enjoined in Montana.
The order was issued in the U.S. District Court for the Southern District of Georgia in a case filed by several states.
In response, Attorney General Knudsen issued the following statement:
"I've heard from federal contractors and their employees across the state who were worried they'd be forced to get a vaccine they don't want. Just because a company happens to contract with the federal government does not mean its workers lose their rights," Attorney General Austin Knudsen said. "The vaccine mandates are a gross abuse of power – and now three of them are blocked in Montana. I'll continue to fight President Biden's unlawful mandates and protect Montanans' rights."
The judge enjoined the federal government "from enforcing the vaccine mandate for federal contractors and subcontractors in all covered contracts in any state or territory of the United States of America."
Attorney General Knudsen continues to fight the federal contractor mandate in a parallel lawsuit filed in U.S. District Court for the Eastern District of Missouri.
Click here to read the full ruling.
Last week, a federal judge granted Attorney General Knudsen's request for preliminary injunction against the COVID-19 CMS vaccine mandate. The Occupational Safety and Health Administration (OSHA) has also been ordered by federal court not to enforce its vaccine mandate for private employers.
November 15, 2021
Attorney General Knudsen Leads Multi-State Lawsuit Against Biden Healthcare Worker "Jab Or Job" Mandate
HELENA – Montana Attorney General Austin Knudsen is leading an 12-state lawsuit to stop the Biden administration's overreaching "job or jab" COVID-19 vaccine mandate for healthcare workers. The mandate threatens to further burden the health care sector and patient well-being in Montana, where a large percentage of nursing homes and other long-term care facilities are already facing worker shortages.
The 12-state coalition filed the lawsuit and request for a preliminary injunction today in the U.S. District Court for Western District of Louisiana.
"President Biden's trio of COVID vaccine mandates is an unconstitutional power grab and intrusion into Montanans' lives. Federal judges have already blocked one mandate from going into effect, and the mandate for healthcare workers should be no different," Attorney General Knudsen said. "The federal mandates are not about health – they are about forced compliance. Healthcare workers should be allowed to make their own decisions about their health – not President Biden. If his unprecedented overreach is not stopped, healthcare workers will lose their jobs threatening access to medical care that Montanans need."
The Centers for Medicare & Medicaid Services (CMS) COVID-19 vaccine mandate on facilities that receive federal funding for treating patients exceeds the agency's statutory authority and violates the Social Security Act's prohibition on regulations that control the hiring and firing of healthcare workers. It also violates multiple federal laws, the Spending Clause, the Anti-Commandeering Doctrine, and the Tenth Amendment to the U.S. Constitution.
More gravely, the Biden administration's COVID-19 mandate threatens the well-being of people who rely on services provided by the federal healthcare programs and the livelihoods of the those who provide that care.
"The Vaccine Mandate causes grave danger to vulnerable persons whom Medicare and Medicaid were designed to protect – the poor, sick, and elderly – by forcing the termination of millions of 'healthcare heroes,'" the lawsuit reads.
According to CMS, the COVID-19 vaccine mandate targets about a quarter of the nation's health care workers who have not chosen to get vaccinated. The Biden administration's core "objective is to coerce the unvaccinated workforce into submission or cause them to lose their livelihoods." Without the injunction sought by Attorney General Knudsen, the result will be health care workers losing their jobs and America's most vulnerable populations losing access to necessary medical care.
This will hit the healthcare system in rural Montana particularly hard. More than 39 percent of nursing homes and other long-term care facilities in our state suffer from staff shortages, according to the AARP's Nursing Home COVID-19 Dashboard. More than one-third of staff have chosen to remain unvaccinated, meaning the Biden mandate could make the healthcare workforce shortage much worse.
"The Vaccine Mandate threatens to exacerbate already devastating shortages in healthcare staffing by forcing small rural hospitals to terminate their unvaccinated workers," the complaint states. "If unvaccinated quit or are fired, that will compel those hospitals to close certain divisions, cancel certain services, or shutter altogether. Those dire consequences stretch across rural America."
The Biden administration's COVID-19 vaccine mandate violates the Tenth Amendment of the U.S. Constitution by seeking "to commandeer state-employee surveyors to become enforcers of CMS's unlawful attempt to federalize national vaccine policy and override the States' police power on matters of health and safety."
In addition to Attorney General Knudsen, attorneys general from Alabama, Arizona, Georgia, Idaho, Indiana, Louisiana, Mississippi, Oklahoma, South Carolina, Utah, West Virginia are plaintiffs in the case.
Click here to read the lawsuit. Click here to read the preliminary injunction motion.
Attorney General Knudsen continues to fight the Occupational Safety and Health Administration's COVID-19 vaccine mandate for private employers in a case at the Eighth Circuit. In a separate lawsuit, federal judges called that mandate "staggeringly overbroad" and blocked its implementation pending the outcome of the case. He has also sued President Biden over the illegal COVID vaccine mand
Pfeizer alone raked in19 B this year.
Background Officers have fired warning shots when protestors get out of hand in Rotterdam. Austrians fed up with being treated like children stage protests. Americans mainly take the social media or official Senatorial and Congress high roads in blasting the unconstitutional mandates.
Social media hacks believe Dr Fauci is the only voice on the medical planet and deletes willy nilly user's objections to Fauci's tyranny who treats non compliant Americans as undesirables.
But one firefighter in California has made the most memorable splash. The firefighter wiped his buttocks with a letter from the LA Fire Department telling him he was not in compliance with their authoritarian orders to get the CCP virus jab. He is under investigation.
"No matter how our members react, all city employees must abide by the city ordinance — either file for an exemption, get vaccinated, or face termination," an LAFD spokesperson told the LA Times with 100percentFed Up reporting.
Sen Johnson Holds Expert Panel on Mandates: Victims Devastation and no choice. What many expected to be a no show went forward with voices loud and clear for free medical choices to be determined by individuals and their doctors rather than Non-Dr. or nonpracticing Biden, Fauci and Pfizer.
October 28, 2021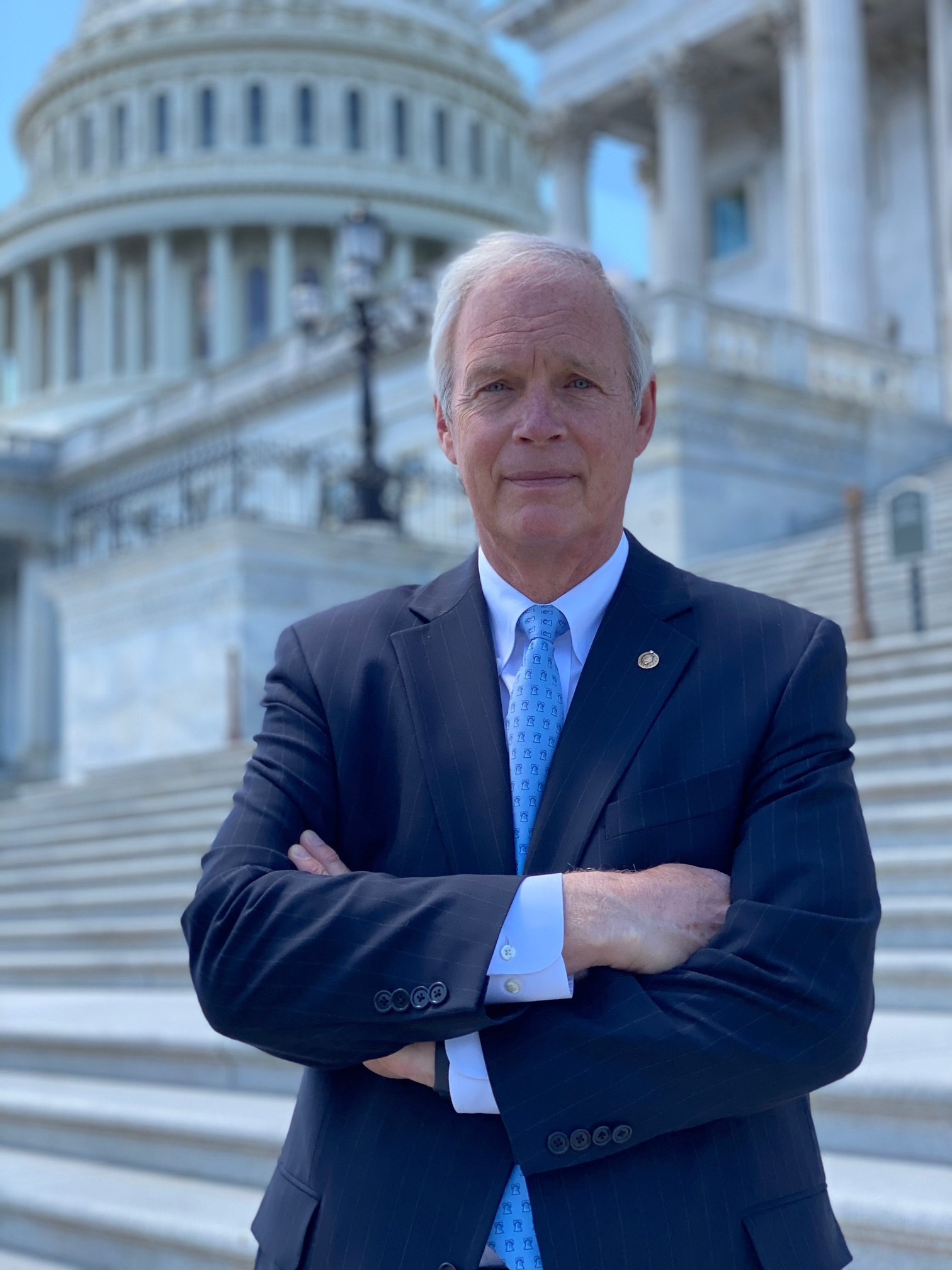 WASHINGTON — U.S. Sen. Ron Johnson (R-Wis.) will hold a panel discussion with doctors and medical researchers who have treated COVID-19 vaccine injuries and are researching the safety and efficacy of COVID-19 vaccines, patients who have experienced adverse events due to the COVID-19 vaccine, and vaccine mandates. The senator will speak to his advocacy for early treatment, the importance of American's health care freedom and recognizing natural immunity, the impacts of mandates on the American workforce and the economy, and the lack of transparency from federal health agencies in response to his COVID-19 oversight requests.
Sen. Johnson has also extended an invitation to the following agencies and drug companies so they can hear firsthand from the vaccine injured and medical professionals:
CDC Director Dr. Rochelle Walensky
Secretary of Defense Lloyd Austin
Secretary of Labor Marty Walsh
Secretary of Transportation Pete Buttigieg
FDA Acting Commissioner Janet Woodcock
HHS Secretary Xavier Becerra
NIAID Director Dr. Anthony Fauci,
NIH Director Dr. Francis Collins
Johnson & Johnson CEO Alex Gorsky
Moderna CEO Stéphane Bancel
Pfizer CEO Albert Bourla
BioNTech CEO U?ur ?ahin
WHO:
Senator Ron Johnson (R-Wis.)
Vaccine injured
Cody Flint, airline pilot from Cleveland, MS who accumulated 10,000 hours of flight time diagnosed with left and right perilymphatic fistula, Eustachian tube dysfunction, and elevated intracranial pressure following Pfizer vaccination
Ernest Ramirez, father from Austin, TX whose only son collapsed playing basketball and passed away from myocarditis following Pfizer vaccination
Amy and Abby Alvo, family from Los Angeles, CA whose daughter suffered adverse reaction from first dose of Pfizer vaccine, having been denied a medical exemption twice, she will be kicked off her collegiate cheer team if she is not fully vaccinated
Doug Cameron, farm operations manager from Idaho, permanently paralyzed following vaccination
Kyle Werner, professional mountain bike racer from Boise, ID diagnosed with pericarditis following vaccination
Suzanna Newell, triathlete from Saint Paul, MN diagnosed with an autoimmune disease and reliant on a walker or cane to walk following vaccination
Kelly Ann Rodriguez, young mother from Tacoma, WA reliant on walker following vaccination
Maddie de Garay, 12-year old Pfizer clinical trial participant from Cincinnati, OH confined to wheelchair and feeding tube
Brianne Dressen, Astra Zeneca clinical trial participant from Utah, co-founded react19.org, a patient advocacy organization dedicated to increasing awareness of adverse events
Dr. Joel Wallskog, orthopedic surgeon from Mequon, WI diagnosed with transverse myelitis following Moderna vaccination
Medical experts and doctors
Lieutenant Colonel Theresa Long, Brigade Surgeon for the 1st Aviation Brigade, Ft. Rucker, Alabama, US Army
Dr. Linda Wastila, Professor and Parke-davis Chair in Geriatric Pharmacotherapy, University of Maryland School of Pharmacy
Dr. Robert Kaplan, faculty member at the Stanford School of Medicine Clinical Excellence Research Center
Dr. Peter Doshi, Associate Professor of pharmaceutical health services research at the University of Maryland School of Pharmacy
Dr. Joseph Fraiman, board-certified Emergency Medicine Physician
Dr. Patrick Whelan, Associate Clinical Professor of Pediatrics in the Division of Rheumatology at University of California, Los Angeles
Dr. Aditi Bhargava, Professor in the Department of Obstetrics and Gynecology and the Center for Reproductive Sciences at University of California, San Francisco
Dr. Retsef Levi, J. Spencer Standish (1945) Professor of Operations Management at MIT
Dr. David Healy, Professor in the Department of Family Medicine at McMaster University in Ontario
Dr. Iona Heath, retired general practitioner from Kentish Town in London and Past President, Royal College of general Practitioners
Kim Witczak, international drug safety advocate and speaker, serves as Consumer Representative on the FDA Psychopharmacologic Drug Advisory Committee
WHAT: Panel discussion on vaccine mandates and the consequences and the lack of compassion and response from federal health agencies to those who have experienced adverse events from the COVID-19 vaccine