Israel on Thursday released images of weapons and tunnel shafts that are located beneath the Shifa Hospital in Gaza.
"Today, Hamas's tunneling infrastructure was exposed inside the hospital," the Israel Defense Forces said on Nov. 16. "Furthermore, a booby-trapped vehicle that was prepared for the October 7 massacre was discovered containing a large amount of weapons and ammunition."
In a video depicting its findings, the IDF showed a weapons cache that included AK-47 rifles, ammunition, handcuffs, knives, rocket-propelled grenade launchers, and more.
"This is what Hamas is trying to hide from you," a soldier said in the video.
The search at Shifa took part while additional searches too place in the Rantisi Hospital inside Gaza.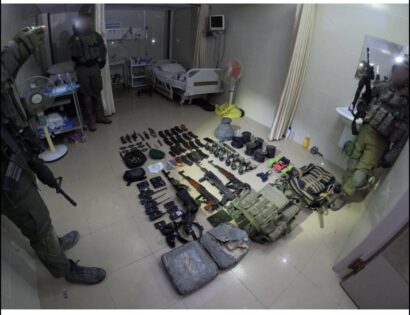 Hamas weapons that were concealed inside a hospital.
"Hamas deliberately conceals its military operations and assets inside civilian areas including homes,
mosques, and hospitals in an attempt to avoid being attacked, intentionally using Gazan civilians as
human shields," the IDF said.
Representatives from Hamas did not immediately respond to a request for comment from Soldier of Fortune.