by Heath Hansen
"What the Invictus Games mean to me is almost a redemption."
Immediately following the opening ceremony of the 2023 Invictus Games, Soldier of Fortune correspondent Heath Hansen caught up with Donald Calero, one of the few active duty serviceman representing the United States in multiple events at the Invictus Games in Dusseldorf. Their conversation is as follows.
So Donald, what is your full name, rank, and branch of service?
I am HM2 Donald Calero, and I'm in the US Navy, stationed at Camp Lejeune, North Carolina. I'm currently at the Invictus Games, for Team United States!
What is the nature of your injuries?
Back in 2019, I was with my Marine unit, 3rdBattalion, 6th Marines, doing a UDP deployment over in Japan. Unfortunately, during that time, they found a mass in my abdomen and after a CT scan, they thought it was kidney stones. They later took a closer look and discovered I had testicular cancer. After looking at the pathology reports, they determined it was stage 3 testicular cancer. 
Where are you from in the United States?
Originally, I'm from Dallas, Texas. But, after joining the Navy, I was stationed in Bethesda, Maryland, and now I'm stationed in North Carolina.
What events are you competing in at the Invictus Games?
At the 2023 Games here in Dusseldorf, I'm competing in Sitting Volleyball, Archery, Field, and Swimming – the main sport that I do.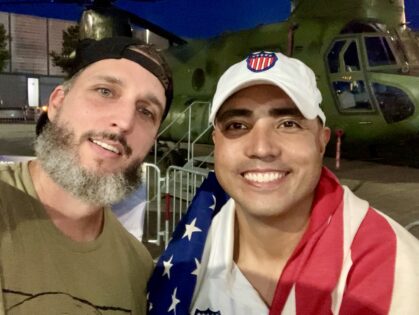 What do the Invictus Games mean to you?
What the Invictus Games mean to me is almost a redemption. Not so much as trying to win after failure, but more of trying to get your life back. Adaptive sports teaches you how to adapt and overcome certain things in life; the biggest thing it's taught me is how to deal with my injuries and my diagnoses with cancer – and then having to not really live with it, but how to adapt and overcome it. How to do the sports, how to get back on my feet, and also how to reconnect with my family – which is the most important part. Because family, after the military is done, they're the ones that will be there with me; so, that gave me a chance at redemption with them.
How have the Invictus Games changed your outlook on life?
The Invictus Games has completely changed my outlook on life by basically just widening my vision of everything that goes on. Seeing other nations out here, with their injuries, and their stories, has made me understand that in other parts of the world, those injuries have occurred to us in almost the same way as them. Traumatic injuries, visible and invisible, that how they adapt and overcome their injuries, we've shared our stories to help us as well.
READ MORE about a British admiral's response to Harry regarding the games
After the Invictus Games, where are you heading?
After the Invictus Games, I'm heading back home to North Carolina to continue my service with the naval hospital, and then transfer over to the 2nd Battalion, and also complete my career for another four years with them. And then try to possibly go on for another 20 years but also stay with the adaptive sports program by also assisting other service members who were in my position as far as not knowing where to go after their illness or injuries. Hopefully I can point them in the right direction, with their respective service's adaptive sports program, to help jump-start their life the way it's done for me.
Thank you HM2 Calero!
Good luck to you, and all the athletes representing the United States at the 2023 Invictus Games!