Ukraine was attacked by Russian armed forces at night secretly and without declaration of war.
Currently the team and companies of Державний концерн "Укроборонпром" are carrying out measures according to set algorithms and approved scenarios.
A headquarters was created in Concern by my decision. A meeting was held with M Defense Ministry of Ukraine. We immediately ship and transfer all finished products from the production and warehouses of our factories for the needs of Збройні Сили України .Keeping calm, trusting only verified information, working 24/7 and helping the Army!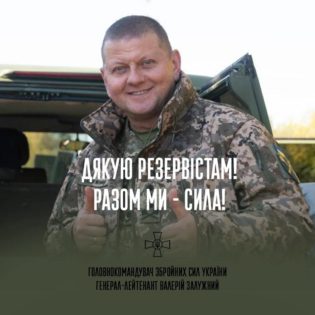 Dear fellow citizens!
Dear friends in battle!
In this difficult time for our country, we are united, courageous and determined. That is why Victory will be upon us!I thank the reserve forces of the Armed Forces of Ukraine, who, from today, immediately after the corresponding order on the prosecution, go to the territorial facilities and social support centers.
These railroad lines across the country form a flow of colossal force that will demolish the horde as soon as it crosses our borders. Given the tightening on the line of collision course and the need to ensure the state's borders are defended from the East, North and South, every person in the banks of the defense force is important.
I as the Commander-in-Chief of the Armed Forces of Ukraine count on you. My priority is to preserve the life of the personal warehouse and I am responsible for the application of the Armed Forces of Ukraine.Today our army is a model of 2022 – not 2014.
We are warmed, well equipped, prepared and motivated. We have changed from the inside out. ZSU is an unbreakable spirit of combat brotherhood, mutual respect and dignity.
This is one family. We have developed and approved clear plans to respond to any changes in the operating environment. We are at peace and confident.I am grateful to all of the soldiers who are now at the frontline under the enemy's smart shelling, giving us time and opportunity to strengthen and cover other directions.
Together we are the force! Today the state needs us, and the state needs us and our children!
Video: Kyiv Hostomel Airport, the home of Antonov company looks to have been attacked by Russian Mi-8 helicopters. We can confirm the Antonov An-225 is there on the ground. Updates: https://www.airlive.net/breaking-ukra…
The Antonio Company Twitter page is down. ANTONOV COMPANY was founded on May 31, 1946. The enterprise was headed by eminent aircraft designer Oleg Antonov. During this time more than one hundred types and modifications of passenger, transport and special purpose airplanes were designed by ANTONOV team.