by Fred A. Ganous, SGM, USA (Ret)
At the start of 2020, Glock's patent had all but run out on their Model 19 Gen 3 versions, and everyone was now after the design to offer their interpretations as part of the "Glock Clone Wars." Many clones made it to the market by the end of that year, but none saw the attention as the one produced by Palmetto State Armory.
The PSA "Dagger" 9mm came to light with a few upgrades, even from what Glock made in their model 19. The PSA Dagger had steel sites, a contoured slide, and a rounded nose to include the forward slide cuts. The magazine housing had a nice "cut-a-way" bottom to grab the magazine for quick, easy reloads. One could purchase the tan coyote version with a matching soft case of 10 PMAGs. When we bought this gun, you could pick all of this up for an excellent $299.00.
READ MORE from author Fred Ganous about his time with the 'Death Angels' helicopter crew in Iraq.
Palmetto State Armory has always had a way of packaging the right products to sell as a "boxed set." Many could find this and other products at an attractive price. The company likes to offer its consumers the best by throwing in additional magazines or attractive cases. That is how PSA produces its sales, by putting the customer first for their needs.
We picked a lovely sunny Saturday afternoon in LA (lower Alabama) to put the Dagger to its test. We
allowed multiple individuals to fire the weapon. Some were just your ordinary concealed carry, to
trained firearms instructors. All the individuals involved were prior military, so understanding what to
look for was different for each. We tested several brands and grain loads for the Dagger to see if loading
or ejecting would cause a problem.
I want to be able to shoot the cheapest ammo possible on the range at times but expect proficiency to be at its highest. Although we never want to have to rely on cheap ammo when the need arises to defend ourselves or a loved one, the way availability is today, we might.
In the mix of ammo choices, we utilized several brands and grains to see if we could produce a round feed or ejection issue. In our stockpile, we fired Blazer's 115-grain FMJ, Speer LE Gold Dot 124-grain GDHP, Federal 124-grain HST, and Magtech's 115-grain FMJ. We intentionally ran some non-brass ammo through it as well. I won't disclose which one, but a good cleaning was due after we fired it.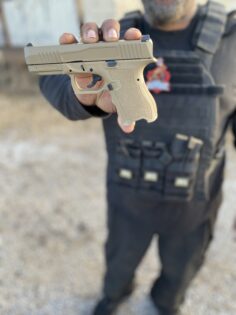 We completed various ranges and scenarios to determine the accuracy and shot placement from the
single-shot standing, non-supported, to the prone position during rapid firing. The Dagger never
discouraged us from loading more magazines (by hand, of course; I forgot my loader). The accuracy was
well placed even between three different shooters. The feel and weight of the Dagger were very close to
the same as my Glock 19M. The magazine well on the Dagger is more of a rounded grip, which worked
well with us dudes with big hands. The Glock has a more blocked magazine housing; there is nothing
wrong with this except for personal preference. The only complaint was that the fully loaded magazines
were hard to drop using one hand. The other was the grip which was easily fixed by adding a rubber-
textured grip from our friends at Talon.
READ MORE about new weapons for 2023
One noticeable thing was that, as a right-handed shooter, I could place my left thumb neatly into a cut
on the frame that PSA had added for comfort. This was a small addition that worked well while shooting
this weapon. The same is also on the opposite side for you lefties. Laying each gun side by side, you
could almost call them "twins," except for the Dagger. PSA decided to add some cuts to the front slide
for charging purposes. The slide is more attractive than the Glock, but who doesn't like a Glock, right?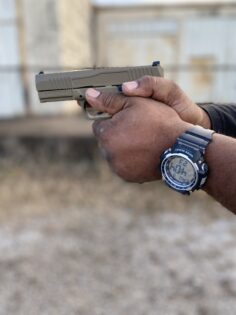 One of the shooters also moonlighted as a law enforcement officer and decided to see if the Dagger would work with his service holster. The holster was a Safariland Model 7365 Level III retention, and the Dagger worked well even with the supplied Olight PL1 Valkyrie. We then stuck it into a Bianchi Model 105 leather holster as well. The trigger housing is slightly different on the Dagger versus the Glock, but it had no issues resting comfortably without slipping out while on the move.
Currently, the Glock 19 Gen 5 is running about $539.00 versus the Palmetto State Armory "Dagger," which is $309.00 in black at this current report. Palmetto offers options, such as ported slides and barrel extensions, for a little more.
 I want to thank our friends at Super Pawn in Alabama for never charging us transfer fees and supplying us with unlimited amounts of ammo to burn up in all of these weapons. They have always supported the military, law enforcement, and our 2nd Amendment rights.
Fred Ganous is a combat veteran of the Iraq war, and has spent his career in aviation.