by Susan Katz Keating
Police who raided a small town Kansas newspaper this month were focused more on intimidation than on investigating an alleged crime, the publisher told Soldier of Fortune.
"They didn't really look for what they said they were looking for," said Eric Meyer, the publisher and editor of the Marion County Record in Marion, Kansas. "What they really wanted to do was intimidate us."
Police who raided the newspaper and its reporters' homes on Aug. 11 ignored a key document that had been left in plain sight, and didn't talk to someone who could have cleared up any questions about a possible crime, Meyer said. 
Police raided the newspaper, its journalists, and a city councilwoman after the paper received a tip that a local restaurant owner was convicted of a DUI in 2008. The paper wanted to know whether the conviction could prevent the woman from having a liquor license, so a reporter searched online for state records. The town police chief, Gideon Cody, instigated the raids because he claimed that the pertinent document was obtained through identity theft.
Not so, Meyer told Soldier of Fortune.
"Our reporter did nothing wrong," Meyer said. "She searched properly and legally for documents."
The newspaper's attorney, Bernie Rhodes, agreed.
"My client did not break the law in using a public website and typing in information she had received," Rhodes said in a statement. "There is no theory that receiving information could be a criminal act. That is what the Supreme Court said when it ruled that the New York Times and the Washington Post could publish the Pentagon Papers."
The state search engine is available to anyone, including journalists, according to the Kansas Revenue Department.
"The motor vehicle driver's checker is public-facing and free-use,"  spokesman Zach Denney said. "If you have my information, you can pull out [motor vehicle records]."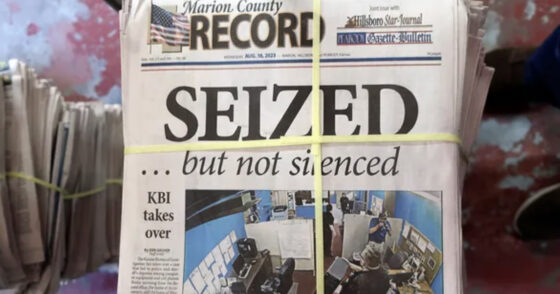 When police raided the Marion County Record, their actions didn't seem to match their official purpose, Meyer said. Police officers took cell phones, computers, and a file server, and even unplugged an internet router. But they did not confiscate the one document that showed where the newspaper obtained information on the restaurant owner's DUI.
"So if they really were looking for where this information came from, why did they leave the copy that was given to us sitting on my desk next to my computer?" Meyer said. "Why did they never talk to the person we got information from?"
The raid took place amid the newspaper's investigation into the chief of police.
"Isn't it interesting that the newspaper has gathered information on the chief?" Meyer said. "It was just questions about his background. Legitimate questions that we hadn't run yet."
The warrant that prompted the raid was withdrawn on Wednesday. The withdrawal came a few days after the Kansas Bureau of Investigation took over the investigation that led to the raid. 
"There's been some heroes in this," Meyer said. "I think the Kansas Bureau of Investigation is one."
Chief Cody could not immediately be reached for comment.
The newspaper on Monday published video of police inside co-publisher Joan Meyer's house, searching the premises while the 98 year old woman demands that they leave.
Wearing a house dress and standing in a corner of her living room, Mrs. Meyers shouts at police while slamming her walker for emphasis.
"Don't you touch any of that stuff!" she demands. "This is my house!"
The old woman approaches one armed officer. "Does your mother love you?" she asks. "Do you love your mother? You're an asshole!"
The stress of the raid was so great that Mrs. Meyer refused to eat her dinner, Eric Meyer said. The next day, she collapsed and died.
The paper plans to press on, Meyer said.
"We're continuing to investigate," he said. "We're investigating the mayor and we're investigating the police chief. We'll see where that leads.
"One of the reasons we're gonna pursue this is we need to make a clear, clear precedent to people that there are certain things you just don't do."
Tensions remain high between police officials and the newspaper. Journalists at the paper remain aware but not afraid, Meyer said.
"If they thought they were intimidating us, they were wrong."