"I have not yet begun to fight!"
Bonhomme Richard (Frigate) U.S. Navy
Duc de Duras, a French merchant vessel built in 1766 by the French East India Company (La Compagnie des Indes), spent the first 13 years of her life uneventfully, ferrying cargo between Paris and the East Indies. During the American Revolution, Louis XVI, King of France, bought the Indiaman from Monsieur Berard and gave it to Capt. John Paul Jones of the Continental Navy for use against Britain. Jones renamed her in honor of Benjamin Franklin, his friend and patron. Franklin's famous work, Poor Richard's Almanac, had become a bestseller in France under the title Les Maximes du Bonhomme Richard.

Jones received command of Bonhomme Richard from Monsieur Gabriel de Sartine, the French Minister of Marine, in the spring of 1779, but it took several months before she was ready to sail. Besides refitting the merchant vessel as a man-of-war, Jones had to supply her armament, select his officers, and recruit a crew. After having suffered from a rather toxic relationship with his subordinates on his last voyage in the sloop Ranger, Jones was careful to select reliable officers for this command. Although his explosive temper and sparing praise at times grated on his subordinates, for the most part Bonhomme Richard's officers respected his leadership and remained loyal to him.
Bonhomme Richard's crew, on the other hand, was an altogether different matter. The sailors represented a variety of nationalities and languages, hailing from the American colonies, France, Scotland, Ireland, England, Italy, Norway, and even India. Perhaps unsurprisingly, they often quarreled among themselves, even coming to blows on occasion. Jones faced a scare early on when a group of Englishmen who had signed on to escape from French prisons plotted to kill the captain and seize control of the ship. When Jones learned of the plot, he dismissed over 100 English sailors and hauled the plot's ringleader before a court-martial. The mutineer suffered 250 lashes with a cat-o-nine-tails. Although this was the most severe flogging meted out aboard Bonhomme Richard, it was not the only one. Later, when Jones returned from business on shore, he found the crew of his barge had abandoned him to get drunk in town. After suffering the indignity of begging local fishermen to row him to his ship, Jones had no mercy on the offending sailors. All 12 men felt the sting of the lash for their dereliction of duty, and this round of floggings seems to have convinced the rest of the crew that Jones intended to run a taut ship.
Jones got underway from L'Orient, France, on 19 June 1779, with Bonhomme Richard serving as the flagship of a squadron that also included the 36-gun American frigate Alliance, Capt. Pierre Landais. A former French naval officer, Landais journeyed to America early in the Revolution, where he received a commission in the Continental Navy and honorary citizenship from the state of Massachusetts. Landais and Jones took an instant dislike to one another, and the tensions between them only grew during the cruise. Three French warships – the 26-gun frigate Pallas, the 12-gun brig Vengeance, and an 18-gun cutter taken from the British called Le Cerf – rounded out the squadron. Unlike the officers on Bonhomme Richard, the commanders of the rest of the ships proved uncooperative and even mutinous throughout the squadron's existence.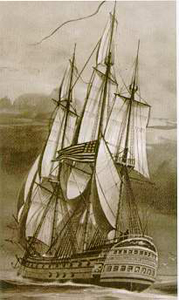 The Battle against HMS Serapis
On June 19, 1779, Jones sailed BONHOMME RICHARD from L' Orient, France accompanied by ALLIANCE, PALLAS, VEGEANCE, and CERF. Their mission was to escort troop transports and merchant vessels under the convoy to Bordeaux, France, and cruise against the British in the Bay of Biscay. Forced to return to port for repairs, Jones' squadron sailed again on August 14, 1779. Going northwest around the British Isles into the Northern Sea and down the eastern seaboard of Great Britain, the squadron swiftly took 16 merchant vessels as prizes. On the evening of September 23, 1779, they encountered the Baltic Fleet of 41 near the English shore of Flamborough Head. Sailing for England, the Fleet was under the fleet of the newly built frigate, HMS SERAPIS (50 guns) and the small sloop of COUNTESS OF SCARBOROUGH (20 GUNS).
Before the British fleet could respond, BON HOMME RICHARD lashed out at SERAPIS igniting a bitter struggle that would last the entire night. Early in the battle, the guns of Jones' main battery exploded, temporarily disabling his ship.
To offset the SERAPIS' speed, Jones lashed his flagship alongside and continued the fight long after his subordinates regarded the situation as hopeless.
Burning, sinking, and scattered with the dead and wounded, BONHOMME RICHARD lit up the darkness with a constant barrage. Jones struggled to keep his vessel afloat and, in one instance, an overwhelming number of prisoners in hold threatened to rush the deck to save from drowning. Jones defied all odds and continued the fight against Captain Pearson's SERAPIS.
In the final hour, BONHOMME RICHARD'S mast was hit above the top-sail. Along with her Colors, a large section of the mast came crashing to the deck near Jones's feet. In response to the downfallen colors, SERAPIS called out, "Have you struck your Colors?" Resoundingly, John Paul Jones exclaimed, "Struck Sir? I have not yet begun to fight!" With newfound will, his crew delivered decisive blows from all sides and aloft. Jones' sent 40 Marines and Sailors into the rigging with grenades and muskets.
Decimated, SERAPIS could not avoid defeat and at 2230 she struck her Colors. Victorious, John Paul Jones commandeered SERAPIS and sailed her to Holland for repairs. Sadly, on September 24, 1779 at 1100, BONHOMME RICHARD sank never to rise from her watery grave.
This epic battle was the American Navy's first-ever defeat of an English ship in English waters! Rallying colonial hope for freedom, Jones' victory established him to many as "The Father of the American Navy."
Jones's first mission in his new command left him deeply frustrated. He was ordered to escort merchant ships to various ports in the Bay of Biscay, rather than pursue his ambition to wreak havoc on British shipping. Sartine took some of the sting out of the assignment by promising him almost unlimited discretion of how and where to use the squadron as soon as he had seen the convoy to a safe harbor. Even so, events on the escort cruise taxed Jones's patience. Soon after leaving L'Orient, a storm arose and, as the allied ships were battling heavy seas that night, Bonhomme Richard and Alliance collided in the dark. Both vessels suffered significant damage, but fortunately not enough to prevent them from continuing their mission. Furthermore, the squadron repeatedly spied British warships, only to see them flee when they realized the strength of Jones's force. Bonhomme Richard was far too slow to catch any of them, thanks to her pedigree as a lumbering East India merchantman, and Jones fumed at the realization that he would never be able to force battle on an unwilling enemy.
After seeing each of its charges safely into port, the squadron returned to L'Orient on 1 July 1779. Jones immediately set to work getting his ships repaired. While Bonhomme Richard received a new bowsprit and Alliance had a new mizzenmast stepped, their three French consorts cruised off Belle-Ile in search of British privateers which had been preying on French merchantmen in that vicinity. They returned without success and in need of repairs themselves. Meanwhile, the squadron lost one sailor when the unfortunate man fell off a main topsail yard and landed inches from Jones on the deck 60 feet below. He came so close to landing on his captain, in fact, that he knocked off Jones's hat just before striking the deck. This tragedy aside, the squadron was again ready for sea by the end of the month. After contrary winds gave way to favorable breezes, Bonhomme Richard sailed with Pallas, Vengeance, and Le Cerf for waters off Ile de Groix where Alliance and two French privateers, Monsieur and Granville waited.
Jones set sail with a very particular vision of how to use his squadron. He was well aware the weakness of the American colonies' maritime force against the massive British Navy. He understood that the rebelling colonies could never hope to compete with Britain for control of the seas. Rather, Jones hoped to use his squadron against British shipping and civilian targets to create fear on the English home front, drive up insurance rates, and pull as many British ships as possible away from the American coast and force them to patrol home waters. Accordingly, his plan was to conduct hit-and-run raids on British ports and extort ransom from cities under threat of burning them. He considered Britain's coal supplies a particularly juicy target, since the threat of stripping the nation of fuel for the winter would occasion tremendous panic.

Shortly before dawn on 14 August 1779 the seven warships stood out from Groix Roadstead and set course for the southwestern corner of Ireland. Four days out, Monsieur took a prize. Unfortunately, she then abandoned the squadron to escort her victim into port on the 19th. Later that same day, Bonhomme Richard and her consorts began pursuing a large ship, but, after chasing her through the night, their prey vanished over the horizon at the first glimmerings of dawn. The next day, two broadsides convinced the brigantine Mayflower to surrender and Jones sent her to L'Orient, manned by a prize crew under Midshipman Reuben Chase. On the afternoon of the 23rd, the wind died completely, leaving the squadron totally becalmed off the Skelligs near the entrance to Dingle Bay. Even in the still waters, Bonhomme Richard added to her haul. A lookout sighted Fortune and Jones sent two armed boats out to seize her. Their quarry gave up without a fight, and Jones sent her to France under orders to either Nantes or Saint-Malo.
Later that day, Jones' already strained relationship with Landais ruptured completely. Jones had sensed the calm's coming on and, realizing that any of his ships stranded close to the Irish shore would be in great danger of being captured, he denied Alliance permission to pursue a vessel that had been sighted in shoal water just outside the breaker line. That order infuriated Landais, and on the 25th he came on board Bonhomme Richard and viciously berated Jones in front of his crew. Jones convinced him to move the conversation into the relative privacy of his cabin, but the change of venue did nothing to improve Landais's mood. Addressing the commodore "in the most gross and insulting terms" Jones's second-in-command declared that for the remainder of the cruise he intended to act as he wished, and ignore any orders he received from the commodore. He kept his promise, openly defying orders and drifting in and out of the squadron the rest of their time at sea. Whenever he and Jones did interact, the French captain repeatedly asserted that they would fight a duel once they reached land and that "they must kill one or the other." Jones was outraged and frustrated by Landais' behavior, but felt there was little he could do until the squadron got back into port, so he put up with it for the time being.
Other evils also sprang from the calm to bedevil Jones and his squadron. On 23 August 1779, when Bonhomme Richard had drifted dangerously close to shoals off the Skelligs, Jones ordered his barge lowered so that it might tow the frigate into deeper water. Unfortunately, the coxswain was one of the 12 men flogged for abandoning Jones's barge, and he was eager for a chance to escape from the commodore's authority. He found ready accomplices in the boat's Irish oarsmen, who were delighted by an opportunity to return home. Well after dark, they cut the hawser and sped shoreward toward freedom. A jolly boat sent in pursuit of the deserters was lost in a dense fog which settled during the night and remained through the following day. Later, Jones sent Le Cerf to look for the missing boats. After failing in that mission, the cutter was unable to find her way back to the squadron and returned to L'Orient alone.
The squadron's troubles continued as even other consorts began dropping away. Granville, the remaining privateer, left to take a prize and never returned. Pallas, the French frigate, broke her tiller at night; and dropped behind out of sight. Landais, without consulting Jones, took Alliance off in pursuit of prizes on his own, not returning until the end of the month. Moreover, when the deserters from Bonhomme Richard's barge reached shore, they carried intelligence about Jones' force to the Admiralty. Britain immediately sent out warships to search for the allied squadron that, for the time being, had been reduced to Bonhomme Richard and Vengeance.
The two ships continued to sail in a generally northerly direction west of the Outer Hebrides and then headed for Cape Wrath, the northwestern tip of Scotland. On the afternoon of 30 August 1779, Jones sighted three ships on his port bow and gave chase. Just before noon the following day, Bonhomme Richard overtook the letter of marque Union and persuaded her to strike. Shortly thereafter, Alliance reappeared with a prize of her own named Betsy. Pallas rejoined the squadron on the night of 1 and 2 September, and, on the latter afternoon, Vengeance captured an Irish brigantine returning from Norway.
About noon on the 3 September 1779, the squadron passed between the Orkney and Shetland Islands and then, after sending the two prizes to Bergen, Norway, turned south to begin the last leg of its cruise around the British Isles. Alliance took two more small prizes before Landais, after refusing to confer with Jones on board the flagship, again left the squadron. The weather soured on the 4th and drove the allied men-of-war away from the dangerous shores of Scotland. For nine days, Jones saw neither strange ships nor land. Finally, on the 13th, he found himself off Dunbar. The following day, Bonhomme Richard caught two ships carrying coal from Leith to Riga.
On 14 September 1779 the squadron reached the Firth of Forth, the entryway to Edinburgh, Scotland. Jones hoped to raid Leith, Edinburgh's port, and demand a massive "contribution" or else "lay it [Leith] in ashes." He also hoped to force Britain to free a sizable number of American prisoners by threatening the town. His plans stalled when Captains Denis Cottineau of Pallas and Philippe Ricot of Vengeance – the only two ships in the squadron still around – objected. It took Jones haggling all night and into the following morning to get them to agree to the mission. By the time he had enticed his subordinates to participate and got the squadron assembled, the wind had turned against them, making it extremely difficult to get up the Firth within sight of Leith. They approached the port under British colors, hoping to maintain the element of surprise, but locals soon figured out what was afoot and began preparing defenses. Jones doggedly pressed on, closing in during the dawn hours of 17 September, but a sudden gale stalled the squadron and then drove it back. Jones lamented that he made it within "cannon shot" of the town before realizing that an amphibious landing was hopeless.
Bonhomme Richard and her consorts lost their chance to attack Leith, but her commodore still refused to give up. His new plan was to raid nearby Newcastle and destroy its coal supplies. This would impose a great hardship on the population of London, who depended primarily on Newcastle to fuel their fires in the winter. But with all of Great Britain now thoroughly aware of their presence, Cottineau and Ricot feared such a raid would be suicidal. They flatly refused to participate, even if Jones ordered them. He reluctantly gave up the plan.
Shortly thereafter, the squadron seized another collier in ballast (loaded with coal) and the British sloop Speedwell. Jones, running short of men to use as prize crews, ordered the two prizes stripped of everything of value and sunk. Ricot ignored this order, and instead extracted a ransom from the crews and then let them go, much to Jones's chagrin. During a long chase of a group of merchantmen on the night of the 21st and 22nd, Bonhomme Richard captured another collier and drove a second ship ashore south of Flamborough Head, Yorkshire. She also took a British brigantine inbound from Rotterdam. Early on the morning of the 22nd, the squadron sighted a group of merchant ships off the mouth of the Humber estuary, but failing wind frustrated the commodore in his efforts to pursue his quarry.
That evening, Jones reversed course and headed back north toward Flamborough Head to look for Pallas which had fallen behind while chasing local shipping. A little before dawn on the 23rd Jones eagerly called all hands on deck when a lookout sighted ships in the distance. He spirits sagged when he realized they were none other than Pallas and Alliance, the latter of which rejoined the squadron after vanishing for over two weeks. Although not the prizes Jones hoped for, the returns brought the squadron to full strength for the first time in over two weeks.
Propelled by a light breeze, Jones' ships slowly moved north until early afternoon when a stillness descended almost completely becalming the squadron. About 3:00 p.m., a lookout shouted down from Bonhomme Richard's rigging that a large group of ships was approaching from the north. Guided by information he had received from captured pilots, he concluded that the vessels belonged to a 41-ship convoy coming from the Baltic under the protection of the British frigate Serapis and the sloop-of-war Countess of Scarborough. Eager to prey upon such juicy game, Jones bent on maximum sail to close the enemy, but the wind was still so light that some three and a half hours passed before the adversaries reached striking distance. In the meantime, Capt. Richard Pearson, commanding the convoy from the deck of Serapis, eyed the approaching ships suspiciously. Because of the distance, he could not tell what nationality the approaching vessels were, and in any case Jones was flying British colors as a ruse to lure unsuspecting prey within range of his guns. Pearson was cautious, however, and ordered the merchant ships under his protection to move towards the shoreline where coastal defenses could defend them.
While the merchant vessels hastily took cover under the guns of Castle Scarborough, Capt. Richard Pearson led both Royal Navy ships out to determine the identity of the approaching squadron and insure the safety of his valuable charges. As he closed with the two escorts, Jones raised signal flags for the rest of the squadron to form a line of battle. They not only ignored these orders, but turned away entirely and left Bonhomme Richard alone as she closed with Serapis. Pallas eventually engaged and captured Countess. Vengeance sat out the entire battle and, based on what happened later, Jones probably wished Alliance had done the same. For the moment, at least, Bonhomme Richard was entirely on her own.
Keeping his British colors aloft, Jones closed in with Pearson's ship. The British captain called out to him via trumpet "What ship is that?" Hoping to move in just a little closer, Jones responded that he was Princess Royal. Unconvinced, Pearson called out again "Where from?" and when he received no answer, bellowed "Answer directly or I'll fire into you." Jones gave his answer by hauling down his British colors and raising the flag of the American rebellion. Immediately, both ships unleashed full broadsides into each other.
"The battle being thus begun, was Continued with Unremitting Fury," Jones wrote in his narrative of the cruise. It was an apt description, for the ensuing fight was one of the longest, and bloodiest, single-ship engagements of the Age of Sail. Pearson enjoyed a substantial firepower advantage, having shipped 50 guns, instead of the rated 44, a common practice at the time. Jones's ship mounted only 40. The total weight of metal for Serapis was 285 pounds to Bonhomme Richard's 265. Within two broadsides, Jones's disadvantage worsened dramatically when two 18-pounders exploded. The twin blasts tore a hole in the side of his ship and killed or horrifically injured their gun crews, but their effect was even greater than that: Jones realized that the remaining 4 18-pounders were too old and defective to risk using, and he ordered the gun crews to abandon them as well. His 40-gun frigate was now challenging Pearson with only 34 light cannon.
Jones, knowing that he had no chance by blasting away at the enemy with his now markedly inferior firepower, instead tried to maneuver close enough to board. Bonhomme Richard came alongside Serapis at a poor angle, however, where her men could only board along a narrow point. Pearson's marines easily repelled them, and Jones pulled away. Pearson then made another attempt at firing a broadside at Bonhomme Richard, but Jones was careful to keep his ship from presenting itself at an advantageous angle for Pearson's guns.
In their maneuvering, the two ships again collided, this time with Bonhomme Richard's bow striking Serapis' stern. Jones now decided his best chance was if the two ships remained coupled together. He scrambled across the deck to grab the enemy ship's forestay (a rope connected to the primary mast) which had been cut and fallen across Bonhomme Richard's deck. Seizing this and tying it to his own ship, the commodore called out for more rope. Jones and his crew managed to lash the two ships together, and the men-of-war remained locked in a deadly embrace for the rest of the battle. That slashed Pearson's firepower advantage significantly, since half his guns were pointed away from the enemy, essentially useless.
The two vessels thus entangled, Jones set to work firing what guns he still had at Serapis' rigging in hopes of disabling her, while also unleashing small arms fire and grenades to deplete the enemy crew. He ordered his men to prepare for a second boarding attempt. Although the spirited resistance from Pearson's crew made boarding impossible for the moment, the attempt still forced British seamen out onto the decks, creating easy targets for Bonhomme Richard's sharpshooters.
With Serapis' advantages neutralized, Jones had the fight exactly where he wanted it. Then disaster struck again from a surprising quarter. To this point, Landais, in Alliance, had lingered far from the fighting, watching his commodore's flagship battered to pieces. Now the French captain moved in, unleashing a broadside not on Serapis but Bonhomme Richard. The first cannonade killed two American sailors before Landais pulled back, but later he crossed the entangled vessels again and poured more shot into his supposed ally. As she maneuvered past them a third time, seamen rushed to the rail, screaming out "Don't fire, you have killed several of our men already!" while another officer on the main tops shouted "for God's sake don't sink us!" Landais either did not hear or ignored their cries. Alliance unleashed its third, and deadliest, broadside into Bonhomme Richard killing Midshipman Jonas Coram and an unspecified number of seamen. Finally, Landais turned away, and sat out the rest of the battle. Alliance had suffered no casualties and no damage.

Caption: This famous oil-painting of the Battle of Flamborough Head by Thomas Mitchell currently hangs in the U.S. Naval Academy Museum, Annapolis, MD. It features Bonhomme Richard and Serapis in the heat of their engagement, just at the moment when Alliance opened fire on the American ship. The battle between Pallas and Countess of Scarborough is visible in the lower-left corner (KN 10855).

For the rest of his life, Jones claimed that Landais had acted deliberately, and the evidence seems to bear him out. There was a full moon that night, and Serapis and Bonhomme Richard looked nothing alike, so a case of mistaken identity seems highly suspect. According to one Jones biographer, Landais later confided to a fellow Frenchman that he had hoped Jones would sink, and that he could then snatch up the wounded British vessel and claim all the glory for himself. Regardless of the truth of that story, at the very least Landais provided no help to and significantly injured Bonhomme Richard during her most momentous engagement.
At that moment, however, Jones knew his feud with Landais would have to wait, for after three hours of brutal combat, both ships were in dire straits. Acrid smoke engulfed the decks as fires sprang up amid the debris of shattered timbers and shredded sails and rigging. As they scrambled to fight the battle, the men of Bonhomme Richard also worked to contain the blazes and make sure the flames did not reach the powder magazine. There was even a short lull in the fighting as both sides had to devote their full effort to fighting fires and not each other. For the Americans, at least, there was no shortage of water to do so, as their ship was taking on so much that her master at arms was forced to free the prisoners and set them to work manning the pumps. One fled to Serapis, but the rest set to work rather than risk going down with the ship, or being shot by the imperious officer. The lone escapee had a crucial impact, however, for he reassured Pearson that over five feet of water lay in Bonhomme Richard's hold and she would surely sink soon. The British captain had been on the brink of surrendering, but this intelligence steeled his nerves, and he ordered his men to press on.
While Bonhomme Richard's small-arms fire was having a devastating effect on Serapis's crew, the British cannon were equally successful in decimating American cannon. During the third hour of battle, Jones found himself left with only three small 9-pounders on the quarterdeck. When one of the gunners suffered a severe, possibly fatal, head injury, the commodore himself took over firing away at the enemy mainmast. While he was hunched over a gun, other officers came up from below, where they had found themselves chin-deep in water. Unable to find Jones and concluding that he or Lieutenant Richard Dale would surely have surrendered by now if either were still alive, Gunner's Mate Henry Gardner assumed he was now the senior surviving officer. He grabbed two nearby gunner's mates, and the three began screaming at the top of their lungs "Quarter! Quarter!" while trying to make their way to the mainmast and haul down the broad pennant. Jones, hearing their cries, exploded in rage. Turning on the officers, he chased them across the deck and finally hurled his pistol at Gardner, striking him in the head and rendering him unconscious. Pearson, meanwhile, had heard their cries too, and dared to hope that his stubborn opponent was finally giving up the fight. "Have you struck? Do you ask for quarter," he called out across the deck of Bonhomme Richard, not even bothering to use his speaking trumpet as the two ships still lay lashed together.
It was at this moment that Jones uttered the words forever associated with his name: "I have not yet begun to fight!" Or at least he said something like that. His lieutenant, Richard Dale, was the first to attribute the immortal words to him when he was interviewed for a biography 46 years later. Dale also has the exchange occurring much earlier in the battle, immediately after the two ships collided a second time. Jones's own narrative put the exchange here, as do all other contemporary accounts. In the narrative, however, Jones only says that he "answered him in the most determined negative." As to the exact words that "most determined negative" consisted of, accounts given shortly after the battle have him saying either "No sir, I will not. We have had but a small fight as of yet," or "No sir, I have not yet thought of it, but I am determined to make you strike." Some contemporary accounts also include more colorful language. British sailors who escaped after the battle have Jones announcing that "I'll be damned before I'll strike." Another version has Pearson calling "out to Jones to strike else he would sink him. To which the latter replied that he might [go ahead and sink Bonhomme Richard] if he could, for whenever the Devil was ready for him, he would rather obey his summons than strike to anyone." Most likely, Dale paraphrased Jones's response, but his pithy version soon cemented itself in popular culture, and has been attributed to Revolutionary naval hero as a verbatim quote ever since.
Whatever Jones's precise wording, Pearson got the message: the fighting would continue. Locked together as they were, Pearson tried a boarding action of his own, but his sailors fell back against stalwart resistance from Bonhomme Richard's tars. At about 10:15 p.m., an enterprising seaman managed to make his way onto one of the yards overhanging the British deck and drop a grenade into an open hatch. The blast ignited powder cartridges that had been left scattered about the deck in the heat of battle, and triggered a series of explosions that blew guns off their carriages and blasted gaping holes in the side of the ship. Flames engulfed the gun deck, where many of the crew now confined themselves to avoid the constant sniper fire topside. Seamen whose bodies were not blown to pieces leaped, in flames, into the sea.
By this point both vessels were in dire condition, and it was only a matter of time before one had to surrender. Reportedly, a seaman ran up to Jones and begged him "for God's sake, captain, strike!" Jones bellowed in reply "No! I will sink; I will never strike." Pearson, on the other hand, had had enough of the carnage. Whatever the damage to his enemy his own crew had been gutted, and at 10:30 p.m. his mainmast started to totter. After over four hours of savage combat, Pearson struck.
To some degree, the British captain could claim he accomplished his mission. Jones's squadron was far too damaged after the battle to think of pursuing the merchant ships that were their original target. All 41 successfully reached their destination. That said, the immediate tactical significance of the battle should not obscure its larger impact on the war effort. Jones's fame skyrocketed in both America and Europe as a result of his capture. British citizens, terrified of follow-up, remained in panic long after "the pirate Jones" returned to American soil. Meanwhile the Royal Navy dispatched a host of ships to search for him. Back in the United States, the story of the victory over the vaunted Royal Navy captured the imagination of Americans and provided a desperately-needed sense of victory after a ghastly year of fighting on land.
Jones's crew spent a day and a half desperately working to salvage Bonhomme Richard. It was a hopeless effort. The old Indiaman was riddled with too many leaks, and most of those were too large to get the ship safely into any friendly port. At about 11:00 AM on 25 September Jones watched "with inexpressible grief" from the deck of his new flagship as Bonhomme Richard disappeared beneath the waves.
The human losses of the battle were likewise staggering. Jones reported 150 killed and wounded among his crew of 322. He did not, then or later, specify the exact number of dead. Pearson reported to the Admiralty that he had 49 killed and 68 wounded. Jones later claimed that this number was too low, and that the British surgeon on board Serapis identified over 100 killed. Regardless, this means that both ships saw roughly half their crews either killed or seriously injured, an incredibly high percentage for the era.
For Jones, although the battle insured his immortality, it also proved to be his last cruise. He spent several more months begging for a ship in both America and France. Congress finally rewarded his service with command of the new 74-gun ship-of-the-line America in June 1782, but by the time he got her seaworthy, the war was over and the United States gave his new command to France in partial repayment of war debts. He served a brief stint as an officer in the Russian Navy, before dying penniless in Paris on 18 July 1792.

Caption: Jean Antoine Houdon's bust of John Paul Jones, reportedly the best likeness of the celebrated captain in existence (NH 48618).

In 1905 President Theodore Roosevelt has his body exhumed and transported to the United States. On 26 January, 1913, the captain's body was reinterred in a grand ceremony on the grounds of the U.S. Naval Academy, Annapolis, MD. Its magnificent sarcophagus remains visible on the campus to this day.
Periodically, underwater archaeologists attempt to locate Bonhomme Richard's remains in the North Sea, but, as of this writing, such attempts have never been successful, and she remains in her watery grave off Flamborough Head.
VISIT U. Navy for more HERE