Doris Miller, known as "Dorie" to shipmates and friends, was born in Waco, Texas, on 12 October 1919, to Henrietta and Conery Miller. He had three brothers, one of which served in the Army during World War II. While attending Moore High School in Waco, he was a fullback on the football team. He worked on his father's farm before enlisting in the U.S Navy as Mess Attendant, Third Class, at Dallas, Texas, on 16 September 1939, to travel, and earn money for his family. He later was commended by the Secretary of the Navy, was advanced to Mess Attendant, Second Class and First Class, and subsequently was promoted to Cook, Third Class.

Following training at the Naval Training Station, Norfolk, Virginia, Miller was assigned to the ammunition ship USS Pyro (AE-1) where he served as a Mess Attendant, and on 2 January 1940 was transferred to USS West Virginia (BB-48), where he became the ship's heavyweight boxing champion. In July of that year he had temporary duty aboard USS Nevada (BB-36) at Secondary Battery Gunnery School. He returned to West Virginia and on 3 August, and was serving in that battleship when the Japanese attacked Pearl Harbor on 7 December 1941. Miller had arisen at 6 a.m., and was collecting laundry when the alarm for general quarters sounded. He headed for his battle station, the antiaircraft battery magazine amidship, only to discover that torpedo damage had wrecked it, so he went on deck. Because of his physical prowess, he was assigned to carry wounded fellow Sailors to places of greater safety. Then an officer ordered him to the bridge to aid the mortally wounded Captain of the ship. He subsequently manned a 50 caliber Browning anti-aircraft machine gun until he ran out of ammunition and was ordered to abandon ship.
Miller described firing the machine gun during the battle, a weapon which he had not been trained to operate: "It wasn't hard. I just pulled the trigger and she worked fine. I had watched the others with these guns. I guess I fired her for about fifteen minutes. I think I got one of those Jap planes. They were diving pretty close to us."
During the attack, Japanese aircraft dropped two armored piercing bombs through the deck of the battleship and launched five 18-inch aircraft torpedoes into her port side. Heavily damaged by the ensuing explosions, and suffering from severe flooding below decks, the crew abandoned ship while West Virginia slowly settled to the harbor bottom. Of the 1,541 men on West Virginia during the attack, 130 were killed and 52 wounded. Subsequently refloated, repaired, and modernized, the battleship served in the Pacific theater through to the end of the war in August 1945.
Miller was commended by the Secretary of the Navy Frank Knox on 1 April 1942, and on 27 May 1942 he received the Navy Cross, which Fleet Admiral (then Admiral) Chester W. Nimitz, the Commander in Chief, Pacific Fleet personally presented to Miller on board aircraft carrier USS Enterprise (CV-6) for his extraordinary courage in battle. Speaking of Miller, Nimitz remarked:
This marks the first time in this conflict that such high tribute has been made in the Pacific Fleet to a member of his race and I'm sure that the future will see others similarly honored for brave acts.
On 13 December 1941, Miller reported to USS Indianapolis (CA-35), and subsequently returned to the west coast of the United States in November 1942. Assigned to the newly constructed USS Liscome Bay (CVE-56) in the spring of 1943, Miller was on board that escort carrier during Operation Galvanic, the seizure of Makin and Tarawa Atolls in the Gilbert Islands. Liscome Bay's aircraft supported operations ashore between 20-23 November 1943. At 5:10 a.m. on 24 November, while cruising near Butaritari Island, a single torpedo from Japanese submarine I-175 struck the escort carrier near the stern. The aircraft bomb magazine detonated a few moments later, sinking the warship within minutes. Listed as missing following the loss of that escort carrier, Miller was officially presumed dead 25 November 1944, a year and a day after the loss of Liscome Bay. Only 272 Sailors survived the sinking of Liscome Bay, while 646 died.
In addition to the Navy Cross, Miller was entitled to the Purple Heart Medal; the American Defense Service Medal, Fleet Clasp; the Asiatic-Pacific Campaign Medal; and the World War II Victory Medal.

Commissioned on 30 June 1973, USS Miller (FF-1091), a Knox-class frigate, was named in honor of Doris Miller.
On 11 October 1991, Alpha Kappa Alpha Sorority dedicated a bronze commemorative plaque of Miller at the Miller Family Park located on the U.S. Naval Base, Pearl Harbor.
Navy Names Future Aircraft Carrier Doris Miller During MLK, Jr. Day Ceremony
Acting Secretary of the Navy Thomas B. Modly named a future aircraft carrier USS Doris Miller (CVN 81) during a Martin Luther King, Jr. Day ceremony honoring African Americans of the Greatest Generation in Pearl Harbor, Hawaii, Jan. 20.
The backdrop for the day's ceremony paid homage to the beginning and ending of America's role in World War II and the scene where Doris Miller's heroic actions cemented him into books of American history.
"It's an honor to join you today on the birthday celebration of one of our nation's, and the world's, greatest spiritual, intellectual and moral leaders," said Modly. "Seventy-five years ago our nation bound together to secure victory against an existential threat, but also to secure opportunities for broader liberty and justice for the entire world.
But we were not perfect in our own pursuits of these values here at home," Modly continued. "That contradiction is an undeniable part of our history, one that cannot be glossed over or forgotten."
Secretary Modly noted that throughout the history of our nation, the finest of every generation have stepped forward to serve the cause of freedom around the world even if they were denied those same freedoms at home simply because of the color of their skin.
On December 7, 1941, Doris Miller did not let the prejudice of others define him, he said.
"Dorie Miller was the son of a sharecropper," said Modly. "And, he was an American Sailor — so designated by the uniform that he wore — the same uniform all Sailors wore, and still wear, regardless of race, ethnic background, or political persuasion."
Congresswoman Eddie Bernice Johnson, U.S. Representative for the 30th Congressional District of Texas, delivered an emotional and moving speech about the influence Miller's legacy had on her life.
"All of my life I've heard about how great Doris Miller was," said Johnson. "[He] was my childhood hero. It was the spirit of Dorie Miller that made me appreciate being an American more than anything else because, in the days of real segregation, a black man from my home town had stepped up to help save America. Dorie miller started the civil rights movement and perhaps even gave Martin Luther King, Jr. the spirit to lead us into the era of which he did."
Johnson said naming CVN 81 in honor of Doris Miller has done so much to recognize and highlight that no matter the color of a person's skin, they can achieve anything.
Congressman Bill Flores, U.S. Representative for Texas's 17th Congressional District, which includes Doris Miller's hometown of Waco, said it was an honor to pay tribute to one of America's heroes from the greatest generation.
"[Miller] was a man who exemplified the hearts of our Sailors and the spirit of Reverend Martin Luther King, Jr. who we also recognize today," said Flores. "Dr. King once said 'the time is always right to do something right' and that is what Petty Officer Miller did. His story of bravery is a testament to his courage and commitment to serve both his fellow Sailors and his country."
For the members of Miller's family present at the ceremony, it was a moment to reflect on the legacy their family lives to honor with every generation.
"When Uncle Doris decided that he was going to step up to the machine gun and shoot, it was a 'why not me?' moment," said Henrietta Blednose Miller, a niece of Miller. "As we go through life, we're all going to be confronted with 'why not me?' moments whether they are small or big, but with each one, you will be affecting someone if you take an action at that moment. At the time [Uncle Doris] did what he did, he did not realize how proud he was going to make this family."
This will be the second ship named in honor of Miller, and the first aircraft carrier ever named for an African American. This will also be the first aircraft carrier to be named in honor of a Sailor for actions while serving in the enlisted ranks.
The future USS Doris Miller and other Ford-class carriers will be the premier forward asset for crisis response and humanitarian relief, and early decisive striking power in major combat operations. The aircraft carrier and the carrier strike group will provide forward presence, rapid response, endurance on station, and multi-mission capability throughout its 50-year service life.
Doris Miller
12 October 1919 – 24 November 1943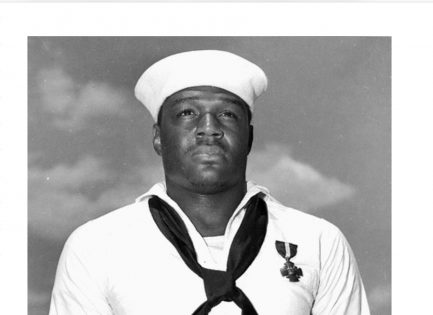 In addition to the Navy Cross, Miller was entitled to the Purple Heart Medal; the American Defense Service Medal, Fleet Clasp; the Asiatic-Pacific Campaign Medal; and the World War II Victory Medal.

Commissioned on 30 June 1973, USS Miller (FF-1091), a Knox-class frigate, was named in honor of Doris Miller.
On 11 October 1991, Alpha Kappa Alpha Sorority dedicated a bronze commemorative plaque of Miller at the Miller Family Park located on the U.S. Naval Base, Pearl Harbor.