by Susan Katz Keating
So, my K-Zero is missing.
For those of you who are not up to speed on the plate carrier drama, there was an issue previously when I asked my friend Skip to help test the K-19 carrier from Agilite. The plan was to see whether the one-size carrier really did fit 5'3 female journalist me and my 6'0 buffed up male test subject. The review ended with this declaration:
Only one question remains: What happens if Skip wants to borrow my K19 for a contracting gig when I'm heading into a riot? Actually, there's no question. The sophisticated black version is mine. Skip can get his own, either in Multicam, Ranger Green, Wolf Grey, Black, Multicam Black, or Coyote Brown.
I left out another possibility: that I would test an even lighter plate carrier, Agilite's K-Zero, and that Skip would steal it. Yep. That's what happened. Not that I blame him.
Agilite designed the K-Zero to be the most comfortable low profile plate carrier on the market. The company collaborated with SF units in Israel and in the U.S. – and the team work paid off. I want the system for going into the field, and so does Skip. Here's why.
Agilite set out to make a light, low profile plate carrier that reduces bulk without being uncomfortable. Other companies have taken the "light and thin" mantra to heart, but wound up with too little padding and a whole lot of hot spots on bodies downrange. The K-Zero keeps the low profile, but maintains the comfort so that you can wear it for days; the V-design distributes weight over eight suspension points. And it has good padding.
"What we've done here is we've given you that out of the box, all that padding is there from the beginning, and it's there to stay, because the padding on the plate carrier is integral," a company spokesman says.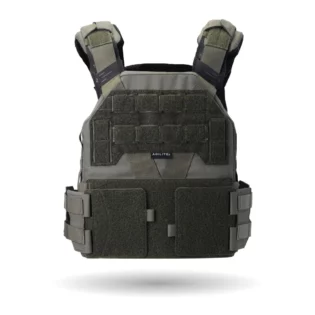 The one-size cummerbund is easily adjustable, so you can tailor the fit while you're on the move.
Another major plus is cable management. Myself, I like to have a hydration tube handy. As for Skip – well, who knows. He took off with the K-Zero before I had a chance to ask which cable systems mean the most to him. But once I recover my gear, I will use it on some upcoming trips to the U.S. southern border, where I might find myself without easy access to a water fountain.
READ MORE from Soldier of Fortune about the K19 plate carrier
This "most insane plate carrier" comes with a bunch of useful hidden features, as shown in the vid, below.
What are the high points? Here are the overall specs.
• 500D CORDURA ® Mil Spec Tactical Nylon
• Proprietary Mil Spec hardware
• Kevlar® Coated Neoprene
• Laser-cut Squadron™ laminate
• Laser-cut Velcro ® MOLLE overlay panels
• Integral closed-cell comfort foam
• Weight: 1.74Lbs (0.79kg)
DETAILS:
• Placard-compatible
• Proprietary "V" design spreads weight over maximum surface from shoulders to center mass area to avoid pressure points.
• Strategically placed low profile closed cell padding gives you an unprecedented amount of comfort, without adding bulk.
• One-size fits all low profile cummerbund included, so you can guarantee a perfect fit and allows you to adjust it by yourself on the fly while wearing it.
• Cummerbund allows you to switch between either velcro flaps or quick release buckles (quick release buckles not included).
• Rear loop back flap is compatible with the Agilite Warfighter Cummerbund or any other hook and loop based cummerbund.
• Built-in cable management elements in shoulders and front and rear plate bag.
• Free cable management kit included.
• AMAP III Assault Pack Compatible.
I can attest that the K-Zero and cummerbund fit a range of body types and sizes, and the only thing you need to consider is which plate bag will fit your armor.
Size Medium: This size will fit most plates including 10×12, SAPI Medium or smaller.
Size Large: This is for SAPI Large plates or any large plates up to 10.30"x13.25."
All this aside, how do I plan to resolve the missing plate carrier issue? How will I recoup my K-Zero when Skip returns from his contract? I'll just have swipe it back.
The K-Zero is listed at $289. It comes in Multicam, Black, and Ranger Green, and is available from Agilite.