VeteranOfTheDay Marine Veteran Bea Arthur
"For those of us who remember her best as the incisive Dorothy Zbornak on Golden Girls, Arthur's Personality Appraisals read like those of her television character."
On Feb. 13, 1943, the U.S. Marine Corps put out its rallying call: "Be a Marine…Free a Man to Fight." Five days later, Beatrice Arthur, then Frankel, enlisted as one of the first members of the Women's Reserve.
Born in 1922 in Brooklyn, New York, Arthur was a first-generation American, raised by Jewish immigrants from Europe. According to her enlistment paperwork, her hobbies included hunting with a .22 caliber rifle and playing the piano.
In a letter dated Feb. 23, 1943, Arthur wrote that she enjoyed working as a hospital lab technician but did not make enough money to support herself. Instead of starting a new job, she changed her mind after hearing that enlistments for women in the Marines were open. She ended her letter saying that she was eager to do whatever was needed.
As part of the enlistment process, Arthur underwent multiple interviews and personality appraisals. One male interviewer described her as "frank and open," but also "argumentative" and "over aggressive," without being too "cocky." A handwritten note on the assessment sheet read: "Officious–but probably a good worker if she has her own way!"
After basic training, Arthur served as a typist at Marine headquarters in Washington, D.C. In June 1943, the Marine Corps accepted her transfer request to the Motor Transport School at Camp Lejeune, North Carolina. She said she offered more value to the Marine Corps in this duty based on her past experience. Arthur then worked as a truck driver and dispatcher in Cherry Point, North Carolina, between 1944 and 1945.
She honorably discharged at the rank of staff sergeant in September 1945. Afterward, she began a successful acting career, best known for her Emmy Award-winning portrayal of Maude Findlay on "Maude" and as Dorothy Zbornak on "The Golden Girls."
When asked in a 2001 interview, Arthur denied serving in the Marine Corps. Her official military personnel file became public in 2010, a year after she died at age 86.
We honor her service.
Arthur's official military personnel file can be found on the National Archives website at https://catalog.archives.gov/id/74860832.
Every woman who served in the Marine Corps in World War II has an Official Military Personnel File. These files contain details from their time in the Corps. Enlistment paperwork, transfer orders, schools attended, medical issues, marriages, divorces—it's all part of their file. An OMPF is a great document to obtain if you also need family information. Most servicemembers included family or spouse names at some point, either for insurance or to have money sent to them. Marine Corps files also include a Service Record book. These books are a remarkable source of details regarding an individual's service. Every school, station, or ship the individual was assigned to is listed, with dates and their current rank. From Arthur's file we can learn that she attended the first Women Reservists school at Hunter College in New York. She spent 1944 and 1945 at USMCAS (US Marine Corps Air Station) Cherry Point, North Carolina, where she worked as a driver and a dispatcher. Upon her discharge in September 1945, Arthur had reached the rank of Staff Sergeant. Her discharge paperwork indicates she desired to attend dramatics school, setting her on a path to the stage and screen.
Official Military Personnel Files can be requested from the National Archives through the National Personnel Records Center at St. Louis. For more information on available records and how to request them, see the Museum's research guide here. Arthur's personnel file is part of a series called the PEP files: Persons of Exceptional Prominence. These are files of famous individuals and are being digitized by the National Archives. Digital files can be found on the National Archives website: www.archives.gov.
Bea Arthur Shined as a Marine
OCT. 13, 2021 | BY DAVID VERGUN, DOD NEWS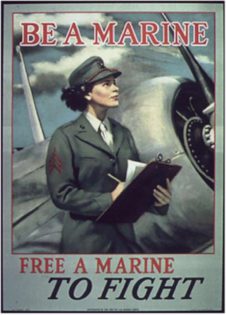 In 1944, she married fellow Marine Robert Alan Aurthur. They divorced three years later, but she kept his surname, but changed the spelling to "Arthur."
More than 20,000 women reservists had earned the title "Marine" by the end of World War II. Though relegated to noncombat jobs, they played vital roles in the Marine Corps during the war.
In 1947 after returning to civilian life, Arthur studied at the Dramatic Workshop at The New School for Social Research in New York City with German director Erwin Piscator. She then began her acting career as a member of an off-Broadway theater group at the Cherry Lane Theatre in New York City.
Her big break came in 1964 when she took the part of Yente the Matchmaker in Broadway's "Fiddler on the Roof," and her career took off after that.
More About Arthur
1​Arthur was born Bernice Frankel and was raised in a Jewish home in the Brooklyn borough of New York City. She was a longtime champion of equal rights for women and an active advocate for the elderly and Jewish communities in her major television roles, charity work and personal outspokenness.
Arthur died of lung cancer at her home in the Brentwood neighborhood of Los Angeles on April 25, 2009. She was 86.