Shaun Pinner was convicted of being a mercenary and undergoing training to carry out terrorist activities, among other charges.
A British Army veteran who went to Ukraine to fight against Russia counts himself lucky to have survived fighting in the war, let alone being held captive by Russian troops.
Shaun Pinner was living in Ukraine and had nearly completed his three-year contract with the Ukrainian armed forces when Russia invaded the country.
Choosing to stay and fight alongside his Ukrainian comrades, Mr Pinner was involved in the fierce fighting in Mariupol. That was where the Azovstal steel plant became a final stand for Ukrainian personnel in the region. Eventually, after the Ukrainians were surrounded and penned in, the plant fell into Russian hands – as did Mr Pinner.
He told the British Forces Sitrep Podcast about his ordeal.
At first, he was taken to a company-size area, he said in the podcast.
"They didn't want me running anywhere so they literally just started to take the clothes off my body, look for tattoos, maybe far-right tattoos.
"I didn't have any so the guy just stabbed me in the leg, right thigh – two, three-inch gash – it was very, very painful," he said.
The Russians then took him to another location.
"I'd been on enough security briefs in the UK and seen these buildings before I went to Bosnia, where it's like a tiled floor with a hole in the middle – which is easy to get [rid of] the blood, a real nasty place."
He was shocked with electricity, and was put through a fake execution.
"A pistol was put to the back of my head and they fired off the action in a mock execution and just said 'we're only joking' and then he pistol-whipped me," he explained.
"I was there for about 45 minutes, just getting beaten. At one point I was tasered, I went to the floor and then I was taken to what we call the black site, which is an unofficial site."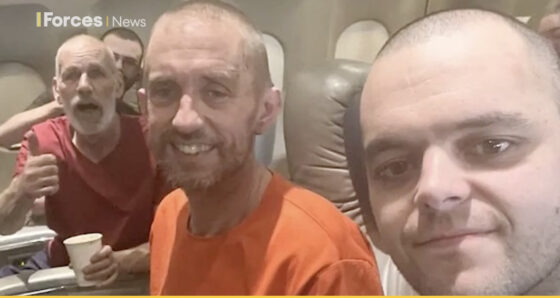 Pinner and others after being released in a prisoner swap.
"I always knew they were talking about moving us on because nobody really quizzed me whether I spoke Russian or not at that point," he said.
At the black site, the Russians showed slightly more interest in his wellbeing, giving him water and stitching up his stab wound.
The hardest part was the starvation he was forced to endure. "I mean they didn't feed me for 50 days," he said.
"We had bread, we were pulled out for propaganda, we got a good timeline of imagery from the minute I was captured, where I looked okay, to the minute I went to trial, where I was gaunt, maybe 60 kilos.
"I was looking really bad – and that was after 50 days of just interrogation, propaganda, torture."
At the trial, Mr Pinner was forced to plead guilty and sentenced to death by firing squad.
"When we did plead not guilty, the court was stopped, all the cameras were turned off and they just made it very clear that we couldn't do that.
"It wasn't in the agenda. She said: 'You're going to plead guilty because it's a lesser sentence'."
He added: "What they wanted to do, now in hindsight, was to make us go through that, get the death penalty, then go to the appeals process, get rejected from that, still have the death penalty and then write a letter of pardon – they wanted to use all the aspects to ridicule us and embarrass us.
"They weren't interested in the truth."
Mr Pinner was convicted on the charge of being mercenaries, the violent seizure of power, and undergoing training to carry out terrorist activities by the Russian court and sentenced to death – a verdict that was instantly condemned by British officials.
Eventually, Mr Pinner was involved in a prisoner swap but, even when he was on the aircraft, he didn't feel safe.
"As we were taken off I was just looking back thinking 'please don't shoot us down, please don't shoot us down'," he said.
"It was all the way out 'til we got out of Russian airspace, then we realised we were free.
"I was lucky to get through Mariupol alive, let alone through Russia and through captivity.
"Most of my friends are still captured so we try to keep Ukraine in the public eye."
-Reported by the British Armed Forces