When Neta Portal's parents divorced six years ago, she stopped speaking to her father. But when Hamas terrorists shot her repeatedly, the 22-year-old turned to the only person she knew would save her life: her estranged father, Shimon Portal. He responded as only a father would. He raced to find her.
"They are close," Neta texted to Shimon on Saturday from inside her house in the Jewish community of Kfar Aza.
Shimon, a policeman, was embroiled in a firefight against Hamas in a nearby city. He quickly responded: "Lock the doors Please Answer Please."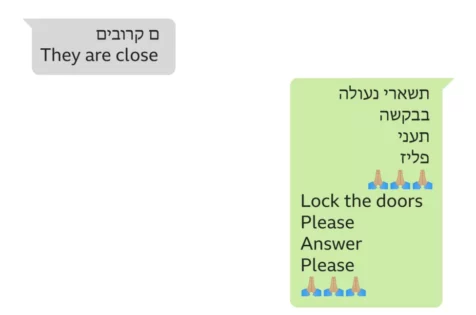 As Neta told the BBC from her Tel Aviv hospital bed, the attackers soon brought their rampage into the peaceful kibbutz.
"They were shooting people. They were shooting the kids," she said. "And the people were shouting, 'Please no, please no.' I tried to wake myself because I didn't want to die."
Desperate to escape, Neta and her boyfriend, Santiago, decided to jump from their window. But 10 or 15 terrorists stood on the ground below.
READ MORE: Hamas is inflicting ISIS-level savagery on Israel, Pentagon says
"They were standing on a car with a big machine gun, smoking cigarettes and laughing like they were on vacation," Neta said. A terrorist threw a grenade into the room, and the young couple jumped. "The terrorists saw us and began to shoot like we were nothing."
While Shimon was racing to find his daughter, Neta and Santiago were shot repeatedly.
"Santiago screamed at me: 'Please stand up – start to run," Neta said. "If you don't stand up, we're going to die. We're going to die.' "
Santiago carried Neta for two streets. The couple hid beneath a pile of rubbish while Santiago used his shirt to try to stem Neta's bleeding. She texted her father again.
Dad they shot me
Help
"My heart stopped," Shimon told the BBC. "My brain started to whirl. I was mad."
He texted his daughter:
I am coming
When Shimon arrived in Kfar Aza, the terrorists shot at him. He fired back, reversing his car to evade the onslaught. He returned, shouting for Neta. Three young children ran to him for help. He opened the car door, and took off with them inside.
Through bullets and carnage, the desperate Shimon found his wounded daughter and Santiago. He scooped Neta into his car, and sped to the hospital where doctors pulled her from the brink of death. 
Neta later spoke from her hospital bed. "I don't want the Hamas any more in my life," she said. "We need to destroy them one by one. We need to be strong."
Shimon noted that Neta herself is not a fighter.
"She is a child of peace," he said. "She believes only in peace, and she don't understand why they killed small children, why they burned small children in the kibbutz."
Neta agreed that she wants peace – but her views now have changed.
"I want peace with all my heart, but I think it's not going to be peace," Neta said. "My country doesn't want to hurt civilians. I don't want to hurt civilians. I want them to be saved. I don't think they need to die. Like I don't need to die. They are like me.
"But we need to fight."
Shimon reflected on the situation overall; not as a fighter, but as a father.
"My beautiful daughter," Shimon said. "I have got her back."