FOUR-LEGGED FIGHTERS DOD
GOOD DOGS!
About 1,600 military working dogs help keep the nation safe. With missions spanning land, air and sea, get a glimpse at a few of them in action.
Breeding Warriors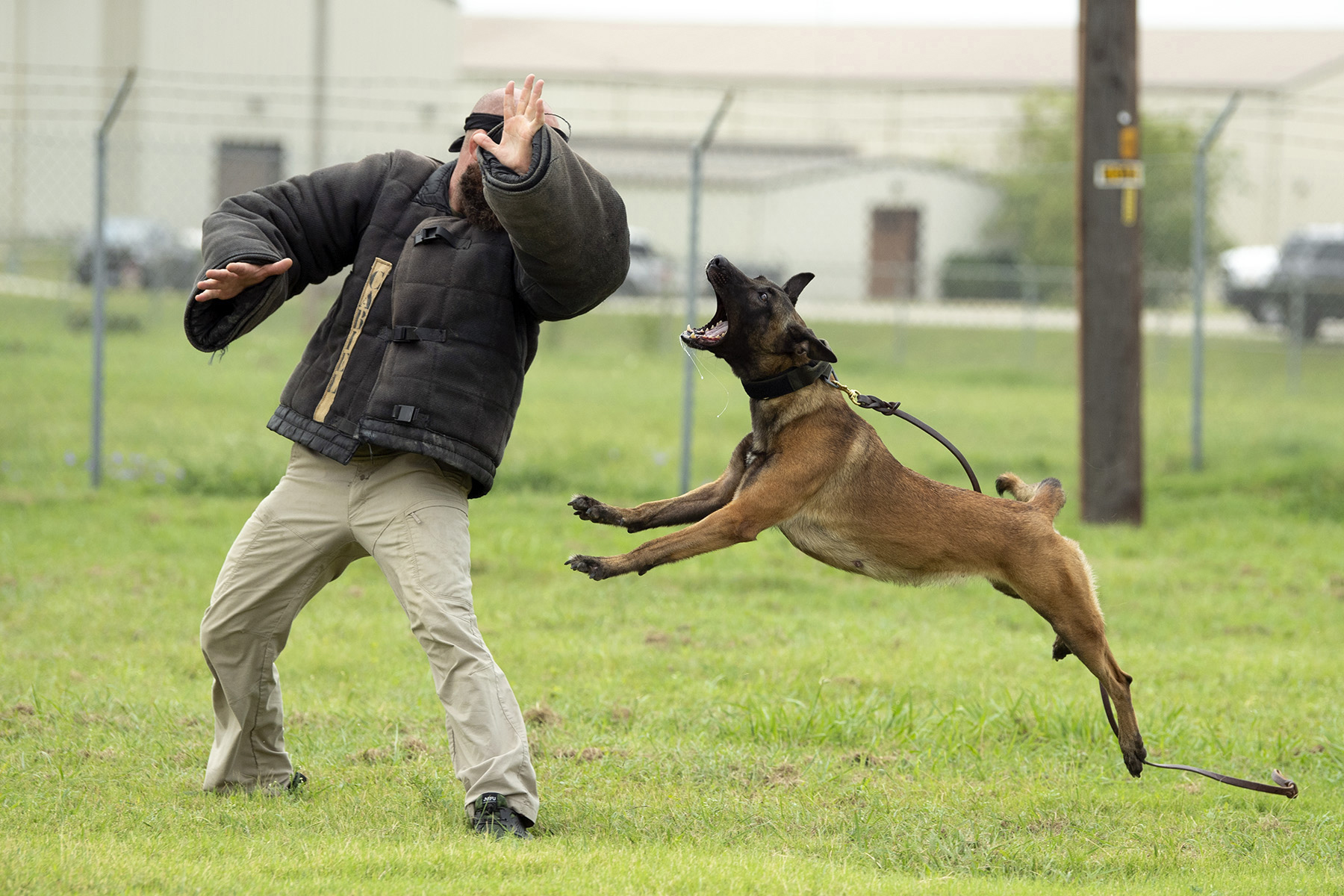 Their barks are bad; their bites are brutal. But before military working dogs become this …
They start out like this.
DOD finds its canine recruits from elite breeders around the world, but a select group – about 13% – are born and bred into the U.S. military, through the DOD Military Working Dog Breeding Program, aka the Puppy Program. These puppies come from one place: the 341st Training Squadron at Joint Base San Antonio. About 50 to 90 puppies are born into the program every year.
The only breed the program raises is the Belgian Malinois – considered ideal for the military because of their high energy, strong sniffers, trainability, agility, speed, drive, work ethic, loyalty and, when needed, fierceness. They resemble German Shepherds but are more compact.
While their mothers are still nursing them, their human caregivers start exposing them to various stimuli to get a feel for their personalities. They watch for promising traits for future military service – inquisitiveness, sociability, eagerness to play with objects, not overly aggressive or afraid of noises.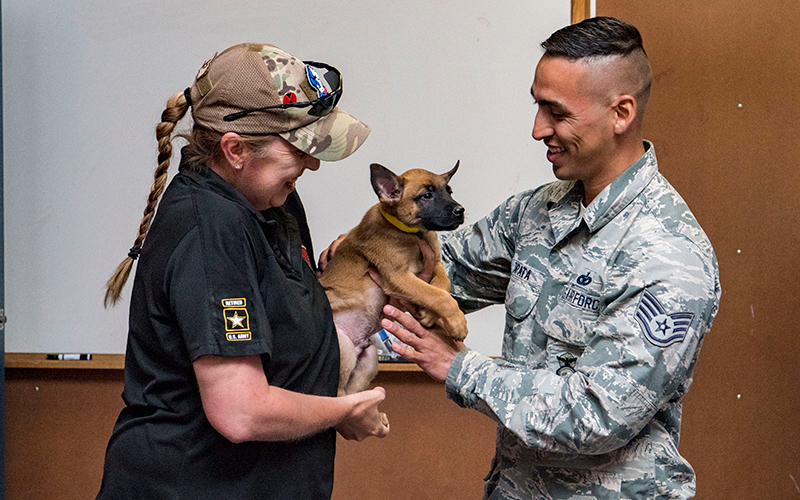 At six to eight weeks old, the puppies go live with foster families for about six months to get the kind of socialization beneficial for all puppies. Most of the families live in the San Antonio area, and the squadron still works with the puppies at least once a month in this time to develop their basic hunting instincts and stability in different environments.
When they leave their foster families, the pups enter an intensive training phase on base. They practice basic obedience and bite work. They learn to release things when told, recognize odors and respond to them with a specific behavior, like sitting. Trainers also expose the dogs to situations and environments they may encounter on an installation or in a combat zone.
Finally at about age 1, the dogs are evaluated for entry into the big time – the Military Working Dog Training Program. The squadron uses the "consignment test" on them – the same test any dog must pass in order to be purchased by DOD.
Ready for the WorkforceWorkforce
Whether they have Puppy Program pedigrees or outside credentials, would-be canine troops have to graduate from the Military Working Dog Training Program to enter regular military service.
Full-Fledged FightersFighters
BITING INTO THE MISSION
FLYING HIGH
DOGGED DEVOTION TO K-9 CARE
The jobs that military working dogs do are both risky and physically demanding. Training keeps them in tip-top shape, but the military also makes sure they have state-of-the-art medical care when they need it. The Lt. Col. Daniel E. Holland Military Working Dog Hospital in San Antonio is the Defense Department's premier veterinary hospital, serving all military working dogs globally.
BEST IN SHOW
A Day in the Life of Ben
Hear from the horse's … er, dog's mouth as Ben, an Air Force dog based at Travis Air Force Base, Calif., shares a rundown of his day, from greeting his handler in the morning to a special training session with some civilian K-9 colleagues.
Best BuddiesBuddies
The bond between military working dogs and their handlers is like no other. But don't take our word for it – see what the handlers themselves have to say.
Army Cpl. Dustin Borchardt & Pearl
"We've gotten to the point when I just look at her and she knows what she needs to do. I've picked up on her little mannerisms when she's found something or when she's excited. Flicks her ears, wags her tail. … She's the best dog in the world. She's got my back and I've got hers."
Air Force Tech. Sgt. Mariah Langeland & Jack
"I adopted him because of the love I have for him from our time working together, and I wanted to give him the best possible life after retirement. … He will be around kids, and we'll give him treats and snacks … spoiling him the way he deserves."
Navy Petty Officer 2nd Class Logann Parker & Astra
"It took us a little bit to get comfortable with each other. But I am obsessed with her now. … I just love when she's by my side. She teaches me things day in and day out. I'm just really fortunate that I lucked out with a good dog."
Marine Corps Sgt. Jenna Cauble & Bbutler
Charlie's Story
The job of explosive detection dogs and their handlers is to look for danger, and hope they don't find it. But when Air Force Staff Sgt. Ben Seekell and his dog, Charlie, did – in Afghanistan, on May 8, 2011 – the partners proved just how strong their bond was.
Profiles in CourageCourage
Dogs didn't have an official role in the U.S. military until the creation of the Army K-9 Corps in 1942. But they've joined American troops in battle since the nation's earliest days, and many are still remembered today for their acts of canine courage.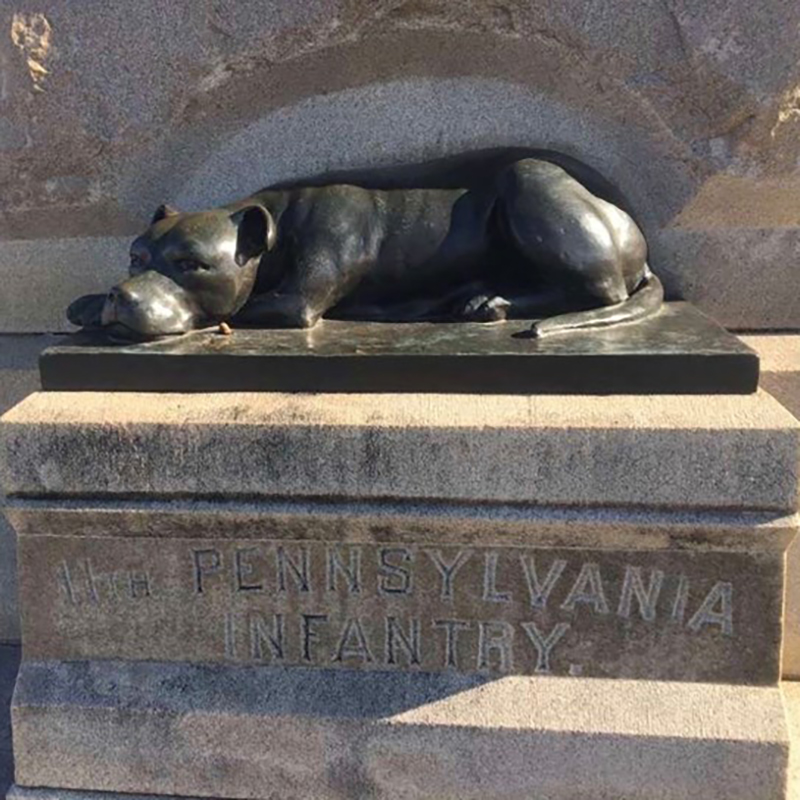 Sallie
During the Civil War, troops marching off to battle brought dogs along as unit mascots and companions. Among the most famous was Sallie, the mascot of the 11th Pennsylvania Infantry. She was with the unit from puppyhood, licking the wounds of her human comrades and lifting their spirits.
Two months before the war's end, she died of a bullet wound on the front line. Years later, the 11th Pennsylvania Regimental Association built a statue in her honor at Gettysburg National Military Park.
Stubby
Stubby was a stray, smuggled to Europe by a soldier with the 102nd Infantry Regiment during World War I. He charmed troops by learning bugle calls and how to salute with his right paw.
But he contributed in more important ways too: He alerted soldiers to gas attacks and even captured a German spy dressed as a U.S. soldier, ultimately serving in 17 battles.
His heroics earned him the distinction of being the first dog to receive a rank – sergeant – from the U.S. armed forces, according to the Smithsonian Institution.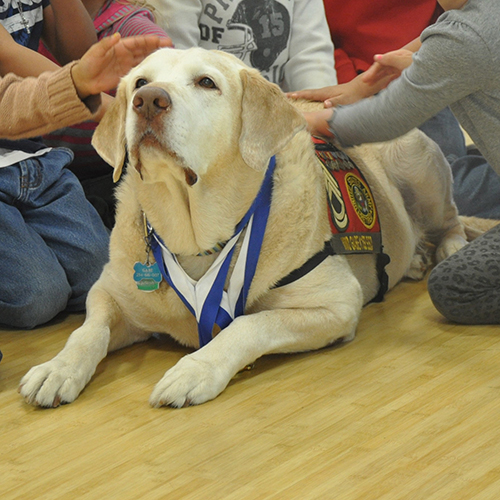 Gabe
Not all military working dogs in recent history have fancy pedigrees. One heroic pooch from Operation Iraqi Freedom, Gabe, was a pound puppy before he was adopted and trained for military service.
Just weeks after completing training in 2006 with his handler, Army Staff Sgt. Chuck Shuck, the two deployed to Iraq, where Gabe sniffed out insurgent explosives, ammunition and other weapons.
He was exceptionally productive, racking up 26 finds during his 170 combat patrols. Gabe returned home laden with accolades, and Shuck adopted him when he retired.
Even then, Gabe worked on behalf of the nation, visiting with kids and wounded soldiers in hospitals. The American Humane organization named him its Hero Dog of 2012, a distinction that came with $15,000 for the charity of his choice, the U.S. War Dogs Association.
Lucca
A Marine Corps explosives detection dog, Lucca served deployments in Iraq and Afghanistan during her six-year career, leading nearly 400 patrols and identifying about 40 improvised explosive devices.
Not a single Marine was injured while following the half German shepherd, half Belgian Malinois. But on March 23, 2012, Lucca was, while leading a patrol in Afghanistan with her handler.
Shortly after she found an IED, another device detonated, badly injuring Lucca. Her handler applied a tourniquet and she was quickly medevaced for advanced treatment. She survived, but she lost her left front leg.
Lucca was medically retired, but quickly adjusted to life with three limbs and a new home with her original handler. In 2016, she became the first U.S. military working dog to receive the Dickin Medal for animal valor.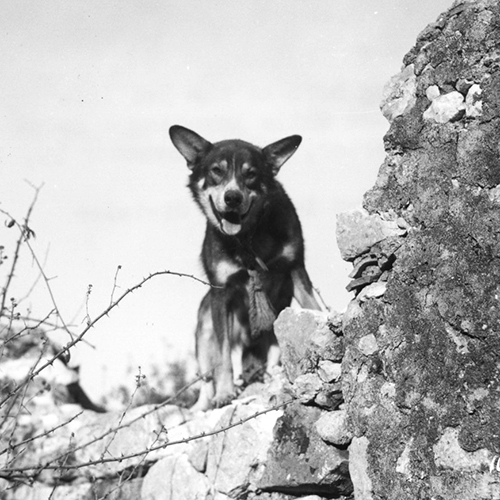 Chips
A German shepherd-collie-husky mix, Chips served overseas during World War II as one of the members of the military's newly formed K-9 Corps.
During the invasion of Sicily in 1943, Chips attacked an enemy machine gun team firing at soldiers in his platoon. He got a scalp wound and powder burns, but was credited with saving the lives of his human teammates.
Some 75 years later, Chips received a posthumous Dickin Medal, a prestigious international award for valor in animal warriors.