THE GLOBAL SURGICAL AND MEDICAL SUPPORT GROUP
August 29 during the Afghan Pullout, the group reported:
Phase 1 is wrapping up and while we will not post publicly the number of people our team of US special operations veterans were able to facilitate extracting from Kabul, it was a sizeable number.
The bulk of the funding that remains will be used to assist repatriated US citizens/SIV's. We will be working with basic household supply and toiletries companies to provide basic support those who may have nothing other than what they fled the Taleban and ISIS with which often times was nothing more than their passport. In addition we will be contributing to pantries of nonperishable food items to help feed them. Shout out to @realannapaulina for already having a big impact there.-
With what remains we will put towards preparing for Phase II of this operation which will involve medical support for remaining US citizens and SIVs trapped in Afghanistan who were not able to be evacuated from HKIA airport. This will involve forward staging GSMSG medical teams in various parts of the region as the dust settles. Details will come OPSEC permitting but rest assured that those who support our work and our quiet professionals, are having a major impact in the region.
The Global Surgical and Medical Support Group (GSMSG) is a 501(c)3 non-profit organization dedicated to providing medical relief to communities in conflict zones, austere environments and disaster areas around the world.  By enlisting the most elite professionals in the world, GSMSG offers top tier services to those in need through: Direct Action
GSMSG was created in 2015 by Dr. Aaron Epstein, MD, MA, to provide high quality care to victims in Iraq of the ongoing conflict with ISIS. What started as small teams of physicians and surgeons inserting themselves in communities facing ISIS has since expanded to an organization made up of over 1,000 leading US licensed medical experts, covering every medical and surgical subspecialty, from medical institutions around the world as well as US Special Operations veterans. This unique combination of medical expertise and the ability to operate in austere settings allows us to rapidly bring unparalleled services to some of the harshest environments and serve populations in dire need.
GSMSG medical and surgical team are able to provide the full spectrum of care ranging from front-line medical services and prolonged field care, to primary care check-ups, to advanced neurosurgery. Through GSMSG surge staffing, we are able to man a full field hospital within 72hours with a full compliment of medical and surgical professionals.
200 surgeons and surgical professionals trained, +550 medical doctors and diagnostic specialists trained, +220 nurses trained, +2000 combat medics trained, +$12,900,000 worth of surgery completed, +$4,122,500 worth of medical education provided, +$2,400,000 worth of medical and surgical supplies donated.
EMPOWERING VETERANS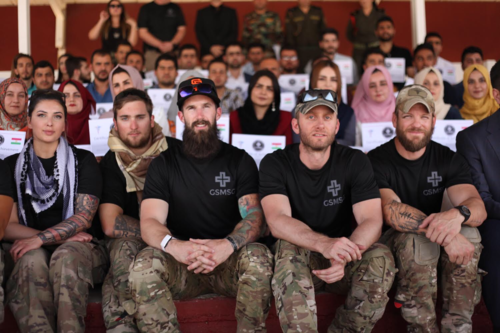 Veterans, especially those with medical qualifications, often find that their years of expert field training and application of skills in real world medical emergencies only has a limited audience once they are out of service and in the civilian world. By joining GSMSG, the veteran community can find an incredibly unique opportunity to apply their entire range of skills in the service of others. #ServiceAfterService