by Owen Thorne
Spending the better part of five months on the ground in Ukraine, beginning with the siege of Kyiv and then on to most of the major battlefields, has built a strong bond with the Ukrainian patriots fighting there. On those battlefields I observed not only the maelstrom of modern weapon systems and technology at work, but also the steel resolve of a small nation standing against a world power.
As this tour draws to a close and I prepared to leave Ukraine en route back to the United States, I visited the knife works of KravaCut in Lviv.
KravCut's Oleksander Krava is recognized as one of the best master knife makers in Ukraine, providing special edition knives to Ukrainian special forces and Azov. More than just a knife maker, Krava absorbs the ancient traditions of Ukraine that were brought by the Vikings.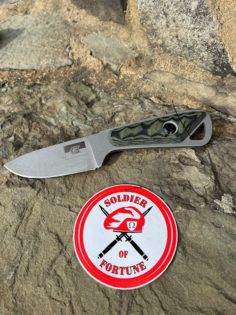 Not content to merely provide weapons to Ukraine's soldiers, he has enlisted in the military and soon leaves for the front. I was honored to receive one of his knives as the perfect symbol of the bonds forged on the battlefield, and the Ukrainian steadfast resolve.
Check out Krava's master knife work.
Slava Ukraine!