The Texas National Guard on Friday began moving 200 additional personnel and 40 additional high mobility multipurpose wheeled vehicles (HMMWV) to expand operations along the border in El Paso.
"All sectors along the border are increasing their response posture to protect Texas against the flood of migrants and cartel activity streaming into our state," officials said.
A Texas Military Department spokeswoman told Soldier of Fortune she was not able to disclose over the phone any details about potential use of force, rules of engagement, nor what specifically the National Guard soldiers were assigned or empowered to do. The Texas Military Department did not respond to emailed questions from Soldier of Fortune.
Using four C-130J cargo aircraft, the Guard is expediting the flow of these additional forces to ensure rapid support to the forces already on scene, officials said.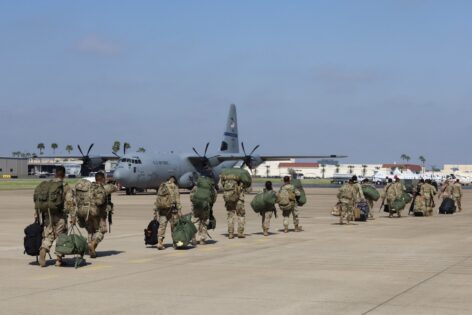 The move comes as the El Paso City Council on Friday voted to extend its emergency declaration by at least 30 days amid an influx of migrants, many of whom have been sleeping outside in the city.
As temperatures drop in southern Texas, many migrants are refusing to go to shelters or accept assistance, according to Deputy City Manager Mario D'Agostino. The city of El Paso has parked buses at various curbside locations, so that migrants living outdoors can use them as heating stations.
"What we're doing now is strictly a band-aid on a broken system that needs to be fixed," Mayor Oscar Leeser said at the meeting.