A high ranking Russian military officer known as the "Butcher of Mariupol" has joined the Wagner Group as a deputy commander, according to Russian social media channels.
The commander, Colonel General Mikhail Mizintsev, previously was fired from his post as Deputy Defense Minister. He had garnered a reputation for his "ruthless brutality" associated with the devastation of Ukraine's port city of Mariupol.
He recently appeared in a video wearing Wagner-branded combat gear while visiting a training camp and touring Russian positions in the highly contested eastern Ukrainian city of Bakhmut.
READ MORE from Soldier of Fortune on Yevgeny Prigozhin
The footage of Mizintsev coincided with a videotaped tirade from Wagner boss Yevgeny Prigozhin, who ripped into Moscow military commanders for withholding ammunition from his fighters.
In a video posted on his Telegram channel Friday, Prigozhin accused the top brass of negligence and incompetence. Pointing toward a field covered with dead soldiers, he screamed at the camera, "These are … someone's fathers and someone's sons!"
Prigozhin reamed the commanders for allowing their own children to live easygoing lives of luxury while the Wagner soldiers died on the front lines.
"These are the Wagner guys who died today," Prigozhin yelled while pointing to the dead soldiers. "Their blood is still fresh. Film them all now. And now listen to me you fucking bitches. These men are someone's fucking fathers and someone's sons, and the scumbags who don't provide us with ammunition will eat their remains in hell.
"We have a 70% shortage of shells," Prigozhin said. "Shoigu, Gerasimov, where is the fucking ammo? Look at them you bitches! You're sitting in expensive clubs, your kids are enjoying life and making YouTube clips.
"You think that you own everything and have the right to control their lives? You think that if you control the ammo warehouses, you have the right? It is simple math! If you give us a normal amount of ammunition, the losses become five times lower. They came here as volunteers so that you can continue getting fat in your fancy offices behind red wood desks. Take this into consideration!"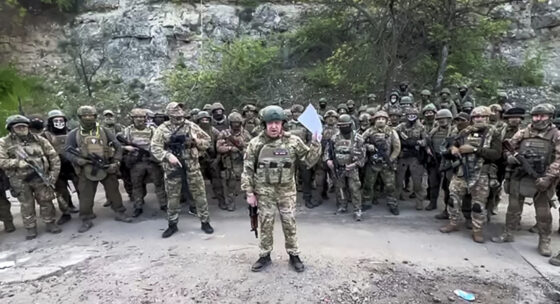 Prigozhin with his fighters.
The tirade prompted speculation over how to interpret it. Some suggested that Prigozhin is secretly colluding with Moscow in some complex psyop; some said that the Wagner commander is overstressed and needs a break. Others, such as the unnamed author of the Rolo Slavskiy political column, critiqued the various analyses.
Prigozhin said Friday that his army had planned to capture Bakhmut on May 9, the anniversary of the Soviet Union's victory over Nazi Germany.
The Kremlin, meanwhile, said the annual Victory Day parade, celebrating the World War II achievement, would go on despite security concerns.
–With reporting by VOA.