by Susan Katz Keating
Drones from Iran repeatedly have surfaced in Ukraine, with Israel's President Isaac Herzog offering proof to the U.S. that the devices are being used there. Israel has obtained images showing that drones shot down in Ukraine are similar to those that were tested last year in Iran, Herzog's office said. But drones in warfare are nothing new – and have a surprisingly long history.
During the Civil War, both Union and Confederate forces used a primitive type of drone, attacking the enemy via balloons filled with explosives. Although the devices did not always work as planned, they were sent to descend into enemy arms depots, where they triggered large explosions.
Attack-UAV's resurfaced in World War I, when, the U.S. Army says, gyroscope inventor Elmer Sperry launched an unmanned aircraft, and sank a captured German battleship.
Reconnaissance UAV's were used extensively in Vietnam, flying thousands of missions to take pictures, drop leaflets, or find enemy missiles.
During operations in Kosovo, enemy troops at first used to wave at the seemingly innocuous NATO drones. When the drone flights were followed by air strikes, the enemy learned to fear the unmanned invaders. The enemy targeted UAV's, bringing down most of the 24 vehicles lost there.
Drones truly entered the modern age when, during Desert Storm, Iraqi troops waved t-shirts and bedsheets and surrendered – to a UAV.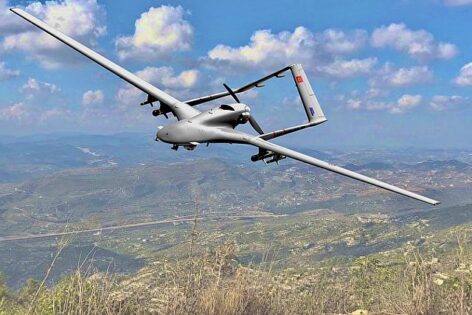 More recently, Northrop Grumman's prototype MQ-8C fire Scout, which resembles a Huey-based helicopter airframe, has been through various updates, and has completed testing to become the Navy's next-generation autonomous helicopter. 
Meanwhile, reports continue to surface that Russia has used Iranian-made Shahed-136 drones against Ukrainian cities, including Kyiv. Both Russia and Iran have denied the claims.
The Pentagon downplayed what the drones have been able to accomplish.
"In many ways, these drones are used to, as psychological weapons used to create fear," said Pentagon spokesman Air Force Brig. Gen. Pat Ryder. "But from an operational, from a strategic standpoint, it still doesn't change the fact that Russian forces on the ground continue to lose territory or at best hold ground."