by Susan Katz Keating
Morning reveille had not yet sounded at the Marine Corps barracks on Oct 23, 1983, when a Hezbollah terrorist drove a bomb-laden truck into the building in Beirut, Lebanon. The massive blast lifted the barracks off its foundation, and reduced it to rubble – instantly killing 241 American servicemen. A second terrorist bombed the nearby French barracks, killing 58 paratroopers.
"It was hell on earth," said David Madaras, who served with C Battery, 1st Bn. 10th Marines. "I will never forget it."
Madaras and his fellow Marines were stationed in Beirut as part of the Multinational Peacekeeping Force that went there during the 1982 Lebanon War.
During the deployment, the roughly 800 Marines did their jobs, and spent their off-hours playing pick-up soccer with local children and among themselves; doing mundane tasks like getting their hair cut; or exchanging goofy banter.
Everything changed at 6:22 a.m. on a quiet Sunday, when 2,000 pounds of explosives rocked the barracks. The FBI said the blast was the largest non-nuclear explosion in history.  
In the aftermath, several who were there described the horrific scene.
The blast was "ear shattering," Madaras said, and the heat seared his face. The young Marine rallied, and began looking for survivors. He saw two men carrying a stretcher.
"Initially, my sight was drawn by the sun's almost blinding reflection coming from a shiny belt buckle cinched around the waist of the stretcher's cargo," Madaras told me in a 2003 interview. "What makes the image so unforgettable is that there was no body above the belt buckle."
Madaras grabbed a sledgehammer and began swinging it "in a frantic effort" to save one Marine who was trapped within huge slabs of concrete.
"I watched, sickened by a feeling of helplessness, as he received his last rites," Madaras said. "Our efforts to free him were futile. I can still see his body becoming lifeless and hanging limp as he lost his struggle to survive."
John Evans, who served with 3rd Bn., 8th Marines, recalled that his group had no time to resist the attack or defend themselves.
"Marines are trained to be aggressive," Evans told me 20 years ago. "Hell, we couldn't even lock and load."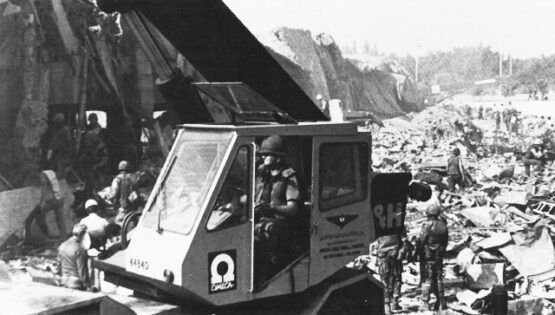 Marines quickly responded to save lives and to clear the rubble.
A Navy chaplain, Rabbi Arnold Resnicoff, was in Beirut to preside over a service for Sgt Allen Soifert, a Jewish Marine who was killed by a sniper during a cease-fire. Resnicoff was scheduled to return to the Sixth Fleet, but needed to wait until after the Jewish Sabbath to travel. He was there when the suicide bomber struck.
"I had been brushing my teeth, wearing trousers and a t-shirt," Resnicoff told the Times of Israel. "When the building shook, windows exploded, and the doors came off their hinges, I 'hit the deck,' thinking it was our building that had been hit by a mortar or a shell."
A Catholic priest chaplain, Fr. George Pucciarelli, grabbed his purple stole tp drape around his neck, knowing he would be administering last rites.
"Follow me!" Fr. Pucciarelli yelled.
The chaplains ran outside to what Resnicoff described as "a scene of unbelievable destruction and carnage."
The chaplains jumped in while waiting for medical first responders.
"We did what we could, literally tearing our clothing apart to use pieces to wipe blood and dirt from the faces of wounded Marines," Resnicoff said. "At one point, after tearing my t-shirt to shreds, I used the small black kippa that I regularly wore."
Father Pucciarelli knew that the kippah was important.
He "tore off the top piece of his Marine camouflage cap, and brought it over to me, to wear," Resnicoff recalled.
The rest of that day brought countless examples of American courage, loyalty, and patriotism. Men who were there remember proudly that amid the shock and the horror, the Marines Corps colors flew high. 
Family and friends hold close the memories of the fallen.
Among them is Lance Cpl. Guillermo San Pedro, known to loved ones as Billy. Beloved by family, Billy took martial arts as a child, and was former CIA counterterrorism chief Ric Prado's first karate student. Billy joined the Marine Corps straight out of high school, and was only 19 years old when the suicide bomber took his life and that of his fellows.
"A prayer and a salute to all Marines lost that day," Prado said.
The U.S. Embassy in Lebanon on Monday marked the 40th anniversary of the attack. As part of the ceremonies, American Marines planted one tree for each man who was lost.
"These Marines were young men with bright futures ahead of them, and with a deep commitment to serving their country and the values we hold dear as Americans and Lebanese," said the U.S. Ambassador to Lebanon, Dorothy Shea.
"The motto of the U.S. Marine Corps is semper fidelis, always faithful," Shea said. "Today, 40 years after the Marine Corps Barracks bombing, we are forever faithful to the memory of those 241 servicemen and all those – Americans, Lebanese, and others – who have given their lives in support of peace."
Susan Katz Keating is the publisher and editor in chief of Soldier of Fortune.